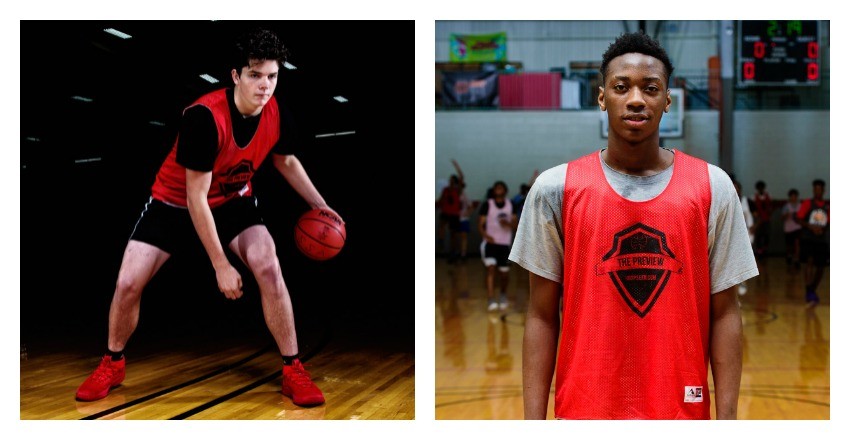 The Elite Preview 2021-2022 camp is in the books and now we begin to look back at all of the players who competed in the biggest stage of the Fall. 
William Banks, 5-11, PG, Eastside, 2022: The floor general is built like a linebacker and plays like that most of the time. He's a hard nosed finisher at the rim. Loved his toughness. 
Jacorye Favors, 6-0, PG, Maynard Jackson, 2022: The lefty is a very active guard who goes hard to the rim and shined as a finisher. Liked him as a defender. Favors is very coachable and proved himself to be a tough player.
TJ Grant, 6-4, SF, Veterans, 2022: One of the best players in the camp. A do-it-all wing, the Middle Georgia wing was one of the top overall performers at the camp. Grant was outstanding. Read more about his performance HERE.
Seth Hubbard, 6-1, St. Francis, 2022: A rangy guard who can shine as a great shooter and a big time hustler. He has a quick release from three. Hubbard didn't force the action. He doubled as a combo guard. Good end to end speed. Kicked out to shooter with good one handed passes.
Eli'sha King, 6-6, SF, Tri-Cities, 2021: The athletic wing showed off a skill set that gets you excited about what he can become. He has a lot of upside. when he is a bought-in defender and slasher is scary Long intriguing. Shoots from his chin. Guarded different positions. 
Jesse Mukeba, 6-8, Solid Rock, 2021: A long and athletic forward, Mukeba passes the eye test right away. He is thin and raw on the offensive end which is expected for a young big kid. He made a nice back to the basket jump hook, pursues the ball when rebounding on both ends of the floor, and will try to move his feet on the defensive end. He has some toughness and competitive spirit and a nice touch around the basket. If he keeps working and progressing he has a chance to be the best overall prospect in attendance long term. - Darryl LaBarrie
Ian Schieffelin, 6-6, PF, Grayson, 2021: He's skilled and can score with back to basket. Good hands and nimble feet. Solid wing post. Soft hands. Good passer. Great rebounder. Needs to finish better. Strong rebounder. Good second jump. Carves out space. Powers up through contact. Finishes with either hand. Slides for a step of two laterally after ball screens. 
AJ White, 5-11, CG, Chattahoochee, 2021: His coach called him the "best shooter in the camp, hands down. He's a killer." White has a nice easy release and looked comfortable in the camp setting. He's a tenacious defender. He played with a great pace throughout the day and opened some eyes with his play on both sides of the ball. Loved how he competes.