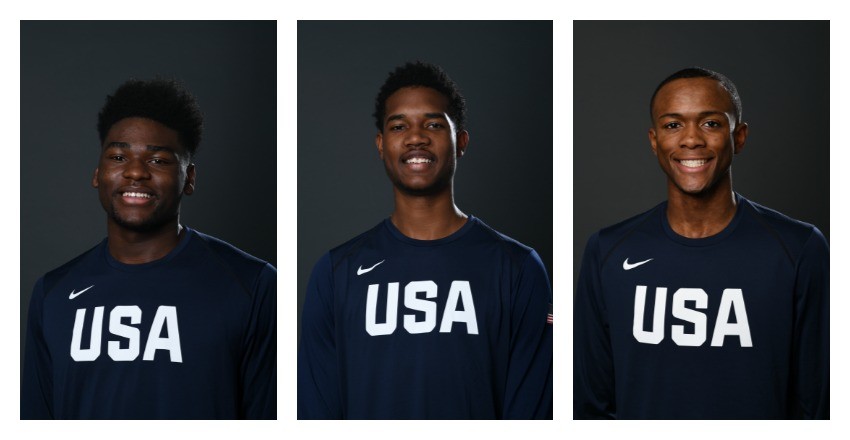 COLORADO SPRINGS, CO - It was an eventful weekend at the USA Basketball Junior Mini Camp with nearly 90 players from all over the United States came to town for a terrific three days of intense training. Who were the best of the best? We dive into our post-event superlatives. 
BEST 2019: Scottie Lewis 
I mentioned in my Saturday notebook about the top overall position in the class of 2019 and how several players could make an argument for it. That is a familiar narrative for this class. None of the named mentioned put a body of work together in Colorado Springs over the weekend to warrant such a nod. But Scottie Lewis did. The future Florida guard is the consummate professional and never took a play off at the mini camp. He's all gas and engaged at all times. If you were looking for a player to follow their example on how to maximize their USA Basketball experience, Lewis was the easy poster child. 
BEST 2020: Evan Mobley
Our No. 1 player in the class of 2020 didn't move from his place on our national rankings thanks to his play in Colorado Springs. The California native picked right up from where he left off in Las Vegas with Compton Magic and shined in the 2019/2020 group throughout the weekend. Outside of Brandon Boston, Mobley didn't have much push back from his 2020 peers either. 
BEST 2021: Michael Foster 
The big man from Milwaukee, Wisconsin was a man amongst boys in the 2021/2022 division all weekend long. He didn't have many physical counterparts in his age groups so the strong-bodied 15-year-old went to work. Foster made terrific plays in the open floor for a player of his size and strength. Foster used his size to bully his way around the rim but is also smooth enough in the open floor to do some things that just stopped you in your tracks. Easy to see why he's thought to be a top 5 player in the class of 2021 nationally. 
BEST 2022: Dariq Whitehead
The Montverde Academy guard was our underclassmen MVP from the weekend. He did it all from start to finish. He played with skill. He played with flair. He did everything in between. Whitehead was one of the five best players at the camp over the weekend. The 6-foot-5 guard is a terror once he gets his first step and attacked the rim with terrifying purpose. 
BEST SHOOTER: Max Christie 
The Illinois native is a walking bucket. He popped nets all weekend long and looked terrific from all spots on the floor. Whenever he was open, count the triple. His shot was falling off of catch and shoots, off the bounce and from the corner. When Christie missed, you were surprised. Outside of shining as a shooter, he was engaged in the drill work and ran at full speed in every facet of the camp. Hard to not like Christie, a class of 2021 prospect. 
BEST PRO PROSPECT: Emoni Bates
Sure, he's never played a game in high school hoops just yet. We get that. Trust us, we do. But the fact of the matter is this - Bates was the most unique player of a collection of unique players in Colorado Springs. The 14-year-old opened things up with a bang on Friday night and competed well against his peers until the very end. Bates is a long term prospect, no doubt, but his right now game is pretty dang impressive. Pull up a chair and get ready for a fun four years ahead with the class of 2022 prospect. 
BEST MOTOR: Isaiah Stewart 
That's the norm with the five-star big man. That's his game, no matter the stage or competition.  Stewart was actively engaged the entire camp and was arguably the best lead by example player in the entire field. He went hard in the drill work and shined in the competition. Stewart emptied his tank and didn't look any less worse for the ware. Gotta love a guy who gets it and didn't sit out one minute of USA Basketball.