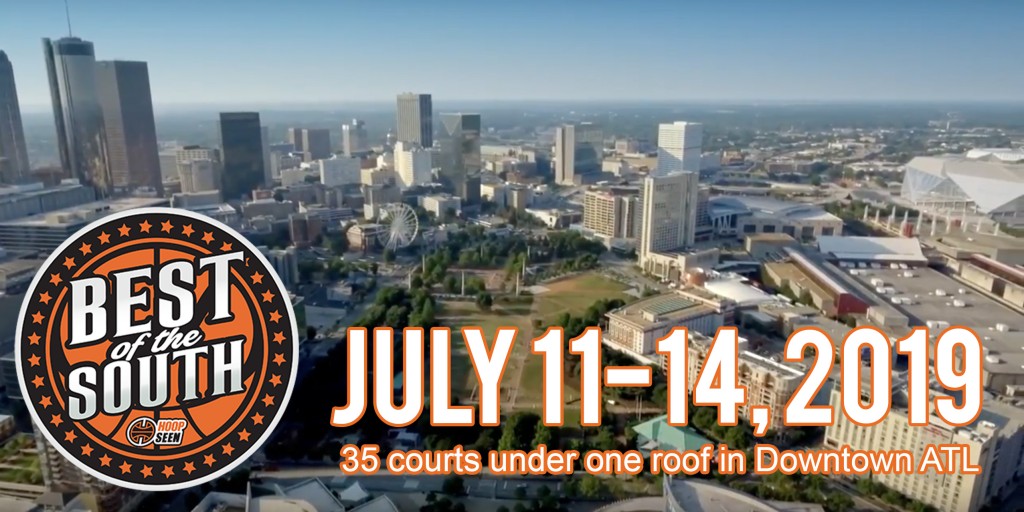 SUWANEE, GA - HoopSeen will run the Best of the South basketball travel team tournament at the Georgia World Congress Center July 11-14, 2019 in downtown Atlanta, Georgia.
There will be 35 courts under one roof at the Georgia World Congress Center in downtown Atlanta, the most convenient travel city in North America. Teams will have the opportunity to play in front of hundreds of college coaches in one setting all the while explore one of the most vibrant cities in the United States. 
The event will be the single largest tournament in the country for non-sponsored teams during the important live July NCAA recruiting period. Nike will play host to the Peach Jam in nearby Augusta and the Under Armour Finals will be in the north Atlanta suburbs in Emerson. Georgia `will be the epicenter of the NCAA recruiting period in July. 
"When the NCAA changed what we knew July recruiting to be, we saw an opportunity to serve the non-sponsored teams in the country with our Best of the South platform," HoopSeen CEO Mike Eddy said. "With 35 courts under one roof in downtown Atlanta, we don't know if there is a better option in the country than the Best of the South. There's not many locations in the country that can service the logistics of an event this magnitude. 
"Travel teams can't gamble with their schedule in 2019. We believe this is the stage where they can get it right and have their players compete on the best stage in the country." 
The Georgia World Congress Center serves as a meeting space for some of the biggest sporting events in the world, including the 2019 Super Bowl and the 2020 Final Four. 
The surrounding area is home to the Mercedes Benz Stadium, State Farm Arena, College Football Hall of Fame, CNN Center, Centennial Olympic Park, Georgia Aquarium, World of Coke, Home Depot Backyard, and many other tourist destinations. 
ABOUT HOOPSEEN: HoopSeen was founded in 2009 and runs the largest travel basketball tournaments in the Southeast. HoopSeen operates the Bob Gibbons Tournament of Champions, the most storied travel basketball tournament in the country, the April NCAA Live Period Atlanta Jam tournament and 15 other tournaments and camps annually. Over 1,500 teams competed in HoopSeen events in 2018. 
The window for NCAA certification for 2019 events is not open. Certification for the 2019 Best of the South is still pending. The Best of the South has been an NCAA certified event since 2010. 
For further inquiries regarding the 2019 Best of the South, please contact Tai Young at tyoung@hoopseen.com.