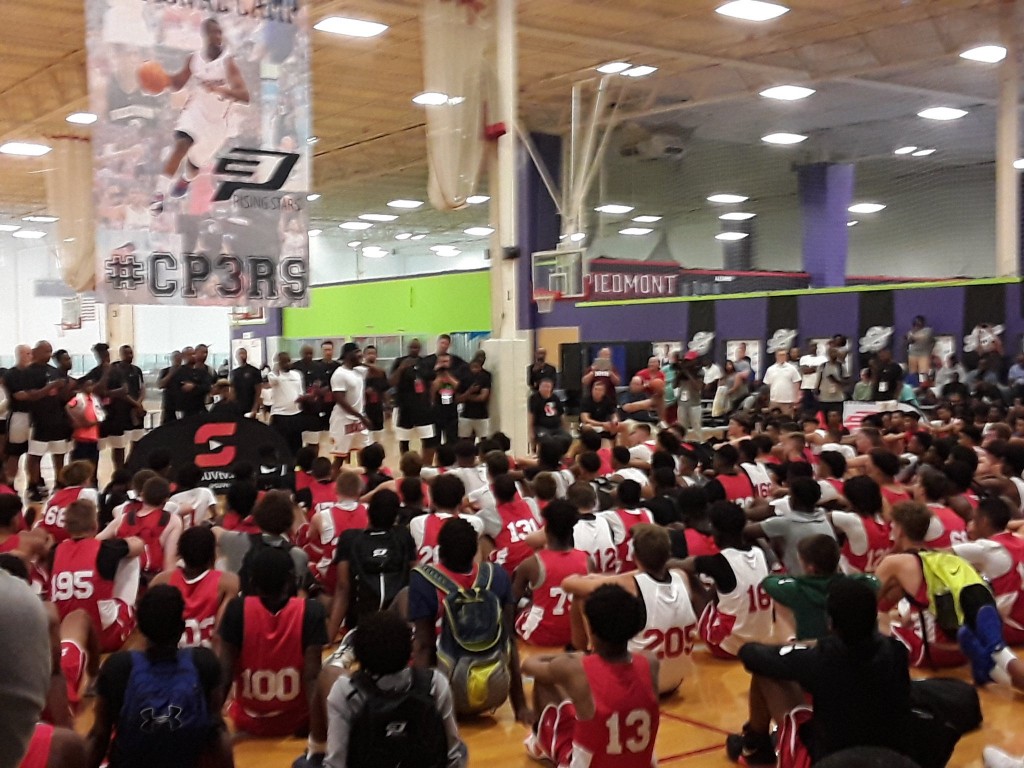 Alabama's future
Will Shaver of Pro-One Select had moments today that sparked intrigue of many of the scouts in attendance. Shaver screened and rolled his way to a few easy finishes to start of what would be a productive day. His soft hands were immediately noticeable as he routinely caught passes in traffic that would often hit a big square in the numbers. Just when I thought it didn't get any better, Shaver stepped out to the perimeter and showed off a 3-point shot that looked far from his first time attempting one. He's one of my favorites here at camp that I'll be watching closely going forward.
Swiss Army Knife
It's easy to spot the prospects that are only concerned with one side of the ball anytime you evaluate a player in a camp setting. This wasn't the case with Drive Nation forward Jordan Walsh. The 6'5 forward fits the mold of today's inside out prospect that can affect the game in a multitude of ways. His activity in today's action shouldn't go understated. His energy was sky high, causing turnovers on his way to some easy instant access. Watching him quietly storm across the court was a breath of fresh air in an environment that can sometimes be bogged down by players that only look to put the ball in the basket. He did his fair share of scoring. But it was the rest of his game that stood out in day 1's action.
Guards that shined
One of the most impressive players in the early action was Team Takeover guard Willie Rivera Jr. Simplistic, yet effective in his approach was the ultimately the tagline best used to describe this high IQ guards play. Both passing and scoring, Rivera was a play ahead more times than not.
Video cameras seemed to rush to the sidelines whenever B. Maze Elite guard Jaden Bradley began his warmup routine. Back to back possessions solidified his place as one of the most explosive guards on the hardwood. Watching defenders jump with him was comical as he made a couple of posters that are sure to be seen quite a bit over the next week. The strength he plays with is far beyond that of a player that hasn't suited up in a high school locker room.
"Gets stuff done"
One of my favorite phrases to write about a prospect in that he "gets stuff done". It's not something that I throw around loosely, as it describes a player that shows up to work and just finds a way to be productive. Jaxon Kohler of the Las Vegas Prospects and Derrick Nix of B. Maze Elite are the epitome of guys that figure things out. Both players made their names between the boxes. Scoring, rebounding and being a physical anchor. Both are foxhole prospects that anyone would go to battle with.
Quick Thoughts.
Mason Hanback opened eyes with his size and ability to stretch the floor. Bluff City looks like they have their next young big coming up through the pipeline.
Zion Cruz checks off a lot of boxes that could make him special in time. There was an 8-point sequence in which Cruz could have made a claim for the best player in camp. Size, skill, and feel are all accounted for. More on him later…
There's a ton of buzz around Las Vegas Prospects point forward Sadraque Nganga. Rightfully so. One of the more intriguing talents here at camp, standing at 6-9 with the feel of an experience point guard.