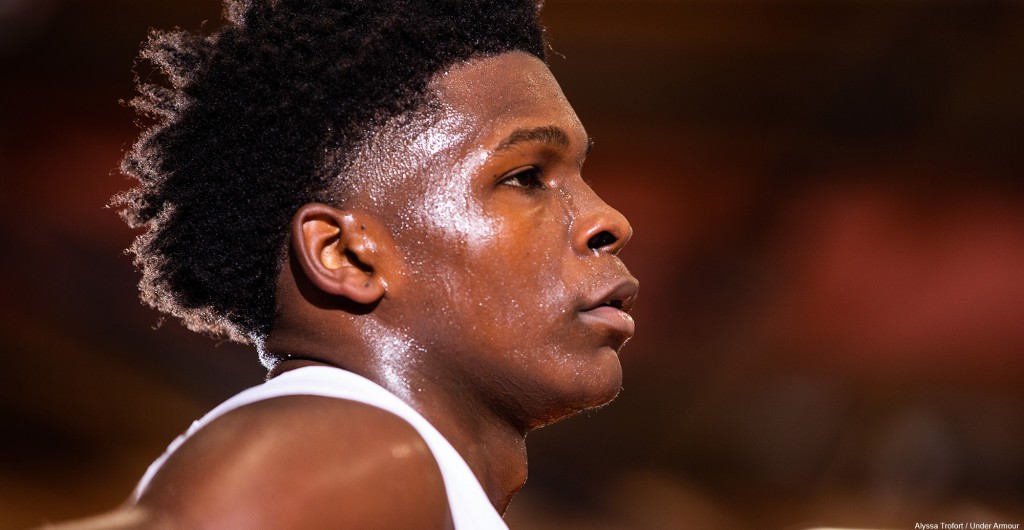 HENDERSON, NV - The story at the Under Armour Finals on Thursday was all about Anthony Edwards. Just how good is the Atlanta Xpress guard? We dive into that and so much more from the action here in Sin City.
THE ANT MAN COMETH 
We saw Evan Mobley shine as a star should on Wednesday night at the Fab 48. He has set the bar very high for the class of 2020 and where the elite level one is drawn. 
It has been well documented here at HoopSeen.com on just how good Anthony Edwards has been this season. And he continues to trend upward. Edwards has been well documented here on HoopSeen over the years. We're big fans of him. Understandably so. 
He's an elite level scorer tan elite live capability of taking over a game. He can score from all spot son the floor and his section jump is next level. His rebounding and defensive capabilities has helped separate himself from the rest of his peers. Despite his team's loss to WER1, Edwards was brilliant. 
He had a rough go at it from deep, going 1-8 from three. But he did his best work going at the basket. Edwards scored 26 points but did his best work on the glass. He grabbed 13 rebounds, had seven assists and four steals in the game. He did it all. He does his thing at such a level few can really guard him. 
So let's get to the questions...
Could he be the number one player in the country? Yes. Yes, he could be. It isn't a crazy thought at all. 
Is he the best player on the UAA circuit this year? No question. One UAA rep asked me if Edwards was the best player to ever play on the branded circuit. Bold question, no doubt. Karl Anthony Towns, DeAndre Ayton, Josh Jackson and a host of other lottery picks have played on the UAA circuit. Is Edwards better than all of them? That's a great debate because Edwards may be more dominant than all of them. And that's something to think about. 
MANNION UP 
Since reclassifying up a grade, Nico Mannion has been a primary target for some of the best of the best in college basketball. In my first ever public viewing of the West Coast Elite point guard, Mannion impressed. 
He's a likely McDonald's All-American in the class of 2019. Athletic, crafty, alert, aware and engaged, Mannion does such a great job of controlling the tempo of the game and pushing his foot to the gas when it is time to take the game over. 
It is easy to see why Duke, Villanova and Arizona have been players for his commitment for some time. Kentucky and North Carolina are now in the mix, too. 
WE JAEMYN'
Louisiana Elite big man Jaemyn Brakefield is one of the best match-up problems in the class of 2020. 
The 6-foot-8 Mississippi native is one of the top offensive threats from the power forward position. He's a match-up issue because he can go from the outside and in. He's a capable scorer and a willing take-the-game-over kind of guy. 
Bill Self and Will Wade were on hand to see him play. And so were some of the top programs in the country with assistant coaches from Ohio State, UCLA, Kentucky and UConn also on hand. 
WILL BAKER, THE BUCKET MAKER 
Team HardWork added big man Will Baker for the Vegas week and the 7-footer went right to work with the UAA squad. He's one of the most skilled offensive big men in the class of 2019, showing off an array of post moves that keeps defenders guessing which way he'll go to the rim. 
A number of elite programs are in hot pursuit. Shaka Smart was flanked by a couple of assistants as they watched the hometown Austin stud play. Florida's Mike White, Stanford's Jerrod Haase and Texas A&M's Billy Kennedy were also on hand. 
HI, MY NAME IS… 
Illinois Wolves PG Marquise Kennedy was an eye-catcher on Thursday afternoon. The speedy guard from Chicago was one of the most exciting guards to see play all day at Coronado High School. 
He's one of the hottest mid-major prospects in the Midwest and there was a long list of coaches from those levels watching him. He played in a way where I could see some high-majors sneaking in after July comes to an end, too.
THE KIDS ARE ALRIGHT 
The Under Armour Finals offered a great view into the next wave of players in their circuit. 
We R1 big man Elijah Hutchins-Everett could be the best big man in the UAA next season. The 6-foot-11 center is one of the biggest players in the event regardless of class. He finished with 12 points and 12 rebounds in a morning win. The class of 2020 paint filler is one of the best young players I've seen this summer.  
Keep an eye on Rodriguez Gayle on the same WE R1 team. The class of 2022 guard has all of the tools to become a great one. 
West Coast Elite 16U guard John Stajhert had himself a day in a nice win over New Heights. The 6-foot guard scored 26 points, and hit five of eight from three. 
New Heights 16U Julian Champagnie showed some moxie in a hard fought loss to West Coast Elite, scoring 25 points and grabbing nine rebounds. He's a nice high-major minus prospect. 
Hason Ward of New Heights 16U is all arms and legs and plays like a guy just figuring out his 6-foot-9 frame. He had an effective eight points, 16 rebounds and seven blocks in a tough loss to the West Coast Elite squad.