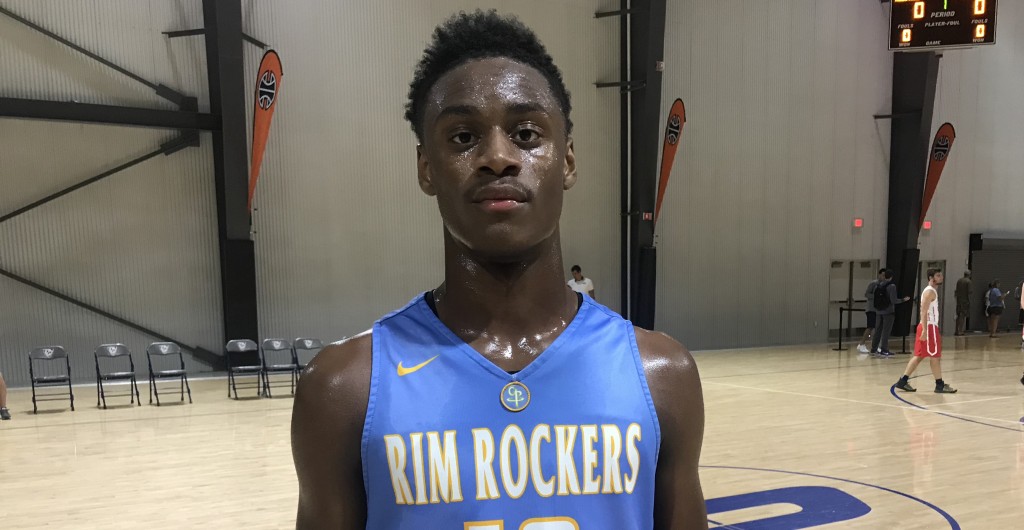 Georgia Stars 15u Squad Complete as any
Georgia Stars 15u are playing up an age group here at #BOTS, but that hasn't slowed them down at all. Coming into Saturday 3-0 on the weekend, this Stars squad hasn't only been unbeatable, they've dominated. The Georgia Stars have a roster full of potential. With the names Frank Anselem, Jaden Harris, Liron Thomas, Gabriel Wiznetzer, Rafael Pinzon, Warren Kidd and others, it's very easy to see how this team dominates. From top to bottom, point guard to center, this team covers it all. The Georgia Stars won both of their games today making them a total 5-0 on the weekend with no plans to slow down. A team that may have only 1 kid who isn't a division 1 talent, if this team continues to gel and work on their games, they will be an extremely scary team to play on the circuit for the upcoming years.
Jeremiah Littlepage shows flashes of potential
When you go to watch JSI 17u team play you will quickly notice a tall slender kid who has noodles for arms. His name is Jeremiah Littlepage and makes no mistake, this kid has game. In JSI's afternoon game against Balkman Elite, Littlepage displayed a nice offensive package as well as good defensive instincts. Jeremiah scored inside, hit a good looking 3 pointer, and had a between the legs crossover finish that opened eyes of everyone on the sideline. There were about 15 college coaches in attendance and Jeremiah Littlepage didn't disappoint the viewers. He is currently getting looks from Radford Morehead State, Oral Roberts, Tuskegee, Lipscomb, Belmont, SE Louisiana among others.
Mekhi Cameron, a name to know 
Mekhi Cameron (pictured above) was probably the only bright spot today against the Atalanta All-Stars. for the College Park Rim Rockers. The Rim Rockers went 1-1 on the day. In their second game of the day, you can describe their play as flat out miserable but there was a diamond in the rough of that performance, and that was Mekhi Cameron. Cameron scored 32 of his teams 51 points and did it with efficiency. Players with such talent sometimes allow the game to poorly affect their game and cloud up good judgement. Mekhi Cameron didn't. Cameron has a very calm and cool feel to his game. Nobody rushes him and usually, he gets to the spots that he wants. Mekhi scored in all types of ways. Getting to the basket, getting to the free throw line, and knocking down jump shots. Boy did he do that. Mekhi hit 7 3's and although I don't know his official shooting percentage, I would be willing to bet it was over 45%. Mekhi Cameron currently has offers from Division 1 Towson and Division 2 Lincoln Memorial. He's getting looks from Boston College, James Madison, FIU, Georgia State, Bridgewater, Citadel, Columbus State, Flagler College, Charleston Southern, UAB, Tennessee Tech, and others. 
Atlanta All-Stars want Recognition 
The Atlanta All Stars year in and year out always seem to be a team that fly a little under the radar. In the previous years, they had the names of Evan Cole, Damion Rosser, Adam Flagler, and Javon Greene just to name a few who all went on to play college ball. With players like Leslie Nkereuwem, Eric Coleman, Jaxon Etter, and Brady Spence on this years team, there is no reason to believe that they won't repeat the same success they've had in the past. The Atlanta All Stars went 2-0 today and played some really good basketball in front of a plethora of coaches. I firmly believe that the players listed above will all get the looks and offers they desire and will yet again be another year that the Atlanta All-Stars players that find their way on to college when it's all set and done.