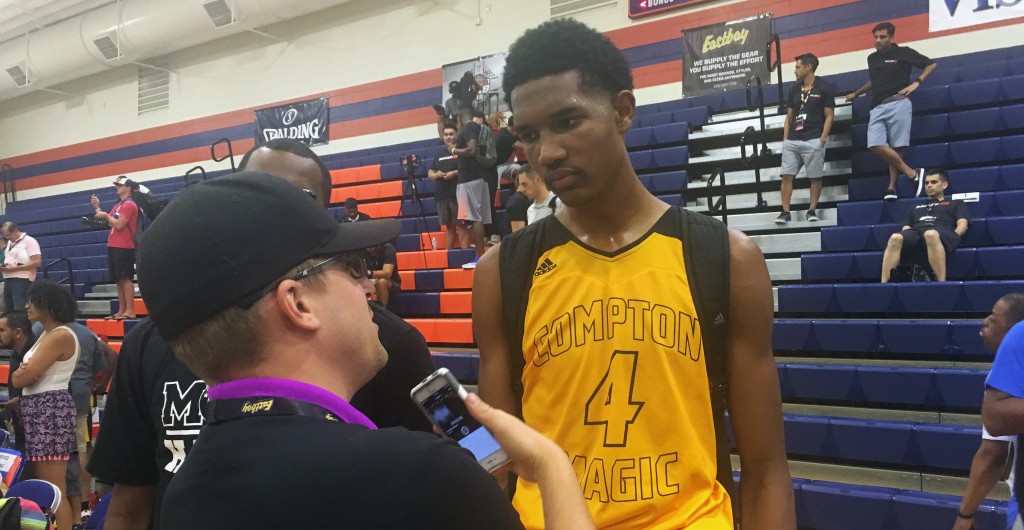 LAS VEGAS, NV - If you could find a place to sit or stand inside Bishop Gorman's gym on Wednesday night, you were treated to a throwback kind of night for the last week of the July NCAA evaluation period. The Fab 48 event pinned some of the top teams and players against each other. 
In today's world of brand separation on the elite travel circuit, it was great to see the best Nike, adidas, Under Armour and independent clubs lock horns in a competitive atmosphere. 
Travel ball went all in here in Vegas and we all won because of it. 
THE HEAVYWEIGHT FIGHT 
Compton Magic won the adidas circuit this season. Team Takeover won the Nike circuit. Both teams are stacked with talent. Stacked. Both teams compete like no other. Both teams have intense followings. Both teams shine in the realm of travel basketball. 
And for most years, both teams would just read about each other's successes and never play each other because of how brands stay in their own respective lanes. But not this year. Not on opening night in Las Vegas. 
College coaches, fans, teams and any Sin City hoop junkie filed into the bleachers at Bishop Gorman and were treated to a game that had to go into overtime to decide a winner. 
You couldn't have asked for a better way to start the most entertaining week of grassroots hoops. 
Compton Magic delivered with a 81-79 win over Team Takover. This game was a back-and-forth affair with lead change after lead change. In fact, it over delivered. It reminded the old hoop heads of the "good old days" of Vegas grassroots battles. The match-up should live in those sacred pages of travel ball history as one of the best to ever be played during this week. 
THE PRIZEFIGHTER 
Compton Magic won because they are a good team. Let's understand that first. But let's also understand this - 2020 PF Evan Mobley is one of the best amateur basketball players in the world. He played like such a claim on Wednesday night against Team Takeover. 
The 6-foot-11 forward from Rancho Christian (CA) scored 22 points in the victory and did things that only a few players in the high school ranks can do. He's the modern day big man with the size, length, athleticism and skill that played who sit on top of rankings lists have. 
Mobley was special in the win and was the best player on the court that featured the best teams in youth basketball in the best game of the travel season. 
HEAVYWEIGHT NOTES
Compton Magic wing Johnny Juzang was brilliant. The 6-foot-6 wing from Harvard Westlake (CA) scored 20 points in the win and made clutch shots down the stretch. His ability to come off screens and fire up quick shots is a gift. He's a major priority player for every Pac-12 school. 
USC commitment Onyeka Okongwu (Chino Hills HS) was terrific in the win. His defensive presence was outstanding. He guarded the rim with a purpose and played as physical as one could against the big Takeover frontline. 
Lost in the magic that was Mobley was the brilliant effort by Takeover's Armando Bacot. His frontcourt mate Hunter Dickinson went down to a nasty non contact knee injury early in the game. From there, Bacot went to work. The throwback big man was outstanding in defeat. He's what Elton Brand dreams are made of. 
The Takeover backcourt of Jeremy Roach, Anthony Harris and Justin Moore all had their moments of wow. Roach was terrific in this battle. 
Someone asked me on Twitter which coaches were at the event to see the action. I could only answer one way - all of them. 
PURE ENTERTAINMENT 
The undercard to the heavyweight fight wasn't too shabby either. E1T1 (Nike) and Team Rio (Under Armour) locked horns in a game that featured some of the most entertaining players in the country. 
E1T1 rolled out a couple of surprises for the match-up - Vernon Carey and Scottie Barnes showed up to play. The Floridians joined an already stacked team featuring CJ Walker and Tre Mann. All of that talent on the floor was a scary sight to behold. 
But not for Team Rio. And you better believe Scottie Lewis was ready.  Lost in the madness of everything that happened on Wednesday night was just how good Lewis is. He's the most competitive guy in this class. 
In the end, Carey was just too strong, Barnes was too good as a passer, Mann was just too good as a lead guard, Walker was too good as a defender and the E1T1 roster was just too deep and athletic to stop. But Rio battled and that's what they do. 
NOTES FROM WEDNESDAY NIGHT'S NOTEPAD 
Cole Anthony's first step is next level. 

Dahmir Bishop can really score but the Philly guard can really defend, too. 
Las Vegas 2020 PG Daishen Nix was impressive against PSA Cardinals. The 6-foot-4 guard may have been the best passing guard I saw on Wednesday night. 
Devin Askew of Mater Dei will be next. The class of 2021 has impressed me every time I've seen him this summer - at Nike Elite 100, the Peach Jam and now at the Fab 48. 
Liked what I saw from Richard Springs of PSA Cardinals. The class of 2020 big man has terrific hands.