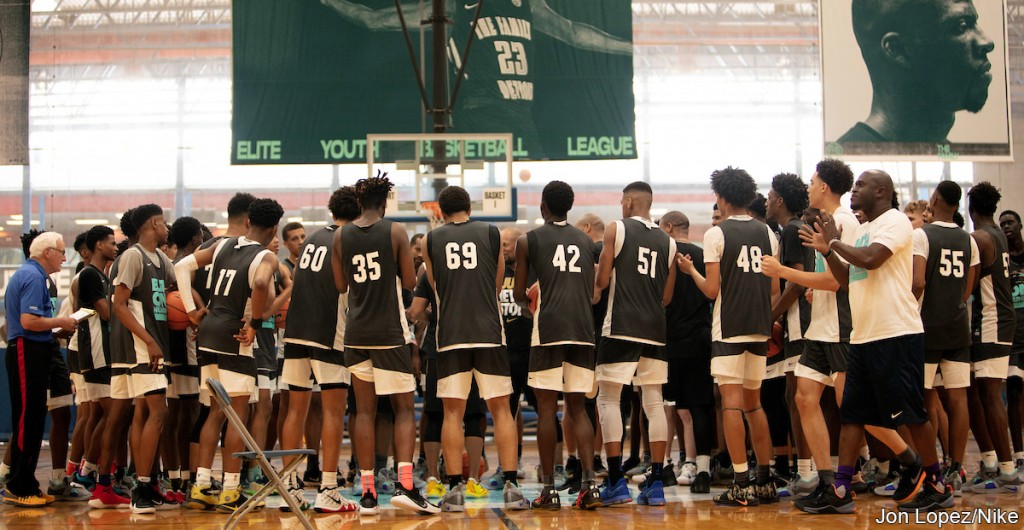 Our HoopSeen team spent last week in St. Louis for the Nike Elite 100 camp, featuring the top players from the classes of 2020 and 2021. There were over 100 campers and our staff dove deep into their notes and indented the top performers. Meet Justin's five. 
Noah Collier, 2020, 6-7, Mullica Hill, NJ, SF
Collier has terrific size for his position and played the part of a major college prospect. He was one of the most athletic players in the camp and made plays to make sure that sentiment rang true throughout the event. The 6-foot-7 wing challenged defenders to slow him down as he attacked the rim. Few did. And the ones brave enough to try, well, they were met with some force. His strength and bounce is next level and better than most in this camp. Overall, he put together a really nice string of games here in St. Louis. 
Greg Brown, 2020, 6-8, Plugerville, TX, PF
The Texan was just better than all of the other big men at the camp. He was brilliant. That shouldn't come as a big surprise. He's a no-brainer five-star top five level player in the class and one of the toughest players to guard. The best moment of the camp, at least for me, was watching him match-up with Johnathan Kuminga in the 3 vs 3 situational games. Brown showed his versatility as a face-up four man that can guard out to the wing. In the era of Marvin Bagley big men, Brown has a similar flavor to his game when it comes to bounce, aggressiveness, wow factor and size. Watching him build on his already strong set of skills will be fun over the next couple of years. 
Brandon Boston, 2020, 6-6, Norcross, GA, SG
The camp circuit has been a good one for the ever-growing prospect from Atlanta. Boston was my top overall prospect from the camp. There were times I had to ask myself a couple of hard questions - can he be the best player I've ever covered from Norcross (grads include NBAers Jodie Meeks, Al-Farouq Aminu, Jeremy Lamb and Gani Lawal)? And, moreover, is Boston a player that we will consider for the top overall prospect in the class when it is all said and done? Boston is a terrific shooter, plays with confidence and an alpha dog mentality. He got better from day to day here in St. Louis. This is coming off the heels of a great showing at the Pangos All-American camp. He's off USA Basketball next week. The narrative of his place in the 2020 class should continue the rest of the summer. It is warranted. 
Maddy Sissiko, 2020, 6-9, Mount Pleasant, UT, PF/C
What a story he has. Two years ago, he was just a new teenager in Mali that never played a day of basketball in his life. Fast forward today and guys like Rasheed Wallace are working with him at the Nike Elite 100 camp among the best young big men in the class of 2020. Not bad for a young man who doesn't speak a lot of English. Sissilko played harder than any player at the camp. He wanted to be coached and soak up the experience. Just how good will be? He could be one of the top defensive big men in whichever conference he ends up in. 
Terrence Clarke, 2021,  6-5, Weston, MA, CG
As one of the few freshmen in the camp, Clark jumped right in and didn't back down from a challenge. He jumped right into the action and didn't skip a beat. You could make an argument that he was one of the best passers in the entire camp. He was crafty with the dribble and found players on all spots on the floor. His feel is terrific. Offensively, Clark hit open threes and attacked the rim with the dribble without any pushback. Overall, he was one of the top guards in the entire camp.