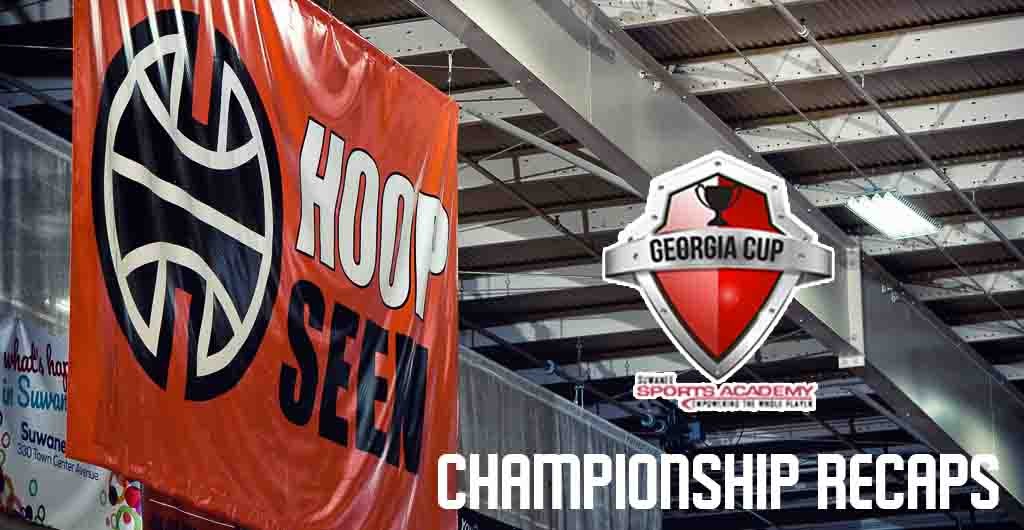 17 AND UNDER: New Level United 64, GA Phenoms 50
New Level United (Gold) defeats Ga Phenoms 64-50. From opening tip New Level United jumped to a 13-2 start and never looked back. This New Level United squad shot great in the first half hitting 8 three pointers which helped give them a 14 point lead. 
The second half was a little different as New Level United was successful by adopting a gritty grind it out style of play.
The Ga Phenoms, who were down one of their top players Justin Day,  tried to fight back but could never get it close enough to put any real in game pressure on New Level. Ga Phenoms Maliek Sadler lead all scorers with 17 points and had a really efficient shooting performance.
A balanced effort all the way around, Patrick Snipes lead New Level w/ 15 points while Niko Broadway and Shemar Etienne each added 13 points to give them the Championship W 64-50.
16 AND UNDER: Atlanta Playmakers 75, Reach Higher Kings 53
Only a 7 point game after the third quarter, the Playmakers outscored the Kings 28-13 in the fourth quarter.  
Forward Josh Taylor led the Playmakers with 26 on some nice finishes around the rim and living at the free throw line.  He used his size advantage to block and alter a number of shots around the rim.  In addition, guard Caleb Murphy scored 18 off of nice drives and high-flying dunks.  No one could keep him out of the paint as he broke down multiple defenders off the dribble.
For the Kings, Brian Ariza carried the load offensively, scoring 15 points.  Ariza does a good job of putting his head down and attacking the rim.  Brian Robbins also added 11 off of 3 made 3's.  
15 AND UNDER: HYPE 2021 88, Flame Elite 74
The 15U Championship saw a close game for the first 16 minutes between Hype 2021 and Flame Elite.  Owning a 1 point lead at the break, Hype exploded offensively in the second half scoring 53 points, winning by a score of 88-74.  Matthew Cleveland scored a game-high 25 points for Hype.  Cleveland is a high-level prospect who can finish above the rim, blow by defenders, and guard multiple positions.  James Watts-Abrams scored 15 on some impressive drives to the rim.  Cole Middleton chipped in 12 in the victory while Maxwell Smith sparked the second half run by hitting 3 quick 3's.
Flame Elite was led by Zavius Williams with 16 points.  Camren Lee also contributed 15 points in the loss, getting to the free throw line and showing the ability to finish through contact.  Lakendric Lyles chipped in 12 in the defeat on 3 made 3's.
14 AND UNDER: SBC 39, Deep South Blue Devils 36
Both of these teams have battled in the Cup series all season long and it didn't come as a big surprise that these two programs would compete for the biggest championship of the series. 
Each possession mattered in this one as the game went back and forth throughout the contest. The game never went more than a four point lead and in the end SBC held on for the championship in a nail-biter. 
Jahiem Johnson scored 12 points (all three-pointers) while Avery Hamilton drilled some clutch free throws in the final seconds. Joshua Fulton scored eight points. Timothy Thomas scored five. Collectively, the team was good when it mattered on the defensive end down the stretch and capitalized on the foul line. SBC finished 15-2 on the year in the Georgia Cup. 
AJ Swann capped off a big weekend, drilling four three points en route to 16 points in the championship game. Brandon Drummer scored six points as did Toby Thompson. The Blue Devils finished the season 8-2 in the Cup.
13 AND UNDER: Georgia Impact 51, Georgia Kings 34
Coming into this 13U championship game the Georgia Impact and the Georgia King's both have been playing good basketball. 
The Kings had a very difficult road to the chip beating out a good NSE team followed by a very good Georgia State Warriors squad. However, this Georgia Impact Team was too much for them and everyone else they faced this weekend. 
This Impact team has been dominant throughout the Georgia Cup series and capturing the Finals championship is just the icing on the cake. Both teams have very good size with the Kings a slight size advantage. That didn't affect Georgia Impact to much as they used their quickness and athleticism to there advantage. 
Impact was able to get Kelton Smith, which is the Kings biggest and arguably best player in foul trouble and forced the Georgia Kings into a smaller line-up. Aaron Smith was the best player on the floor today doing any and everything in his will to lead his team to victory. Smith lead all scorers w/ 12 points. Avante Nichols and Amon McDowell were also impressive scoring 11 and 10 points for the balanced Impact team.
12 AND UNDER: Roswell Bombers 63, Georgia Jayhawks 55
Roswell Bombers beat the Georgia Jayhawks 63-55 to win the 12 and under division of the Georgia Cup Finals tournament on Sunday. 
Tyson Pittman scored 13 points and continued to demonstrate his abilities as a floor general that included phenomenal ball-handling, no-look passes along with a desire to get his teammates involved all while being able to score with ease. Hampton Porter also scored 17 points primarily off of transition layups and displayed solid footwork for a big man along with an ability to run the floor. The Roswell Bombers played a solid offensive game behind the leadership of Pittman guiding them to a smooth championship victory. 
AJ Horton led the Georgia Jayhawks with 17 points primarily off of attacking the basket and several trips to the free throw line. a mix of three pointers. Nick Haley also contributed 10 points from several drives in transition.
11 AND UNDER: Atlanta Celtics 2025 64, Georgia Wildcats 44 
Atlanta Celtics 25 beat Team Georgia Wildcats 64-44 to win the 11 and under division of the Georgia Cup Finals tournament on Sunday. 
Ziair Finch scored 13 points and displayed great ability to shoot making three three-pointers in this game along with several layups. This follows up his semifinal performance where he had 24 pointers off of eight three-point baskets. Isaiah Simmons also scored 14 points primarily off of the drives to the basket and made free-throws from drawing fouls. The Atlanta Celtics asserted their dominance early in the game and kept their foot on the gas with in scoring and solid defense.
Elijah Milliner led the Georgia Wildcats with 15 points from a mix of three pointers and several drives to the basket. Keith Banks also contributed 7 points from several drives and free throws.
10 AND UNDER: Georgia Wildcats 40, TRU Elite 37 
The Georgia Wildcats were looking for one thing, and one thing only going into the championship game Sunday afternoon - redemption. Getting a chance to avenge their only loss of the tournament the Georgia Wildcats simply wanted it more. 
Pressing from the jump, the Wildcats were able to force a plethora of turnovers which lead to baskets at the other end. Thomas Rogels dominated from the tip for the Georgia Wildcats, beating the other teams press for and-1 buckets and easy lay-ups. 
Rogels has a very mature game for his age. He lead all scorers with 19 points and helped give his team a lead from the start that they never gave up. Dallas Walker and Dijan Day also chipped in some good offense scoring 9 and 8 points as the Georgia Wildcats took the championship.