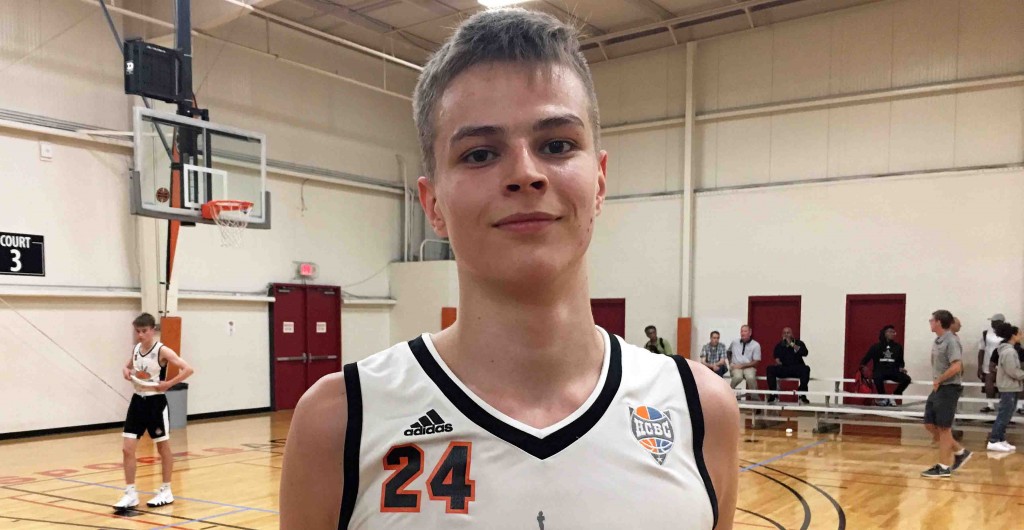 SUWANEE, GA - Opening night of the Bob Gibbons Tournament of Champions is always an interesting one. Teams from all corners of the Southeast make their way through the grinding Atlanta traffic for the most storied stage in grassroots hoops. The goal for day one - set the tone for the big weekend ahead. Several teams, and players, did just that. 
HI, MY NAME IS… 
Modestas Kancleris, JSI Elite, 2020 (pictured above): There wasn't a bigger storyline for me on Friday night than the 6-foot-8 Lithuanian import. He's been in the United States for 15 days and he's been on a tear ever since with JSI Elite. On the opening night of Bob Gibbons, he played the role of Mr. Versatility. Kancleris scored with jumpers, post ups, transition, offensive putbacks and from three. He is a skilled passer and shined as a shot-blocker. Overall, he showed flashes of so many good things. He's been to the United States before and has a good reputations in Europe. According to Jason Smith of JSI, he's already been offered by Indiana and Auburn. Kancleris is a no-brainer high-major player and potentially a top 50 level national prospect in the 2020 class. 
TOP DOGS 
Jalen Benjamin, Steakhouse Elite, 2019 - A scorer supreme, Benjamin started the event off strong, scoring 20 points in an opening round win. He displayed a great pull up, a nice three point jumper, a floater and thrived as a good pick and roll guy. He's the scoring leader of this winning team this spring and continues to play well for the adidas Gauntlet team. He's a good transition passer and very comfortable as a passing guard. Benjamin said he has an offer from Lehigh and interest from Furman, Northern Kentucky, Yale and Brown.

K.J. Johnson, EAB, 2019: If you've read our event coverage at all this season, you've seen Johnson's name in this space. And it probably said something about his speed and his quickness and his scoring touch in the open floor and his explosive run to the rim and his defensive tenacity. That can all be said again tonight. EAB, winners of both of our Jam series - Bama and Atlanta - was challenged tonight by Atlanta Select Select Black. Johnson helped rally the troops and closed the game out strong. He's a popular LM prospect in the South, picking up an offer from Campbell recently. 
Corey Walker, Game Elite FL 2020: In a scrappy game in the night cap, the 6-foot-7 wing forward did a lot of everything for Game Elite FL. He's an entertaining player with bounce and skill mixed together. Walker is an elite high-major who glued his team of high-major players together nicely. This could be a big weekend for the youngster from Florida and Walker should play a big role in that moving forward. He was the most versatile player I saw on opening night. 
RECRUITNG REPORT 
Jamir Chaplin (Steakhouse Elite/2019/SG) said he has offers from Virginia, South Florida and Charleston while Illinois, Georgia Tech and Ole Miss are interested. 
Nate Allison (Stackhouse Elite/2019/PF) has interest from Cornell, Furman, Mercer and Navy. 
Jeremiah Littlepage (JSI Elite/2019/PF) has interest from SE Louisiana, Morehead State, Samford, Campbell and Lipscomb.

Clarence Jackson (Team Georgia Magic)/2018*/SF) is headed to post grad and will be a part of the 2019 class, he said. James Madison is trying to get him as a 2018 prospect, Jackson said, and he's open to the idea of staying in the 18 class for the right situation. Otherwise, he's headed to Middle Georgia Prep. 
Austin Harvell (Nike Elite Stars/2020/F) said he holds offers from Ole Miss, Kansas State, Alabama, Auburn, North Alabama and Samford while a host of other schools are interested. 
NEWS FROM THE NOTEPAD
Damarcus Johnson (2019/PG/South Fulton Lions) steadily impresses me this spring. The 6-foot guard can score with ease going to the rim and he has the "jump-on-my-back" type of capability. Johnson was good in his team's win over Game Elite ELW.

BCB Black had a big match-up on opening night against Game Elite Gold FL 2020 and traded punches with the top 10 nationally recognized team on opening night thanks in large part to the toughness of Zach Ranson (2019/SG). The 6-foot-3 guard was not intimidated by the moment at all and relished in the opportunity of such a game. He impressed throughout with his effort, defense and overall competitive drive. 
Tremere Brown and Jhaquez Anderson of the Georgia Kings were instrumental in the Columbus, GA team's come from behind win over Upward Stars Charlotte. Brown played above the rim throughout and Anderson was a scoring machine from deep.