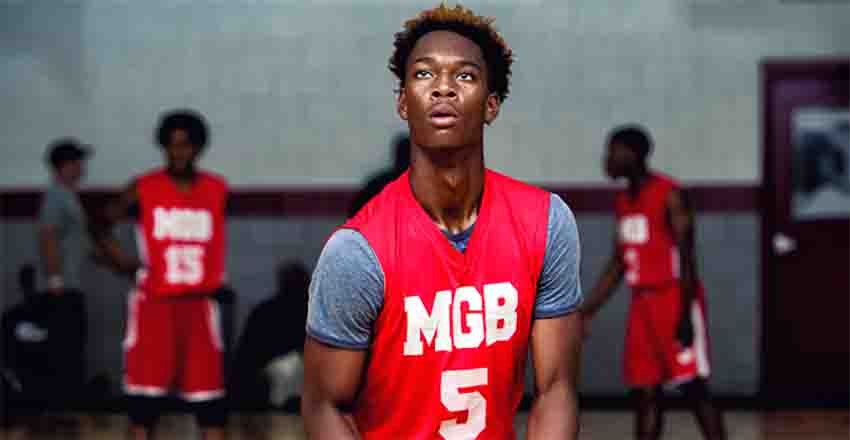 Day two has come and gone of the Bob Gibbons Tournament of Champions. The Saturday edition of the three day event leaves an overwhelming amount of notes in the notebook. I can only imagine what the Sunday session will surprise us with.
Biggest Surprises
One of the biggest and best surprises for me was watching Brinton Wright (pictured above). The '21 Perry, Ga native was playing up with the Middle GA Ballers (GA) in the 16U division. He is a 6-8 forward with guard skills. He has the skills and size to develop into a high major stud. He can shoot from long range or put the ball on the floor and get to the basket. He's one that I will keep my eyes on to see how his recruitment develops over the next few years.
Mr. Double-Clutch
Travon Smith is another '21 prospect that is playing up for his team. The 5-8 PG scored 8 points in a win for Atlanta Select Black (GA). That's not really noteworthy by not even making double-digits but it was really important when he scored 4 of his 8 however. He calmly drove into the lane and nailed a jumper to send the game into overtime. That was a clutch shot for such a young player to make. Even bigger was the basket to earn the sudden death victory. He drove into the heart of the defense and scored to send his team on to the next round.
Another Game Winner
Alabama Fusion-Jones (AL) needed a last second shot to get by Atlanta Express Hook (GA) in the 16U division. Demanding and taking that shot was Isaiah Gardner 6-0 '20. The Woodlawn HS product found a way to get the ball despite the heavy defense on him. He created space off the dribble and knocked down the game winner. The guard poured in 25 points in the game with his offensive display.
Fearless
Team EAT (GA) point guard was fearless in the loss to the Atlanta Celtics (GA). Bryce Latimer hustled for every loose ball and stray rebound there was. Latimer fought hard for rebounds and had his hands in the way even when he didn't come up with them. Bryce was easily the smallest guy on the court at 5-7 with trees all around him. That was no hindrance as he also scored a team high 22 points while trying to advance his team to the next round.