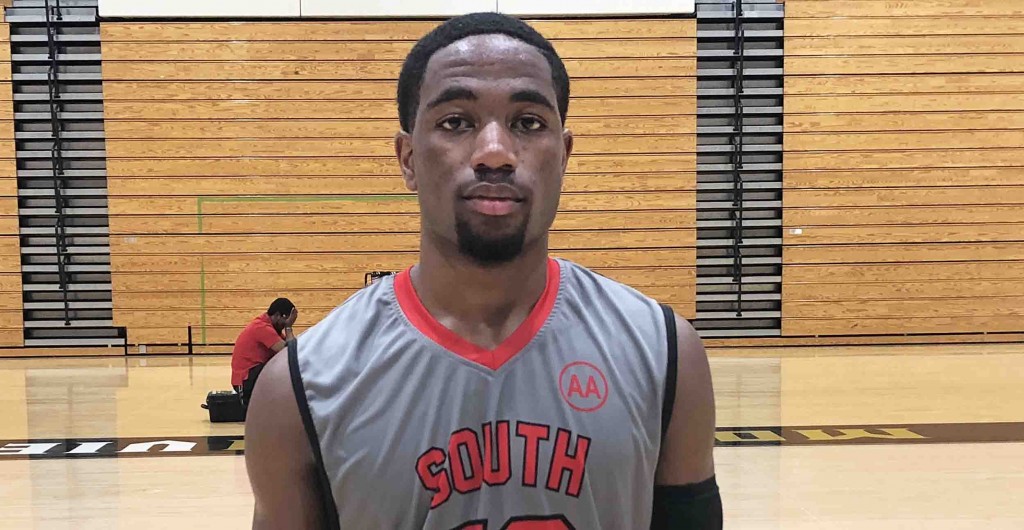 Mountain View High School showcased some 17U games from Day 1 Bob Gibbons Tournament of Champions. Here's a brief rundown of the top storylines from tonight's action.
Tennessee Tigers Duo comes out STRONG
Two names you may see frequently throughout the #Gibbons TOC will be Dionte Ware and Justin Headrick of the Tennessee Tigers. Travelling from Tennessee to Atlanta with the seemed to be a legitimate business trip tonight. Ware is a combo guard who's playing style reflects an old school "bully-ball" feel. He holds offers from James Madison, Arkansas State, and Chattanooga. He aggressively drove to the basket, and used his strength to make plays around the rim resulting in tough finishes or free throw attempts. He finished with 17 points. Headrick is a 6'7 forward who used his versatility to his advantage. He totalled 18 points tonight while knocking down 4 three-pointers. He runs the floor well, and opened up the offense for the Tigers with his shooting ability.. Chattanooga, Furman, Navy, and Air Force are all showing interest. 
Tre Jackson scores with ease
Some players make scoring look easy and Team South Carolina guard Tre Jackson did just that tonight in a win over Atlanta Xpress DB. In his 16 point outing, Jackson proved he was both efficient and effective. He displayed his scoring arsenal that consisted of knocking down spot up jumpers, creating separation from defenders off the bounce, and being crafty with his finishing at the rim. He has offers from Coastal Carolina, College of Charleston, Hofstra, SC State, and a fresh offer from Winthrop following the first live period. 
Keep your eye on…..
Perry Robinson of Game Elite Rivals. Robinson is a 2020 forward playing for the talented Game Elite Rivals. Despite losing a gritty match against the Tennessee Tigers, Robinson stood out due to his high motor and willingness to be active on every play. He's bouncy, and he has a good wingspan. His rebounding numbers and his finishing under the basket stood out the most, but he also wasn't afraid to use his ball handling skills to create driving opportunities to the rim. Contact from defenders wasn't a problem for him as he fought to finish his plays without anticipating fouls.
Unsigned Seniors looking to leave their mark 
Terry Dew and Kiya Randolph are just two of the unsigned seniors on the Justice League 17U roster looking to make a lasting impression this spring/summer. They were obviously on a mission in their team's win over Hawks Elite. Dew stands at about 6'6. He is simply a raw athlete who possesses a competitive edge on the floor. He finished the game with 14 points, scoring off of finishes in the paint, dunks in transition, and being "Mr.Hustle". Randolph is a 6'4 wing who plays bigger than his size. He thrives to operate in the mid and low post, but he also can handle the ball well in the backcourt and attack defenders off the dribble. Kiya showed effort on the defensive end by cleaning the glass for rebounds and accepting his role as a rim protector. He added 14 points of his own tonight. 
Other Notes
-Team South Carolina has a solid group of players that play great team basketball. Guards Nick Carson and Walyn Napper added 12 points and 10 points in a win tonight. Also, big man Chase Claxton had 6 blocks. An impressive defensive presence indeed. 
-Brandon Deravine and D'Antaye Page combine for 27 points for GA Elite Ballers. Deravine made his touches in the paint look easy, and Page, showed his scoring impact from multiple spots on the floor.
-Carolina Pressure trio of PG Tajay Dunlap, G Javon Anderson, and F Dejuante Williams carried the fort in a win over Game Elite Monstars. Dunlap has a good pace and a high IQ for a PG. Anderson's pull-up jumpshot is noteworthy. Williams is a lengthy forward that stays active.