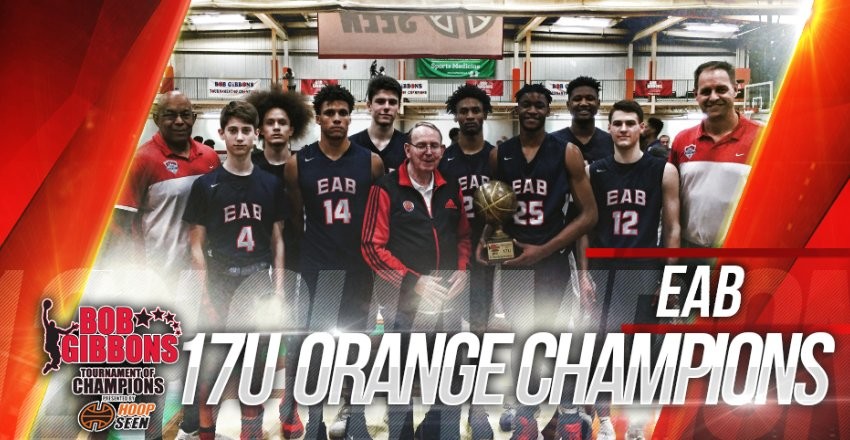 17U Orange Championship: EAB 71, Louisville Magic 58
The EAB Tigers captured their third championship at a HoopSeen event this spring, as they held on to defeat a scrappy Louisville Magic team by a score of 71-58 on Sunday afternoon at Suwanee Sports Academy. EAB had previously won championships at the Bama Jam and Atlanta Jam, too.
Behind a hot start from 2020 shooting guard Keon Johnson, EAB jumped out on top early and ultimately never looked back. Johnson knocked down three shots from behind the arc early to give his team a cushion to begin the game. He finished with 14 points. K.J. Johnson finished off his backcourt mate's start, as he led the way with 16 points in the game. Carson Carey added 15 points of his own. All three players made at least three three-pointers and the team finished with 12 3's overall.
Despite the loss, the Louisville Magic had yet another successful weekend at Gibbons. 2018 guard Eric Boone, a Tallahassee Community College signee, led the way the entire weekend for the Kentucky-based squad. He scored a game-high 19 points in the loss. Bryce Scott and Jaron Thames each added 8.
17U Black Championship: Atlanta All-Stars 57, Stackhouse Elite 50
An all-around effort from the Atlanta All-Stars led them to the 17U black championship victory at Gibbons, as they edged out Stackhouse Elite by a score of 57-50 on Sunday afternoon.
Each player on the roster scored at least once for the All-Stars, but Jayvion Rucker set the tone early and often for the team. With his length and defensive instincts, he jumpstarted his team early in the game. Jaxon Etter led the way in the scoring department with 15 points. Nick Edwards chipped in 12 points, too.
Jalen Benjamin wrapped up an impressive tournament with a game-high 26 points. The talented point guard was one of the top scorers from the tournament. Jamir Champlin also added 10 points in the loss.
17U White Championship: Team Charlotte 73, Team SC Black 58
The road to the championship game of the Bob Gibbons Tournament of Champions is not a smooth. It is a grind to the final destination and bringing home the title takes a lot of work and grit. 
Team Charlotte had to empty the tank to win the White championship. 
Both teams are scrappy as can be and coming into the contest we knew it would be a matter of who would just out-scrap the other one. This game wasn't going to be a pretty one. And both teams prefer such a game. 
In the end, Team Charlotte won the grudge match in the second half. 
Chico Carter, Jr. led the way with 20 points, Deangelo Epps scored 16 point, Raquan Brown scored 13 and TJ Bickerstaff and Andra McKee each scored 10. 
Team SC Black was balanced across the board. Sherman Robinson had 12 and Chris Jamison pumped in 10. Tre Jackson had nine points. - Justin Young