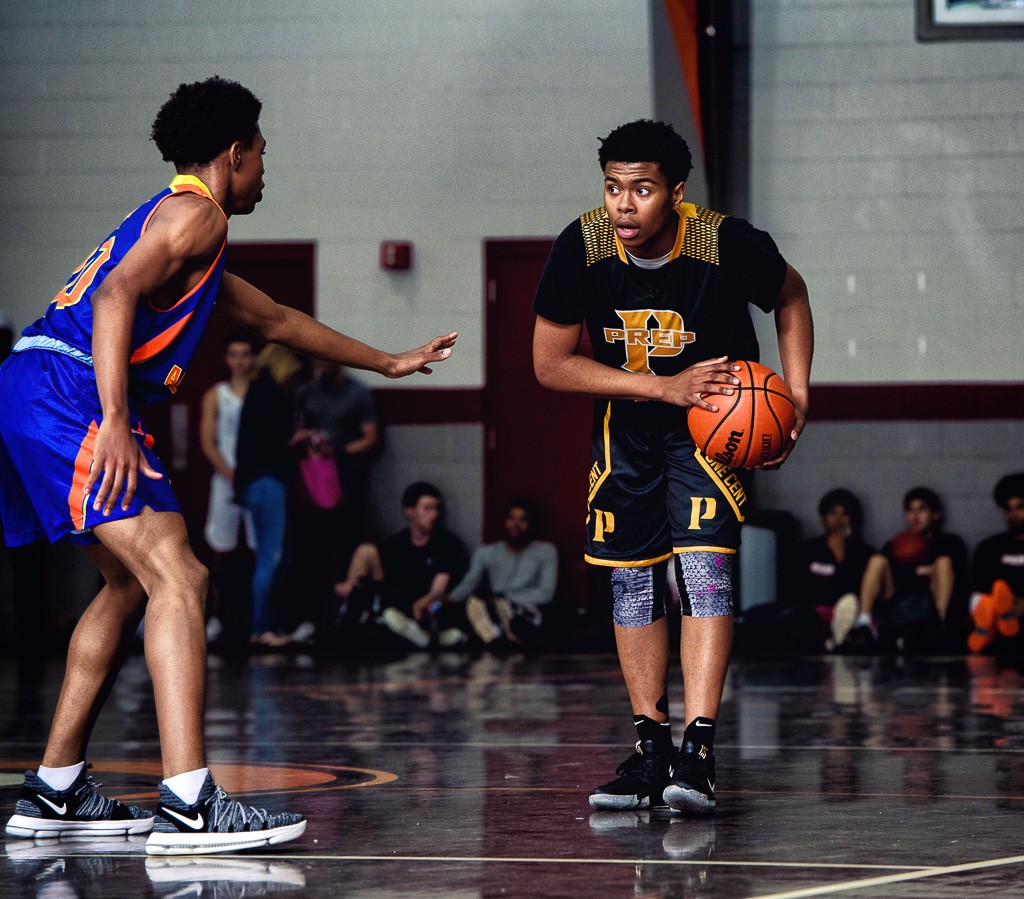 The second session of the "live" period saw a slew of teams from the state of Tennessee make their way to the Peach State to participate in one of the best events of the period, the Hoop Seen "Atlanta Jam". The second part of the Jam series featured another heavy run for EAB, who took the Orange crown in the 17 and 16 Under division, the 16s defeated another Tennessee squad, the Chattanooga Elite Grey,  plus a runner-up for the EAB 2021 squad. Here's a look at some of the players who shined without you knowing it. 
We had plenty of mainstream media attention for the likes of Keon Johnson (Webb School), K.J. Johnson (Marshall County), Grant Ledford (Grace Christian) and Brock Jancek (Knoxville Catholic), who were all chosen to the prestigious All-Tournament squad in the 17U division. Here are 15 guys who made their own mark on this event.
Nate Bloedorn (Nolensville)
6'7 PF 2019
EAB 2019
Big Nate saved his best game for the final two days playing in front of a throng of coaches he showed some old school post moves, you remember a move and a counter-move, he was big on the glass, got tough rebounds in and out of his area, he showed he could pass from the post. His effort landed him on the All-Tournament team. 
Charles Browder (Dobyns-Bennett)
6'8 PF/C 2020
Tennessee Bobcats
The attention was focused on Ledford and Jancek, but somehow this other kid kept coming up with big rebounds, keeping possessions alive and even scoring some from the mid-range. The youngster played smart and didn't try and do to much. His confidence should be at an all time high after his efforts in Sewanee. 
Javon Craddock (Tyner Academy)
6'0 PG 2020
Chattanooga Elite Gray
Small guard was one of the few bright spots in the Orange championship game loss to EAB 2020. Craddock popped a couple of long outside shots in what was a very physical and sloppy game. His quickness was evident as he led his team to an unblemished record before the finals defeat. 
Julius Dixon (Fayetteville)
6'7 WF 2019
EAB 2019
Who helped themselves more than this impressive raw athlete from Middle Tennessee. The wingspan, the length, the ability to run the floor, the shot, once his experience level catches up to his skill level, sports fans watch out. Dixon picked up his first offer over the weekend from Tennessee-Martin and was named to the All-Tournament squad. 
Timothy Hall Jr. (Karns)
6'4 WF/PF 2022
Free Agents
Young kid really turned some heads with skill level. Yet to even play his first high school minute, he showed an ability to go get rebounds and scored some buckets as well. His effort was his staple and was the reason he was so successful against the older kids. 
Cedric Henderson (Briarcrest Christian)
6'6 SG/WF 2018
Memphis Prep Unsigned Seniors
Unsigned senior with a ton of upside and skill. How he is still unsigned I have no idea. Henderson had a nice event leading his squad to the Gray Division championship and being named to the All-Tournament squad as well. 
Michael Houge (Chattanooga Christian)
6'6 PF 2020
Chattanooga Elite Gray 
Big boy had himself a very nice tournament helping lead the Chattanooga Elite Gray 2020 squad into the championship game where they fell to EAB 2020. He was a monster on the glass the entire tournament and showed some scoring ability on the block with put backs and hustle plays. 
Dalton Marsh (Red Boiling Springs)
6'5 PF 2020
EAB 2020
He doesn't wow you with his athleticism, he doesn't jump well but he does have is a particular set of skills that makes him a nightmare for people who try to guard him in the post. He can finish over either shoulder with either hand. He stays after rebounds and has great hands which aids in the ball always finding his mitts. 
Mason McKnatt (Grace Christian)
6'0 SG 2020
EAB 2020
One of the finest pure shooters in all the land. He helped take a stale and rather physically demanding game out of its doldrums hitting a pair of deep threes and stretching the lead in the title game for his team to claim the championship. His body is slight but his shot is pure. 
Dee Merriweather (Memphis East) PICTURED ABOVE 
5'10 PG 2019
Memphis Prep
Playing outside the shadows of his larger high school brethren, it was refreshing to see the talent this young man has. He was named to the All-Tournament team with a good showing over the weekend. A really nice stroke and some quickness with the ball make him someone to keep an eye on for the remainder of the summer. 
Matthew Schneider (Siegel)
6'3 SG 2021
EAB 2021
Pure stroke with a lengthy body. His potential excites me and when his body gets stronger he will be pone of the top players in the state without a doubt. he led his squad to the title game of the Orange Division falling just short against a very good Team Tuff. 
Grant Slatten (White County)
6'1 SG 2021
EAB 2021
How can you not love this kid. He is sneaky athletic, creative finisher, has a really nice stroke and was instrumental in helping lead his squad into the title game. He oozes confidence and has the pedigree to become one of the best overall players in the state.
Diablo Stewart (Kentucky)
5'11 PG 2019
Tennessee Bobcats
Smooth stroke hit six or seven in the semi-final loss to EAB. His efforts landed him on the all-tournament squad and put his name on some mid to low major bulletin boards without question. His lead guard skills are good and you have to respect the shot. 
Zion Swader (Siegel)
5'11 PG 2021
EAB 2021
This youngster is fun to watch. His penchant for scoring is top notch, he has a nice stroke and can accelerate and finish at the rim. His decision making will grow as his skill level and basketball IQ grows. His will to win and ability to create havoc is already in his DNA. 
Jamaal Walker (East Hamilton)
Limitless potential in every aspect of his body and his game. His slight build hinders his confidence somewhat but his skill level is apparent. He had a very nice and consistent weekend helping lead his team to the title in the Orange Division. Bright future once his body catches up.  
I'M FROM TENNESSEE TOO... 
Here a short synopsis of some other Volunteer state kids who had some sterling efforts at the Hoop Seen. 
Tyler Nordin (Bearden) 5'11 PG 2020 Tennessee Fury
Had a few big games including a 31 point effort, slick guard with some scoring skills
Chris Hunter (Austin East) 6'2 SG 2018 Dream Elite
Army football signee was one of the top scorers in the event and was selected to the All-Tournament squad
Owen Honroth (Signal Mountain) 6'2 PG 2019 PSB Chattanooga
All Tournament selection helped his team to a solid finish, steady player with some upside
Ty Hurst (Carter) 6'3 WF 2020 Dream Passion Elite
Showed some scoring prowess with a 28 point game and a 32 point effort as well. 
Laverick Mangela (Antioch) 6'2 PG 2018 BFG Elite
Tough athlete who showed enough to be selected to the All-Tournament squad. 
Elijah Cobb (Riverdale) 6'6 WF 2019 Pro Select One Navy
Long thin athlete was a top of discussion for many of the onlookers at the Hoop Seen, he caught some eyes. 
Clay Holmes (Brentwood Academy) 6'2 SG 2019 Upward Stars-Nashville
Rangy guard showed some scoring prowess with a big 24 point effort as his squad finished up nicely
Shannon Walker (McCallie) 6'0 PG 2019 Chattanooga Elite
On of the toughest on ball defenders in the event, enough to earn him a spot on the All-Tournament team