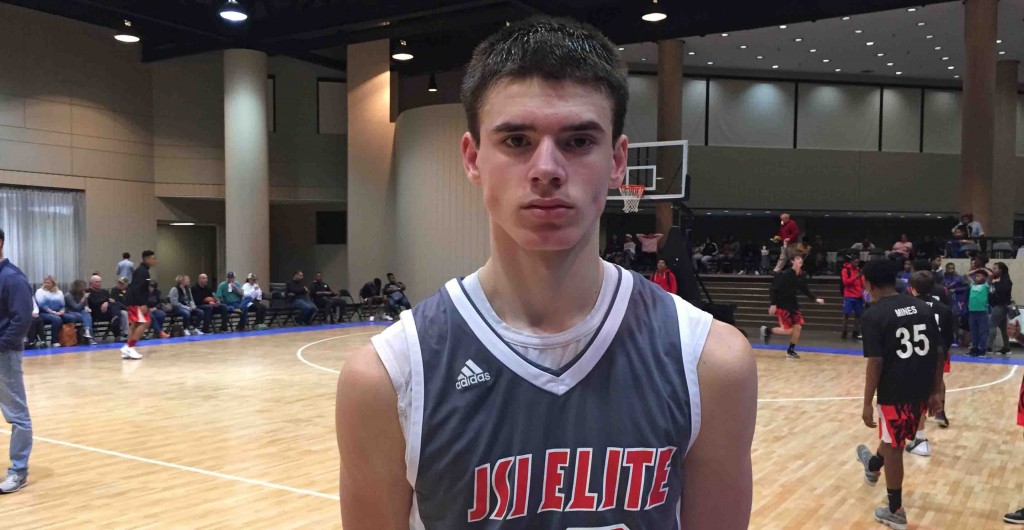 The 15 and under division of the 2018 Bob Gibbons Tournament of Champions was jam-packed with talent. We take a deep dive into the age group and identify the top overall performers from the talent-filled weekend.
Frank Anselem, Georgia Stars, 2021 C: Frank Anselem, a 6-10 Center showed why he's already getting high major division 1 offers. Frank is extremely long and athletic and he uses that on every possession to give him an advantage both defensively and offensively. Grabbing rebounds, blocking shots, dunking in traffic you name it Anselem delivered throughout the entire tournament, which is a huge reason why his team won it all. Frank currently holds offers from Clemson and Florida and holds interest from Kansas State, Auburn, Ole Miss, and Tennessee. - Cameron Neysmith 
Brooks Barnhizer, JSI Elite, 2021 SG (pictured above): It's hard not to like what Barnhizer brings to the table when he steps on the floor. The 6-foot-5 wing is a dangerous sniper from behind the arc, as he knocked down several 3's throughout the weekend. Barnhizer also plays the game with a high basketball IQ and an excellent feel for the game. He doesn't press or rush things. Instead, the uber-talented wing makes the correct play each time down the floor. He was one of the most cerebral players in the 15U age group. - Garrett Tucker
Chase Cormier, Atlanta Celtics, 2021, SG: Shooter, shooter, shooter. Throughout the weekend Cormier made it known that he was a shooter and defenses still didn't have an answer for him. Playing for the 15u Atlanta Celtics, the 2022 Shooter was effected at all playing up an age group. One of the things that makes him so dangerous is his range. Rarely was he straddling the 3 point as a majority of his shots came from Deep. Cormier shooting prowess help lead his team to a championship birth as they eventually lost to the Ga Stars. - Cameron Neysmith 
Jaden Harris, Georgia Stars, 2021 CG: There weren't many more physically imposing guards at the 15U level than Jaden Harris. The 6-foot-3 power guard brings brute force and explosiveness to the game. He is nearly unstoppable when he puts his head down and attacks the rim, but he has a smooth style that allows him to slice through defenses. Harris has a loud game and is an instant eye-catcher when viewing. - Garrett Tucker
Trey James, Manimal Elite, 2021 C: - The 6-10 Kentucky Center does one thing as good or just as good as any body his age, block shots. Coming into Bob Gibbons James was known as a shot blocker and he showed why throughout the tournament. Huge frame, Trey James uses his size and his defensive instincts to time up the opponents shots to either alter or block seemingly every possession. Not yet polished offensively Trey James is looking to add that to his repertoire to make him a complete dominant player. - Cameron Neysmith
Brody Peebles, Pro One Select Navy, 2021 SG: Peebles took off last season at #Gibbons with some big scoring performances and it continued this year. Highlighting the weekend with a 41-point outing on Saturday, the freshman was one of the most polished scorers in the 15U division. Peebles can score the ball in a variety of ways, but he continues to add more options off the bounce to complement his sniper shooting ability from the perimeter. 
Tre Roberson, Georgia Stars, 2021 SG: Cool, calm, and collective. Eight a.m. games can be difficult to overcome for some players at this age. Not the case for this Alabama guard. Tre, playing with the Georgia Stars 15u, started off the first game of Gibbons Strong. Beating defenders off of penetration, finding open teammates, and knocking down the outside shot, Roberson showed a complete arsenal en route to 20 points. He continued his good play throughout the Tournament of Champions earning his squad a 1st place finish in the 15u Bracket. - Cameron Neysmith