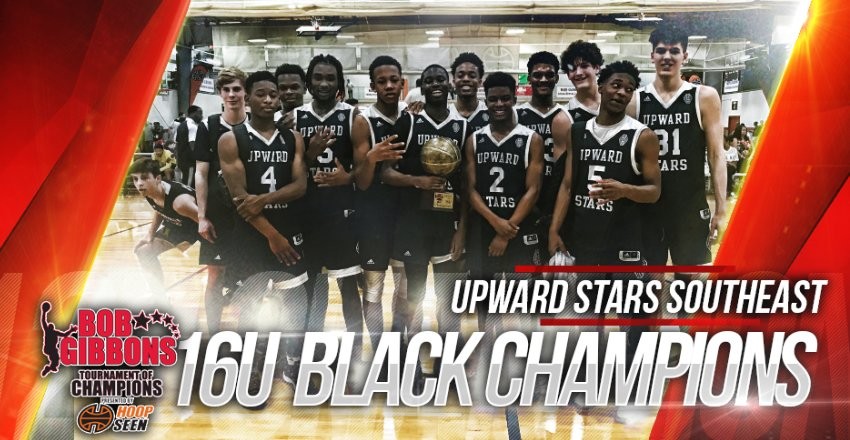 16 AND UNDER: Georgia Stars 52, Louisiana Elite 49  
The Georgia Stars and Louisiana Elite had a great match-up for the title in the 16 and under division. In the end, the Georgia Stars battled it out in the home stretch to take home the coveted title. 
Christian Wright scored 18 points and was terrific with the ball in his hands throughout the weekend. On the other side of the backcourt, Jordan Rawls scored 13 points in the game. Big man Jordan Meka was great on the glass and shined as a rim protector, he also scored nine points. 
Big man Moses Nyodock played great in the title game, scoring 14 points. Jason Perry and Kentrell Garnett each scored 11 points. Very impressive weekend for Louisiana Elite. - Justin Young 
16U Black Championship: Upward Stars Southeast 79, E1T1 72
The 16U Black Championship game was a game of runs to where the Upward Stars Southeast (SC) held off E1T1 (FL) by the score of 79-72.
The Adidas representatives were powered by Dillon Jones 6-4 '20 G. The bullish 225 pound combo guard played all out to help his team. He finished with 15 points, 6 rebounds, 6 assists and 3 steals. Paul "PJ" Hall 6-8 '20 F knocked down 2 three's on his way to 14 points. Hall also grabbed 7 boards and swatted 2 shots. Justin Amadi 6-5 '20 F scored 12 points. Isaiah Caldwell 6-4 '20 G and Myles Tate 5-10 '20 PG both added 10 points.
Luis Rolon 6-3 '20 PG did everything he could to keep the Nike squad close. He ended up with 17 points and 6 rebounds. Marcus Niblack 6-0 '20 G hustled his way to 14 points while Zach Anderson 6-6 '20 G managed 13 points, 8 rebounds and 2 blocks.-Jeff Roberts