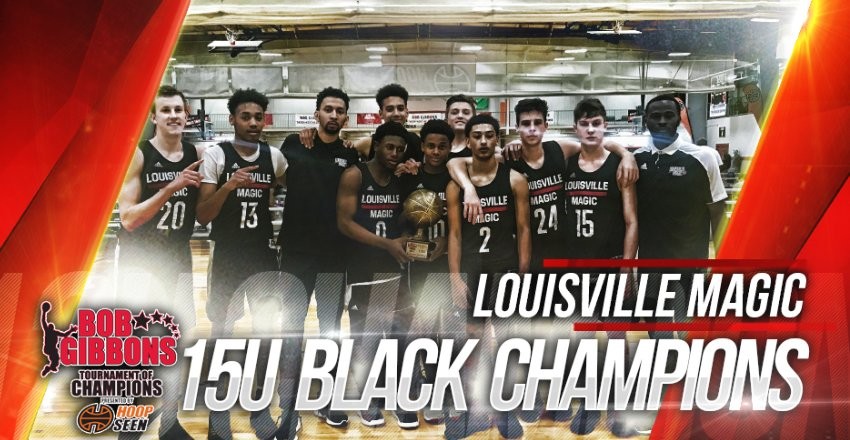 15 AND UNDER ORANGE: Georgia Stars 45, Atlanta Celtics 25
The Georgia Stars got out to an early lead in the 15 and under Orange division championship game and never took their foot off the breaks. They went on to knock off the Atlanta Celtics for the trophy.
AJ White had an excellent game from the point guard position for the Georgia Stars in this one. He knocked down a couple 3s on his way to 15 points and dumped off quite a few assists. Frank Anselem handled the majority of the work in the paint for the stars. He threw down some crazy dunks and managed to put up 10 points and grabbed five boards in just one half of work. - Bre Singleton 
15U Black Championship: Louisville Magic 72, Stackhouse Elite 62
The Louisville Magic (KY) continued their roll during the spring with an impressive 72-62 championship victory over Stackhouse Elite (GA). Both of these Adidas Gold teams had solid performances this weekend.
Kooper Jacobi 6-6 '21 F paced the Magic with 19 points while his Silver Creek HS (IN) teammate Trey Kaufman 6'7 '21 F pitched in 10 points.
Kedrick Green 5-9 '21 G scored 16 points for Stackhouse Elite with 2 three's coming in the closing seconds of the comeback attempt. Payton Daniels 6-1 '21 G had another solid outing in the tournament with 14 points.-Jeff Roberts