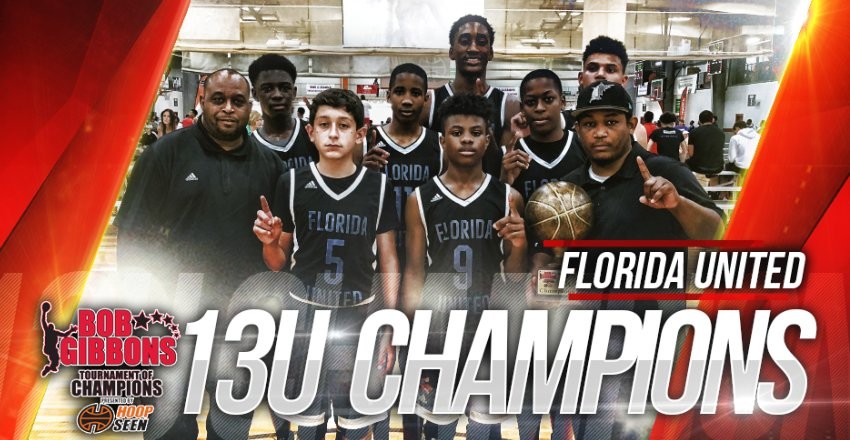 14U Championship: Georgia Stars 61, JE Elite 48
The Georgia Stars (GA) slowly developed the lead and was able to maintain for the 61-48 over JE Elite (SC). The size and length of the Georgia based Nike team proved to be too much for the smaller yet scrappy Elite team. 
Leading the way in the victory for the Stars was Anthony "TJ" Grant. The 6-4 '22 Bonaire Middle School guard scored 24 points while going 10-12 from the free-throw line. Grant was able to get into the lane off the dribble and finish around the rim. Dillon Hunter 6-1 '22 G dropped 16 points with 3 three's and a couple baskets where he left fingerprints on the rim. Robert Cowheard 6-3 '22 added 10 points while making all 6 of his free-throws.
JE Elite was paced in the loss by Justin Bailey 5-9 '22 G and Samuel "Sam" Perry 6-0 '22 G with 8 points apiece. - Jeff Roberts
13 AND UNDER: Florida United 74, TNBA South 54
Florida United proved to be too big and too strong for TNBA South and went in to win the 13 and under division of the Bob Gibbons Tournament of Champions.
Kaven Call and Matthew Bewley had complete control over the championship game. Call had a monster first half, putting up 17 points in an incredible offensive display. He would secure his double-double with 12 minutes still left on the clock in the game. Bewley came alive in half number two where he put up 17 of his 26 points. He also pulled down 12 rebounds. Kaven Call ended the game with 23 points and 16 rebounds. Yacinthe Iverson also contributed 10 points and five boards.
Sam Walters led TNBA South with 15 points and five boards. He did his best to score in the paint where Bewley and Call were lurking for Florida United. Braeden Marshall was able to put up 10 points and dish out a few assists, still TNBA wasn't able to pull with less than 11 points. Florida United cruises to an easy victory to become #Gibbons champs.
12 AND UNDER: Powerhouse 50, Warner Robins All-Stars 42
Powerhouse 2024 held off a tough comeback from the Warner Robins All-Stars to win the 12 and under division Bob Gibbons championship trophy on Sunday afternoon.
Darius Washington had one of the most outstanding offensive performances of the weekend, hitting five three-pointers on his way to 27 points. Washington was in a groove all game, scoring 12 in the first half and 15 in the second. Amare Johnson handled most of the scoring for the team from Warner Robins in the first half, putting up seven points to keep his team within one at the break.
Johnny Brown came alive in the second half for Powerhouse, scoring buckets and collecting assists. He would finish with eight points while Tyler Johnson managed to grab 15 boards. Sed Dotson and Champ Flowers would finish with eight and seven points respectively for the All-Stars but that wouldn't be enough to catch Powerhouse in the end. Amare Johnson would also finish with 13 points. - Bre Singleton