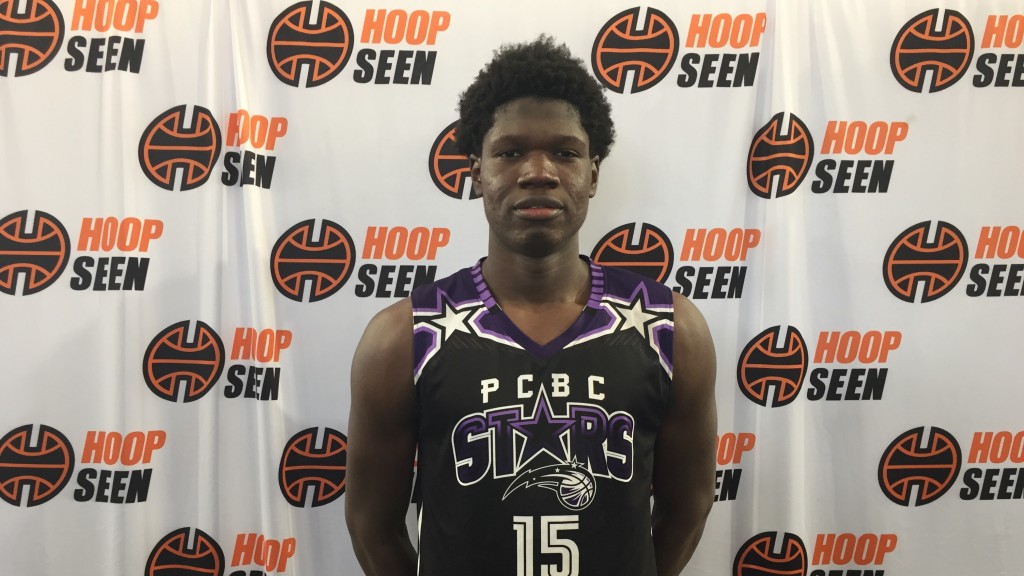 The #BamaJam tipped off Saturday morning at the Finley Center to begin the first evaluation period. With six states represented in the field, the inaugural event had a solid day of action.
Here are the top storylines from the day from Garrett Tucker's eyes…
DUO OF BIG MEN SHOW PROMISE
College coaches can't get enough big men on their radars and several coaches added a handful of names to their list on Saturday. The PCBC Stars 17U group produced a nice duo in the post of 2019 center Cheickna Sissoko and 2020 power forward Cole Larue.
Sissoko (pictured above), a 6-foot-9 big man from Gulf Breeze (FL) Lighthouse Private Christian Academy, had a solid day of action in the paint. The Mali native has been in the states just over a year and has seemed to adapt well to the American game. Sissoko has a nice, strong frame and has some intriguing aspects to his game. He scored around the rim efficiently, but he really raised some eyebrows by knocking down a couple of mid-range jumpers. Many Division I coaches will be searching for size in the next few months and Sissoko is a nice name to add to a depth chart.
Larue serves as a nice complement to Sissoko as a face-up 4 man with the ability to shoot. At 6-foot-8, the sophomore has a nice skill-set and is a tough matchup for opposing big men. The Mobile (AL) McGill-Toolen product has a lot to like and could be an ideal system guy for certain programs. Don't be surprise to see a host of Division II and low-major programs showing early interest in him.
ISIAH GREEN FILLS IT UP
Not many players had a better day than 2019 Huntsville (AL) Mae Jemison combo guard Isiah Green. The 5-foot-9 sparkplug had it rolling throughout the day, scoring 72 points over the course of three games, including a 32-point performance during the afternoon.
Green has great quickness and the ability to handle the ball well. He has shown he can put up points in a hurry, whether it is off the catch or off the dribble. There aren't many better pure scorers at the #BamaJam than Green. Several college coaches watched him throughout the day, including hometown school Alabama A&M.
Green continues to have a strong spring on the travel circuit. The junior was named to the Gulf States Cup all-tournament team after averaging 25 points per game in March.
BEN SHEPPARD DELIVERS
Earlier in the week, our own Tai Young hinted at 2019 Greater Atlanta Christian (GA) guard Ben Sheppard possibly being a big name to watch this weekend with God's Property. Well, it's safe to say Sheppard followed up on that tip.
Sheppard, a 6-foot-5 combo guard, was phenomenal throughout the day. The junior has nice ball skills and is fundamentally sound. He showed the ability to make shots at a consistent rate, too. The Atlanta product didn't force the issue at any points during the day. Instead, he made good decisions and picked his spots accordingly.
Following the #BamaJam, don't be surprise to see him as a hot commodity for the coaches that were in attendance. Jacksonville State, North Alabama, Tennessee Tech, Alabama A&M, and UA-Huntsville are among the schools that kept close tabs on him throughout the day.
LIOR BERMAN & MASON BRAGWELL SHINE BRIGHT
The BJBC squad kicked off the day in a convincing fashion and much of that was because of the performances from 2019 Mountain Brook (AL) forward Lior Berman and 2019 Belgreen (AL) face-up 4 man Mason Bragwell. Both of those players continued their nice starts throughout the day.
Berman, one of the key pieces for Mountain Brook's 7A state championship team this year, put together a couple of strong performances. He scored 25 points to open things up, as he showed off his shot-making ability and versatility. The 6-foot-4 forward is a utility guy all-around, but he has some bounce in his step, too. With high academics and versatility, Berman should be a priority prospect for Division II programs.
Bragwell continues to make strides with his game. The 6-foot-6 stretch 4 man was one of the best shooting big men around today. In fact, he started out the afternoon session with three jumpers from the elbow to start out the game. With great hands, the ability to move, and his ability to stretch the floor, Bragwell is an intriguing prospect for Division II and Division III programs.