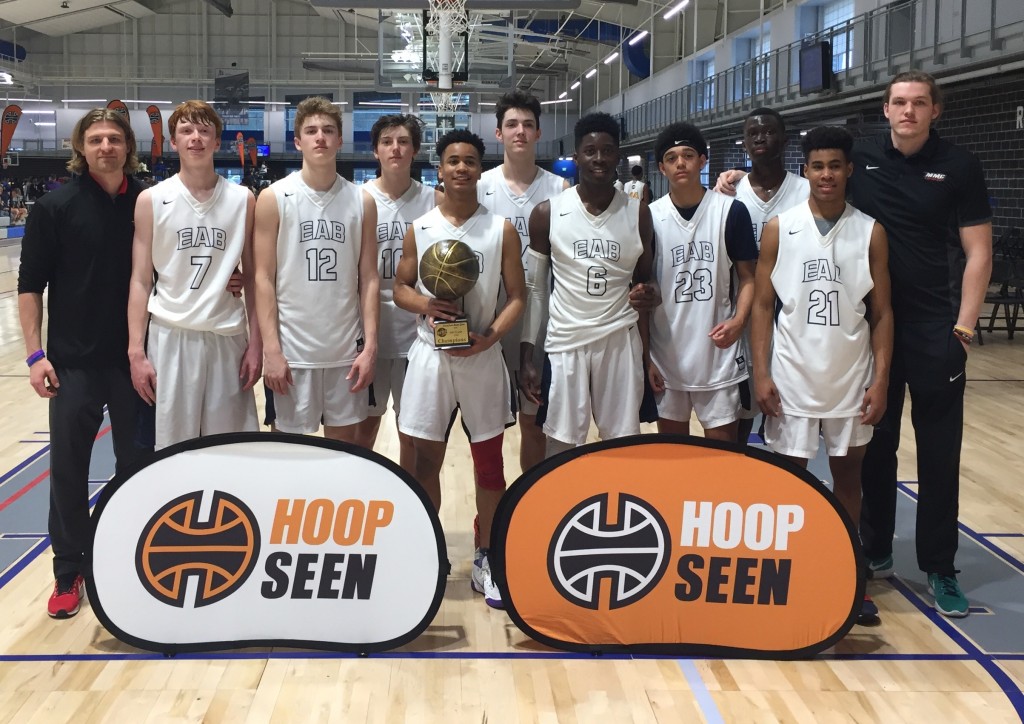 14U Championship: PCBC Stars 39, Auburn Raptors 37
The 14U championship ended up being one of the better games of the weekend, and it was a rematch from early Saturday morning. The PCBC Stars (AL) survived a back-and-forth game to get the 39-37 victory over the Auburn Raptors.
PCBC was able to get a three point lead on a free-throw by John Witherington 6-3 '22 PF Fairhope Middle School (AL) with :31 seconds remaining and held on for the victory. Witherington scored all nine of his points in the second half while William Veasy 5-5 '22 PG Corpus Christi (AL) was the leading scorer with 11 points.
The Auburn Raptors were lead by Joshua Paige 6-1 '22 SF Lakeside School (AL) with 8 points. Hayes Sampson 5-8 '22 SG Auburn Jr High School (AL) connected on two three's for 6 points.
 -
Jeff Roberts
15U Championship: EAB 94, Pro One Select Navy 80
The 15U championship game at the #BamaJam lived up to the billing as EAB and Pro One Select Navy were the two best teams in the division throughout the weekend. In a fun and back-and-forth matchup, EAB ultimately pulled away late for a 94-80 victory.
Jordan Jenkins, a 6-foot-2 power guard, sparked EAB from start to finish with his playmaking ability and scoring. He hit five 3's during the game and ended with 15 points. Jaylen Abner and Matthew Schneider led the way with 16 points respectively. Zion Swader, a talented lead guard, pitched in 12 points and had a handful of assists.
Pro One Select Navy also used a total team effort in the game, as each player scored throughout the contest. Landan Williams led the team with 18 points. Brody Peebles added 11 and Kelton Petty scored 10. – Garrett Tucker
16U Championship: EAB 74, Dynasty Elite 30
The EAB Tigers (TN) 2020 jumped out to a big early lead and never looked back to earn the 16U Championship on Sunday at the Bama Jam. The Tigers built on their 48-15 halftime lead to secure the gold ball by the score of 74-30 over Dynasty Elite (GA). EAB ran through the competition at the Finley Center going 4-0 and winning by an average score of 76-35.
Leading the way in the championship game was Webb School of Knoxville (TN) forward Tariq Daughton with 12 points. EAB continued to be an evenly paced team with Javonte "JJ" Platt and Dustin Williams scoring 11 points apiece. Giancarlo "John" Valdez of Decatur Heritage Christian Academy (AL) chipped in with 10 points.
Lucas Garabadian 5-9 '21 G Kings Ridge Christian School (GA) paced Dynasty Elite with 10 points while Tyler Fields 6-3 '20 SG Kennesaw Mountain HS (GA) added 7. – Jeff Roberts
17U Championship: EAB 78, Memphis Bulls 57
Much of the same for the EAB Tigers as they dominate the 17U division and run away with the championship. Six first half 3's paced the Tigers as they put up one of the best tournament shooting displays that I've seen.  2019 guard K.J. Johnson made play after play that kept EAB in the driver's seat. His 10 first-half points allowed EAB to survive the Bulls attack as the game began to get very intense. 
All wasn't lost for the Bulls as they competed at a higher level during the teams' rematch.  With EAB having led the majority of the first half by double digits, the Memphis Bulls made a comeback, cutting the lead to as little as 6 points. 
The play of Bulls guard Marquavious Lobbins was essential to the comeback as his constant attack led to some easy paint points. Noah Boler, 6'7 forward for EAB showed everyone in attendance what he's capable of in spurts. The EAB big man put together some inside-outside skill that he used his way into 10 points, most of which came in the second half. 
Things continued to get chippy in the second half but that's expected for teams that would have bragging rights in the state of TN.  EAB would eventually blow the game open and take home the Gold for the first Bama Jam 17U Championship. - Tai Young