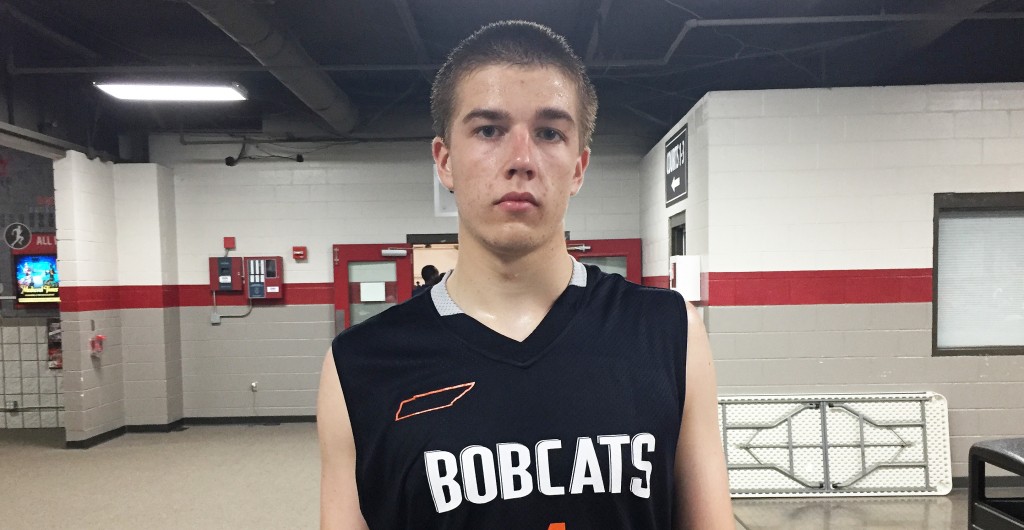 SUWANEE, GA - We are deep into bracket play after a busy Saturday at the Atlanta Jam. Who stood out on a game-filled day during the spring NCAA Live Period? 
TOP DOGS 
Tennessee Bobcats 2019 SG Grant Ledford (pictured above) went off for a cool 28 points on Saturday evening against the Atlanta Timberwolves and helped his team advance to the semifinals of the loaded 17U Orange bracket of the Atlanta Jam. Ledford has been one of the top scorers at the event this year and has proven himself as a dangerous threat on the offensive end of the floor. He currently holds offers from Tennessee Tech, UT Chattanooga and Presbyterian. 
Kaleb Coleman, Team M.O.A.M., F, 2019: The 6-foot-6 forward did a lot to help improve his current recruitment by playing hard and playing purposeful here at the Atlanta Jam. With a number of coaches from mid and low-major schools watching, the hard-playing forward from Orlando Oak Ridge delivered as his team marched through the Orange bracket of the 17U division. 
The Atlanta Timberwolves combo of Jordan Krueger and Alex Kelehear have been in a deep threat zone here at the Atlanta Jam this year. Combined, they've hit 20 three-pointers (10 threes each) over the course of three games. The two have been very good all season long and have both carved out a niche for themselves as some of the best perimeter threats in Georgia's 2019 class. 
Richard Crawford, Team Power, PG, 2019: A downhill runner, Crawford showed off great speed and power as he attacked the rim time and time again for his Augusta, Georgia based squad. Crawford said he's hearing from North Texas, Wofford, Navy USC Upstate and NJIT.
Donnell Nixon, II, SBC, PG, 2019: The sub six-footer has been terrific this weekend. He scored 26 points in an early game and then 18 later in the afternoon. SBC is 2-1 so far at the Atlanta Jam and Nixon has a lot to do with it. He's a terrific point guard as a scorer and as as setup man. He's been well-trained and certainly experienced running the show for Eddie Martin at Buford High School in the north metro Atlanta suburbs. 
HI, MY NAME IS… 
Atlanta All-Stars forward Jayvion Rucker is an interesting prospect. The 6-foot-6 forward is a long prospect who can defend multiple positions. On the offensive end of the floor, he stepped out and knocked down a couple of three balls. As I look at my overall depth chart of the state of Georgia's 2019 class, I'm strongly considering moving him up quite a bit. Very unique and promising prospect. 
Jaz Farrell of the Taylored Athletes has been consistently good for the Florida-based squad this weekend. The class of 2018 guard from Pines Charter is a terrific Division II prospect. 
Diablo Stewart of the Tennessee Bobcats hit six three-pointers in the first half threes in an early evening wing over the Atlanta Timberwolves. Stewart is a jet-quick guard who has opened a lot of eyes this weekend. 
NOTES FROM THE NOTEPAD 

Dee Merriweather of Memphis Prep played well in a big win over the Atlanta All-Stars, scoring 17 points and hit four three-pointers in the win. 
Despite his team's rough go at it here at the Atlanta Jam, AC Georgia wing Jaren Phillips had a solid showing on Saturday evening with a 29-point effort. He's a physical rim attacker that shines as a slasher and scorer. A number of schools logged minutes watching him play. 
Dream Elite's Christopher Hunter went off for 44 points today in the 17U division. The Austin East (TN) senior shot well, went to the foul line, and played very well today.
Dallas Graziani scored 38 points, including nine made three-pointers for Broward County Cougars.