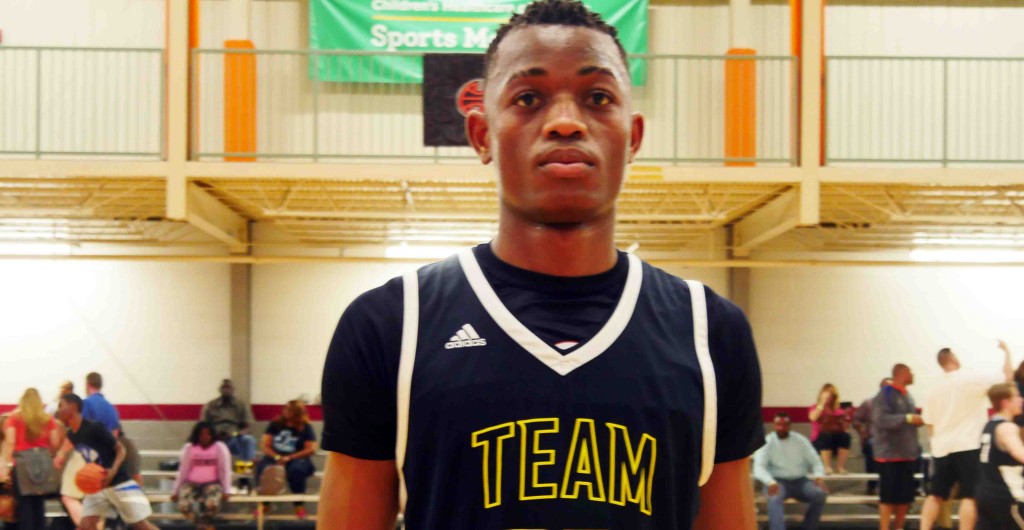 SUWANEE, GA — The action at the Atlanta Jam set the tone for the weekend as the NCAA college coaches filled the baselines of Suwanee Sports Academy on Friday night. 
TOP DOGS 
Keon Johnson, EAB, 2020: The 6-foot-3 guard played the role of high major player on Friday night for the Nashville-based EAB squad. He scored an effortless 17 points in the opening night game of the Atlanta Jam. He's arguably the best high-major guard in the event and played like it. Johnson slashed his way to the rim time and time again for bucket after bucket. As the class of 2020 pecking gets set for the shooting guards, Johnson's name should be near the top. He's one of the best overall prospects in the South and should be recruited as such. 
KJ Johnson, EAB, 2019: Every year we have a guard from Tennessee that is trending at the Atlanta Jam and by the way Johnson started the event, he could be that guy this season. What a player he is. He piloted his team to another convincing win against a quality opponent and did so by attacking the rim with speed, purpose and poise. Johnson is the ideal Southern non-major guard. His recruitment reflects that. He picked up an offer from Samford after the Bama Jam, joining offers from UT Martin, Morehead State, Tennessee Tech and North Alabama.  Furman, Wofford, Lipscomb, Belmont, Murray State, UNC Greensboro and East Tennessee State are also in the mix. 
Devin Butts, Team Georgia Magic, 2019: The Middle Georgia guard lived up to his reputation as one of the top shooters in the 2019 class in the Peach State. The rising senior from Macon's Stratford Academy drilled six three-pointers with a nice array of college coaches watching him. Butts has been on the climb this spring and has caught on with recruiters. Troy went two deep to see him on Friday night. 
Bretner Mutombo, Team TUFF 15U, 2021: Thing big man made a strong impression in the opening game of the Atlanta Jam against a good EAB 2021 team. He scored in and around the rim with ease. He's raw, yes, but he's also raw in the all the kinds of ways you like a young big man to be. Mutombo is as long as the day. He scored 17 points, grabbed at least 10 rebounds and could have possibly even flirted with a triple double, swatting away at least eight shots. Mutombo said he's been offered by Mississippi State, Georgia Tech, New Mexico and Auburn.  
Great Start to our #ATLJAM tonight! There were as many college coaches in the gym as there were players! pic.twitter.com/Q2WteEj6rc

— HoopSeen (@hoopseen) April 28, 2018

HI, MY NAME IS… 
Hawks Elite lost to Taylored Athletes in a terrific back-and-forth game. Despite the loss, there were two players on the Hawks Elite squad that jumped out. Devin Evans, a long 6-foot-7 forward really intrigued with his play. He actively rebounded, defended, ran the floor and played with energy from the get go. He's heard from Florida State, UAB, MTSU and Georgia Southern. He's worth a good, long look this weekend. Evans has all of the traits of a terrific sleeper. 
Jacob Harris, another 6-foot-7 forward, hit shots from deep, rebounded well in the paint and was a nice go-to option for the Hawks. The class of 2019 forward could see his recruitment jump off after this weekend. He has the tools of a nice low-major prospect. 
NOTES FROM THE NOTEPAD 
As we move into our bracket play on Saturday, the Taylored Athletes squad out of Florida will be a tough out. They are balanced, play hard and compete. Liked what I saw from Jaz Farrell (12 points) and Omari Hill (11 points) against the Hawks Elite. 
Liked Team TUFF 15U PG Broc Bidwell. Just a gamer. Had 19 points and had a big second half to fuel the win. He's a 2021 point guard here in Georgia. 
15U EAB's Sam Specht went for 20 points and shot lights out for their 2021 team. I also liked 2021 Matthew Schneider on the team, too.
RECRUITING NOTES
EAB's Alec Kegler is a strong guard with nice college-ready size. He's an eye-catcher and should be a priority player for Southern non-majors. He said he heard from Tennessee Tech after his play at the Bama Jam. Lipscomb, Furman and Belmont all watched him play on Friday night.
2021 Team TUFF SG Garrison Powell picked up offers from Middle Tennessee State and Mississippi State this week. Ole Miss was on hand to see him play on Friday night. His dad played baseball at Ole Miss.
There was a wide variety of coaches at the Atlanta Jam on Friday night. Oklahoma State's Mike Boynton was on hand to see Trae Hannibal. From the Big 12 to terrific Division III, coaches were everywhere. Emory's Jason Zimmerman was on hand to see the Atlanta All-Stars in action. There were coaches from every level on hand for opening night.