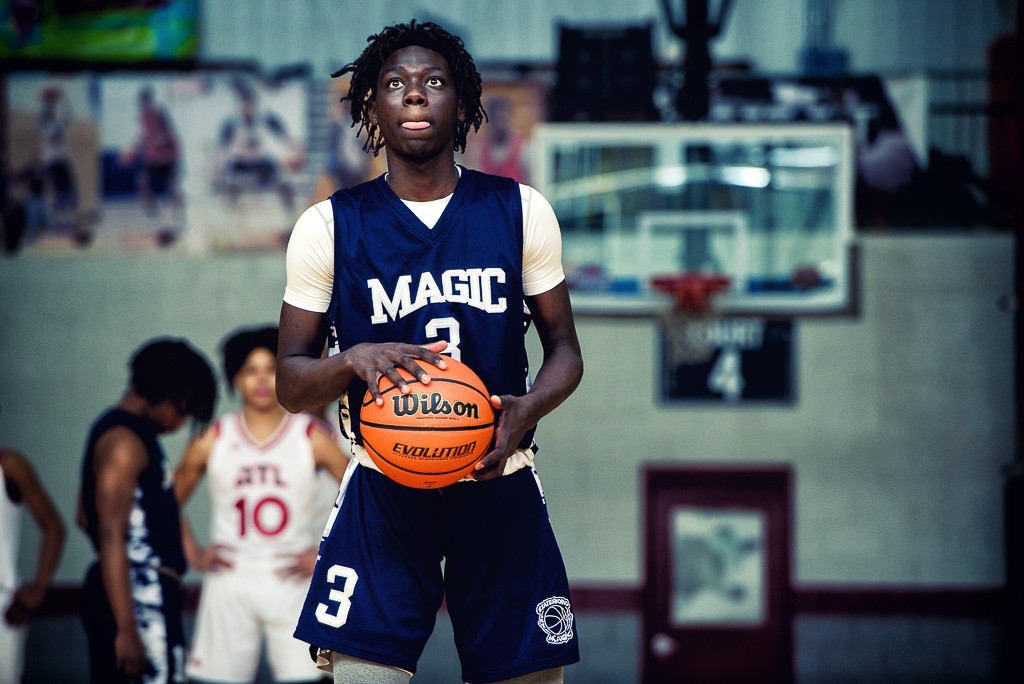 The #ATLJAM kicked off the second April evaluation period on Friday night with some of the top teams and players from the South in attendance at Suwanee Sports Academy. There were plenty of college coaches in attendance, too. 
Here's what happened on opening night in our own Garrett Tucker's eyes...
JAVON BENSON INTRODUCES HIMSELF
The Carolina Wolves 16U didn't come out with a win on Friday night, but 2020 Columbia (SC) Ridge View big man Javon Benson definitely emerged as a winner from the night. The athletic big man scored 25 points in a loss to EAB and impressed those looking on along the way.
At 6-foot-8, Benson has extremely long arms and moves well. He rebounded everything within his area and was active in the paint. The sophomore was an enforcer with his shot-blocking capabilities, too. Benson even stepped out and hit a couple of mid-range jumpers.
Up until this point, Benson has been operating as an unknown prospect. He didn't get a chance to play during the high school season due to transfer rules. However, with fellow 2019 big man Malcolm Wilson, Ridge View is a must-stop place for many schools in the Southeast. Don't be surprised if Benson is a priority prospect for mid-level programs. 
HELLO MY NAME IS...
One of my favorite things about the Atlanta Jam is finding a couple of sleepers early in the travel season. It didn't take long to find a quality sleeper this year, as 2020 Statesboro (GA) point guard Zarion Griffin (pictured) made his case early and often with the Statesboro Magic.
At 6-foot-2, Griffin is terrific with the ball in his hands. He is a quick-twitch athlete with an explosive first step that allows him to get in the lane at will -- and that's exactly what he did on Friday night. The athletic guard kept his foot on the gas and got better as the night went on.  
Griffin was creative off the bounce and made plays for himself and his teammates. In fact, there's no telling how many points he was actually responsible for on Friday night. He did a nice job of finishing at the rim, but the most impressive aspect of his game was his passing ability. Griffin quietly made a nice opening statement to the weekend and will be a prospect to monitor throughout the weekend. He has all the tools to be a successful Division I guard.
EAB 16U CONTINUES TO ROLL
EAB rolled through the 16U division last weekend at the Bama Jam, and, if tonight was any indication, the Nashville-based program is looking to do the same thing in Atlanta. They cruised to a victory over the Carolina Wolves behind a balanced, all-around effort from everyone on the team.
2020 guard Jamal Walker was very impressive on Friday night. The 6-foot-4 guard has good size and showcased his high IQ and feel for the game in the win. The sophomore made several tough passes that threaded the needle for easy scores for teammates. Walker also has a nice frame and good shooting stroke. He showcased that at times on Friday night, too.
It's early in the recruiting process for Walker right now. Alabama A&M is showing strong interest after seeing him last weekend, but other than that, he has nothing else. Don't be surprised if that changes soon, as Belmont, Longwood, Ole Miss, and Troy were all on-hand to watch on Friday.