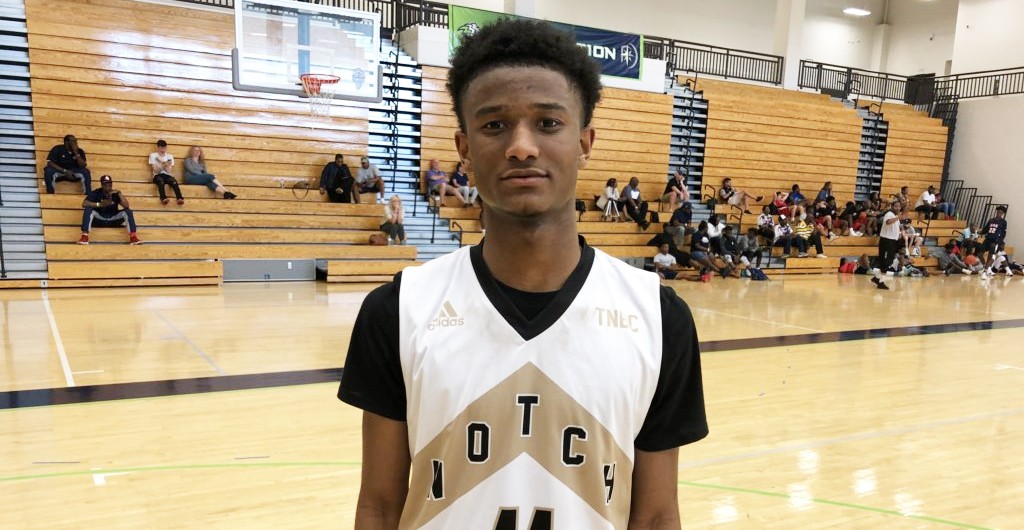 A player, a team and a match-up stood out to Bre Singleton on Saturday at the Atlanta Jam. Take a deep dive into the 16 and under division of the NCAA Live Period event. 
Anthony Hardy Jr. - TNBC 16U
One of the top 2020 sleepers had an incredible day on #ATLJam Saturday. Anthony Hardy Jr. has been a consistent scorer through this travel ball career and this weekend proved to be no different. I watched Hardy Jr. go for 34 points in a matchup with a very solid Team Phoenix where it seemed like no one could stay in front of him. What was most impressive about the performance was his efficiency. There were very few, if any, bad shots attempted for Hardy Jr. When you mix his ability to score with his willingness to make the right play, you get a very poised and confident player. I wouldn't be surprised if more schools started taking  look into Anthony Hardy Jr. this summer as he continues to make noise.
16U Team Coop Select
On Saturday afternoon, Team Coop Select's offensive front had an absolute field day. The squad was firing on all cylinders from the moment the ball was tipped, but three players stood out from the rest. Varun Ajjarapu couldn't miss from beyond the arc and hit 5 threes on his way to a smooth 20 points. Big man Jakob Hester was a beast on the boards and pulled down just as many rebounds as he scored points (21). Jacobie Forrest is a slasher if a guard who can also knock it down from deep. He matched Forrest's effort with 21 points of his own to help Team Coop Select cruise to a nice win. When you have guys who can put the ball in the cup like these three, you're sure to present a matchup problem for whoever you face. This is one of my teams to watch.
Matchup - 16U: Atlanta Express vs Cherokee Legacy
I caught a really good game Saturday evening between Atlanta Express and Cherokee Legacy in the 16U division. Although the Express finished the game with a seven-point cushion, this matchup proved to be a tough one up until the last minute or so. Atlanta Express had a really impressive all-around team outing in this one. Kameron Hobbs got pretty much any shot he wanted. He finished with 22 points in the win. Maclean Hoekwater and Daryl Rice managed to put up 12 and 11 points respectively to add to Hobbs' performance. On the other side, Arthur Parker had an awesome game as well, although in a losing effort. He led all scorers with 23 points in the game. Alphonso Meadows and Matt Snyder both added 12 points each but it wouldn't be enough to get the win. This was one of the best player-to-player matchup games I got to see all weekend.