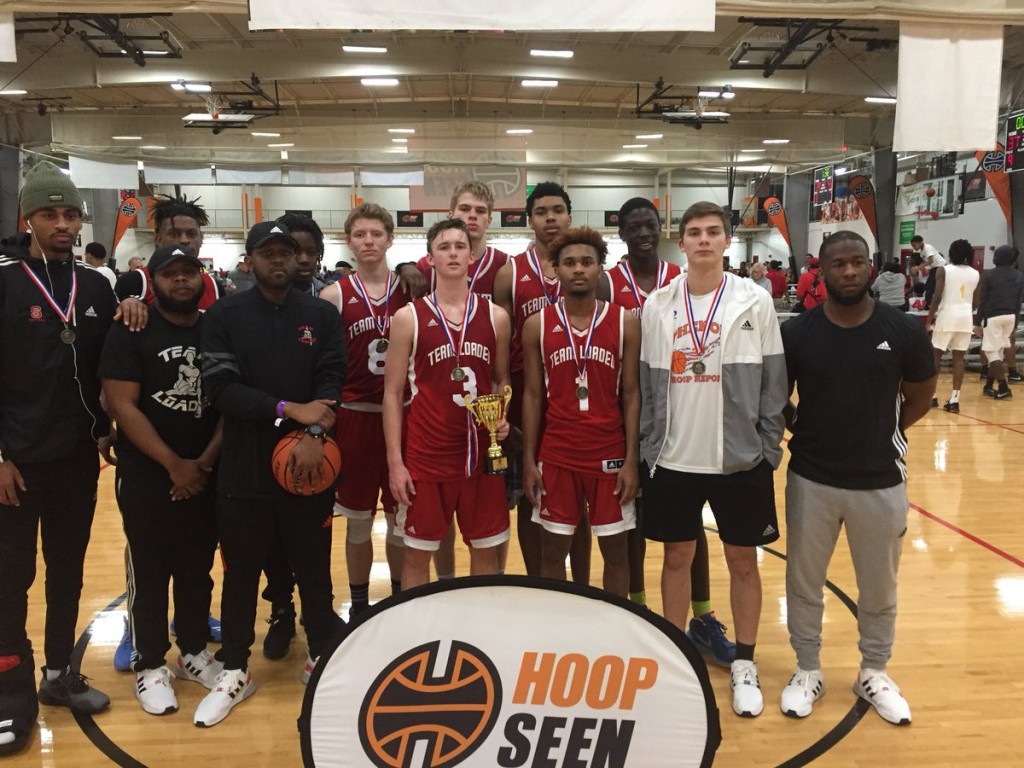 17U ORANGE CHAMPIONSHIP 

Team Loaded beat the Atlanta Timberwolves 61-52 to win the 17 and under division of the Georgia Cup I tournament on Sunday. 

Alex Tabor scored 28 points and made 6 threes including a stretch where went 5/5 from three point range in 3:15. Jaquese Hemphill added 13 points and did his best work driving into the paint. Team Loaded excelled from three. 
Jon Morgan scored 19 points for the Atlanta Timberwolves in the defeat. Jack Kostel also contributed 9 points. The majority of their points were scored off contested layups. - Chase Crawford
17U BLACK CHAMPIONSHIP 
Both the West Georgia Takeover and the Ballin' Blazers took care of business throughout the Georgia Cup and it was not surprising to see them match-up in the championship game of the 17 and under Black division. 
And to no one's surprise, this game went back and forth throughout the final game of the tournament. But it wasn't an offensive tug-of-war. No, this was a defensive grudge match. 
West Georgia Takeover lived up to their name and went to OT for a 50-47 win. 
Mandez Jones capped off a terrific weekend of work, scoring a team high 16 points while West Georgia Takeover big man Jatayveous Watson controlled the paint throughout the tournament. 
Miles Todd scored 15 while Rodney Smith added eight and shined on defense. Smith hit a game-winner to help push the Ballin' Blazers to the championship game. - Justin Young 
16U BLACK CHAMPIONSHIP
Caleb Murphy came into the 16U Black Division Championship game with a ton of confidence after already having stellar performances on Friday and Saturday. His 10 points in the first half gave the Atlanta Playmakers a six-point cushion heading into halftime. Brian Ariza of the Reach Higher Kings kept them in the game early with six of his eight points and four boards in half one. Playmakers point guard Makayl Rakestraw caught fire in the second half and finished the game with 16 points to match Caleb Murphy in that category. Kahlil Bruington had nine points for RHK and Kyle Harrison added seven but it wouldn't be enough as the Playmakers pulled away and sealed the win by a margin of nine. - Bre Singleton
16U ORANGE CHAMPIONSHIP 
Team G3 Elite beat Team Georgia Achievement 56-49 to win the 16 and under Orange division of the Georgia Cup I tournament on Sunday. 
Caleb Williams scored 13 points and hit two clutch threes in various stretches of the game for G3 Elite. Point Guard Sebastian Augustave scored 10 points mainly off drives to the basketball and was an outstanding floor general in the victory. G3 Elite displayed efficient ball movement and transition offense. 
Omari Blake scored 11 points for Team Georgia Achievement in the defeat. A large number of Georgia Achievement's points were scored in the paint. Josiah Chappelle also contributed 9 points. - Chase Crawford 
15U BLACK CHAMPIONSHIP 
Size. That's what HYPE Elite 2021 used to claim the 15 and under Black championship with a 69-37 win over the Atlanta Celtics 2022 on Sunday afternoon.
The trio of Cole Middleton, Matthew Cleveland and Ayden Watson helped control the glass throughout the match up. Collectively, the owned the glass early and never looked back. Cleveland finished with 19 points. Middleton added 12. Sutton Smith scored 13 points. 
The Celtics had a good all-around game from David Thomas, an ever-present player on our All-Tournament teams. Thomas rebounded, handled the ball and scored with ease. - Justin Young 
15U ORANGE CHAMPIONSHIP 
Team EAT wrapped up a terrific weekend with a 63-51 win over Team Intensity to claim the 15U Orange title. 
EAT spread the wealth in their win, getting 16 points from Courtney McBride. Caleb Parker added 11 while Ashton Latimer scored nine. Elijah Jefferson and Dash Boston each scored seven points. 
Team Intensity came to Suwanee from the Savannah area and left an impression with their play. 

Shamar Norman scored 19 points, capping off a stellar weekend. Atrell Washington played well in the middle, scoring six but also impacted on the defensive end. - Justin Young