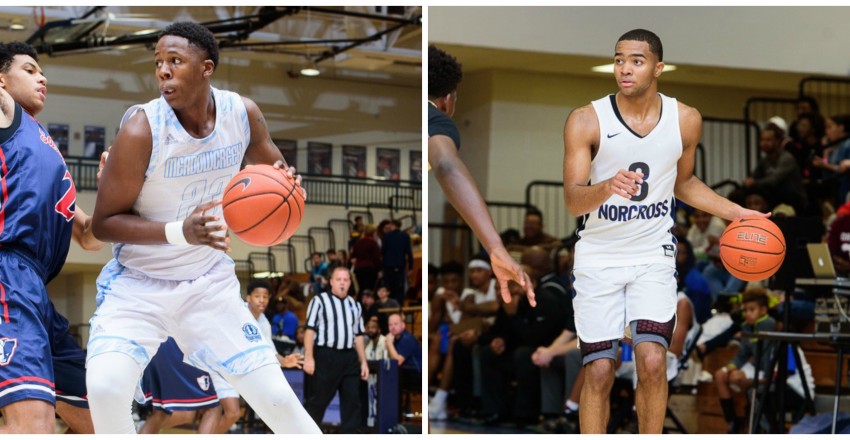 Meadowcreek (25-6) vs Norcross (28-3)
Class AAAAAAA State Championship
McCamish Pavilion at Georgia Tech, 8 p.m. 
What a game this should be for the private school championship in Georgia.
The region 7-AAAAAAA foes meet for the fourth time this season. And if the previous match-ups taught us anything it is this - get ready for an entertaining basketball game. 
And, if you're Meadowcreek, always know where Kyle Sturdivant is. The Region 7-AAAAAAA Player of the Year has hit two game-winning, buzzer-beating shots to beat the Mustangs this season. 
Norcross has won all three match-ups this season (65-52, 64-63, 53-52). And no one played Norcross better than Meadowcreek. Think the neighboring teams (they are just seven miles away and both hail from Norcross) will be ready? 
Oh, you better believe it. 
Norcross is playing as well as any team in the tournament regardless of class. The Blue Devils stomped on McEachern in the Elite Eight. They are beating teams by an average of 20 points in the state playoffs. 
Meadowcreek, one of the best defensive teams in the state, is leaning on their size and their aggressive style of play to slow the action down. The Mustangs have been tested by Lambert, Campbell and Grayson (a one-point win in the semifinals). 
This is Meadowcreek's first ever appearance in the state championship game. 
Sturdivant, Brandon Boston, JoJo Toppin, Dalvin White and Issa Muhammad make up for the best starting five in the state. Every player can impact the game with his specific strength. Every player in the starting lineup has the talent to be the difference maker. 
For Meadowcreek, junior Jamir Chaplin is the team's best overall player. The 6-foot-4 wing is a 17 point per game scorer and one of the best defenders in the state. 
Inside, the Mustangs lean heavily on big men Amari Kelly and Cory Hightower, two Division I bound prospects. Guards Dequarius Nicholas and Kedrick Green match-up well with the Norcross guards. 
We've seen magic happen before in this match-up and on a stage like this one, you shouldn't expect anything but more as we look to crown a state champion in the state's biggest classification. 
Who wins the AAAAAAA state championship on Saturday?

— HoopSeen Georgia (@HoopSeenGA) March 9, 2018