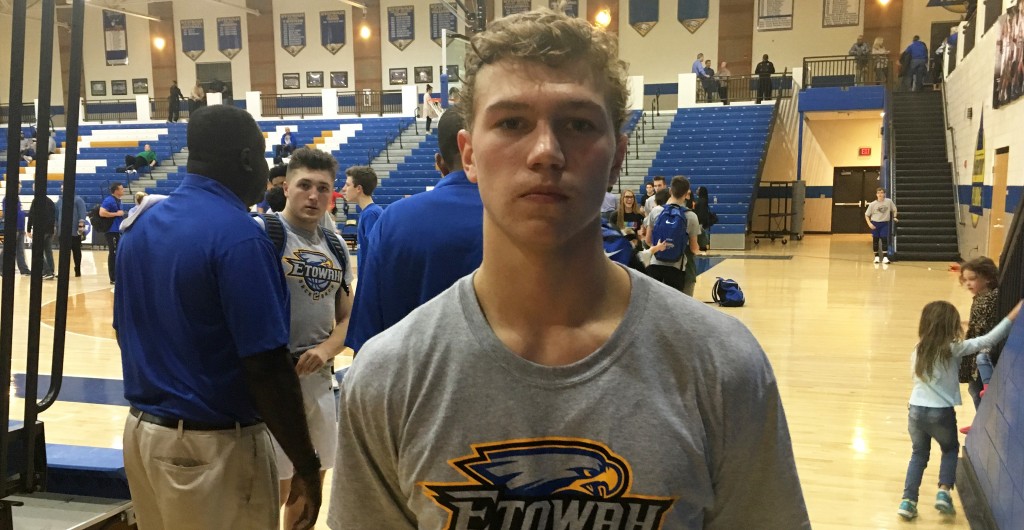 WOODSTOCK, GA - The first round of the AAAAAAA GHSA state playoffs tipped off on a grey Friday night in the state of Georgia. We pulled up a bleacher at Etowah to watch the Eagles beat North Cobb 48-30. Here's what Justin Young liked from the win. 
I like the way Etowah defended North Cobb throughout the entire game. They allowed only 16 points in the first 16 minutes of play and just six overall in the second quarter. North Cobb JR PF Kevin Hester didn't convert on a field goal in the first half. And that was exactly what the Eagles wanted to do. 
"That's why we are 24-2. We play good defense," Etowah head coach Jason Dasinger said. 
"(Stopping Hester) was number one on our scouting report. He can go for 25 and 15 any given night if he gets a chance. So, we wanted to make sure he wasn't going to get 15 points off of those rebounds." 
Hester finished with 5 points and 10 rebounds.
I like Jaxon Etter (pictured) as a ballplayer. The junior guard from Etowah is just good. There isn't a lot of flash to his game and just simple execution. He's a good passer off the drive. He was a good shooter in the corners, drilling a pair of three-pointers. Etter scored 16 points in the win and grabbed five rebounds. 
I like the way Julian Baldwin owned the paint. The 6-foot-7 forward did a great job on both ends of the floor and was locked in a rebounder. He's one of the better available big men in Georgia's 2018 class. He finished with 11 points and eight rebounds. 
I like the role Carter Ingersoll plays. The senior post just gets in there and does the dirty work. He scored eight points and grabbed seven rebounds. 
Etowah (24-2) will move on and play Wheeler in the second round.