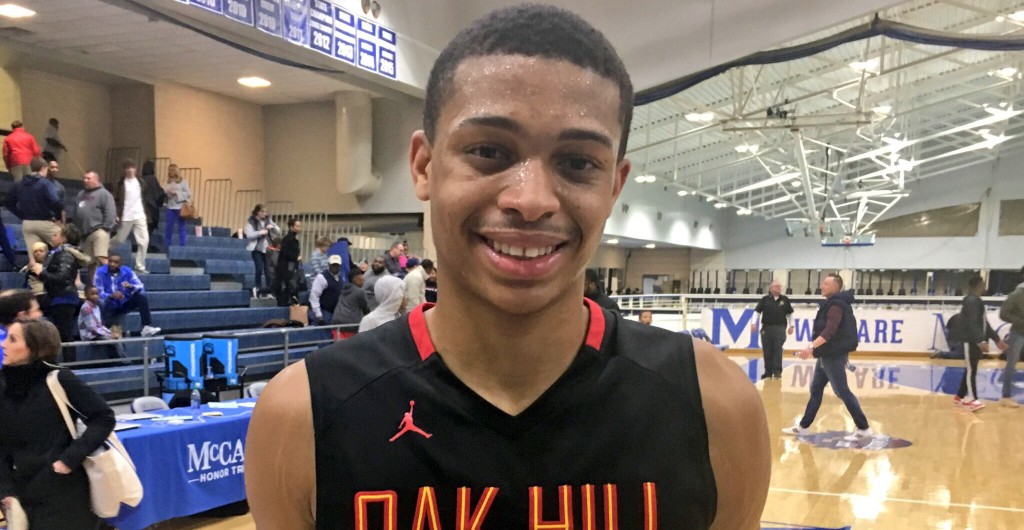 CHATTANOOGA, TN - Oak Hill was down by 28 points in the 1st half to McCallie School, a private school in Chattanooga. The Warriors, the famed hoops haven, battled back and made a miracle surge to stay undefeated. Win number 34 came with a bloody lip and a gut punch on this cold Friday night here at the Dr. Pepper Ten Classic at McCallie School. 
There was a lot to like from this game. A lot. And a lot to not like for both teams. Let's look back on the fun night of hoops here in the Chattown. 
I liked the way Oak Hill Academy came out in the second half and defended McCallie, who was up 44-25 going into the second stanza. The Warriors went to a full court press and forced turnover after turnover to immediately set the tone for how the game was going to be played in the second half. 
"That was our worst start of the year," said senior Keldon Johnson. "We had to fight and we had to turn things around. There just isn't an excuse for that." 
Oak Hill did turn things around by going inside to David McCormack, a Kansas-bound piece of granite. McCormack scored 10 points in the fourth quarter and set the tone for toughness. 
Future Florida wing Keyontae Johnson was like a consistent boxer, gut-punching McCallie with his athletic drives to the basket. Johnson finished with 19 points in the win. 
I liked everything Future Kentucky wing Kelvin Johnson did in the second half. He finished with 29 points - 21 in the second half - in his team's come from behind win here at McCallie. 
For a moment, Johnson had the look of someone who was, well, pissed off that his 33-0 team was down and fighting for their undefeated life in Chattanooga. He put his team on his back and rallied the troops. It was a lead by doing kind of moment for the McDonald's All-American. He shined when his team needed shining. 
I liked the way Junior Clay played in the first half for McCallie. The future Tennessee Tech guard pumped in 16 points and four assists in the first 16 minutes of play. For 90 percent of the game, he was the best player on the floor. Clay set the tone for the big lead. He was brilliant. He finished with 27 points in the defeat. It was a brilliant effort against the No. 2 overall team in the country. 
IN OTHER NEWS… 
I liked the way Ensworth defeated Hamilton Heights. The Nashville squad won 71-56 and made it look rather easy against the Chattanooga group. 
"We just stayed with coach's game plan and that was basically just to stall, get to the rack and not take any crazy shots," sophomore Keshawn Lawrence said. "We wanted to get to the rim and I think we did just that." 
They did indeed. 
Lawrence pumped in a game-high 25 points in the win and never really took his foot off the gas. Neither did Ensworth. They lead from tip to finish. It wasn't much of a contest.
I like the first impression Keshawn Lawrence of the Ensworth School gave me. The Nashville guard came out with great purpose against a much bigger and, truthfully, much more talented Hamilton Heights squad and went right to work. Lawrence, according his to his 247 Sports profile, has offers to play football at Alabama, Georgia, Florida and other high-major schools. Makes sense. The cornerback/shooting guard plays with great confidence and toughness. He scored 13 first half points and played a big role in his team's 12-point halftime lead. If Lawrence wasn't such a stud on the gridiron, he'd be a no-brainer gotta-see high-major guard on the hardwood. (And maybe he could be just that in time.) 
I like that a student hit a half court shot in a  halftime promotion. His prize? A year of free Chick-Fil-A. Some people live the most charmed lives.