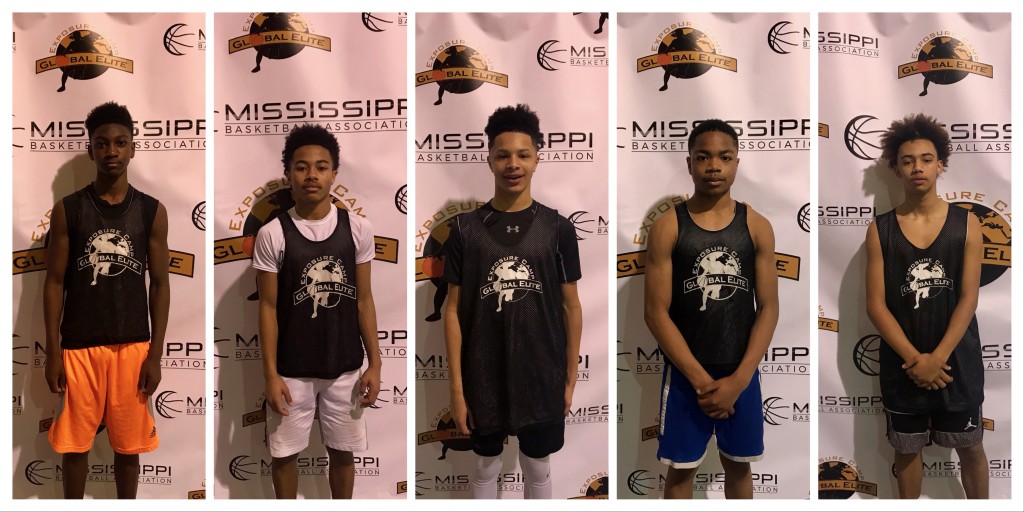 The Global Elite Exposure Camp took place over the weekend, as some of the top middle school talent in Mississippi and the Southeast converged in Jackson, Mississippi for the camp's 11th edition year.
HoopSeen.com was on hand to catch an early sneak peek at the next young crop of talent that will hit the high school level in the next few years. Four 8th graders solidified themselves as promising prospects, while a young 6th grader made his mark. Here are the top five performers from camp:
Mark Drone, 2022 PG, Jackson (MS): Drone burst onto the scene early on Saturday with his combination of speed and quickness that set him apart from his peers. Standing at 5-foot-9, the lead guard has broad shoulders and a strong frame that allows him to take bumps and finish at the rim. In fact, he excelled as pulling defensive rebounds and becoming a playmaker in the open floor, whether it was scoring for himself or creating opportunities for his teammates. Drone got to his spots on the floor and was a constant problem for defenses. He didn't shoot the ball particularly well, but the 8th grader showed that he will be a handful at the high school level with his speed and ball skills.
Braxton Bishop, 2022 CG, Tupelo (MS): Bishop was one of the most polished guards in attendance over the weekend. A smooth operator and scorer, the 8th grader kept defenders on their toes with his cerebral play. He was a quality triple threat with his ability to shoot, pass, and handle the basketball. Despite being one of the top scorers with a variety of ways to score in his arsenal, Bishop didn't press or attempt wild shots. Instead, he got his teammates involved and showcased his advanced feel for the game and vision. He will be a player to keep an eye on over the next few years.
Trey Petty, 2024 PG, Starkville (MS): Despite being one of the youngest players in attendance as a 6th grader, Trey Petty may have been the most impressive. Starting out in the 6th grade group, he was head-and-shoulders above everyone else. When he was moved to the 8th grade group, Petty didn't get scared or back down – instead, the young point guard embraced the challenge and upped his game. Petty is a terrific floor general with an excellent feel for the game and exceptional decision making. He excelled in pick-and-roll situations, where he was able to score or dish it off to teammates for easy buckets. Petty is still young, but the Starkville product has the "it" factor to his game and you will be hearing more about him in the future.
Mason Manning, 2022 PG, Jackson (MS): Manning's name had already been buzzing coming into camp, as he has excelled at a variety of other exclusive middle school events over the past year. He lived up to the hype over the weekend. The 5-foot-10 guard has all the physical intangibles: size, length, athleticism, speed, and versatility. He used all of those qualities to his advantage, especially in transition. Manning was terrific in the open floor, where he showcased his impressive vision and passing ability. His quick first step allowed him to live in the lane and serve as a playmaker for his team. With his length and quickness, Manning is a prospect with the opportunity to be an elite defender when it's all said and done.
Cameron Brent, 2022 PG, Jackson (MS): The 5-foot-6 point guard may not look like much in warmups, but don't let the size deceive you – Cameron Brent can run the show for any young team. The son of Jackson State head coach Wayne Brent, Cameron is accustomed to being around the game. He understands it inside and out and that was evident over the weekend. Brent has a nice feel for the game to go along with his high basketball IQ, making him someone other players loved playing with at camp. Brent handled the ball and distributed to his teammates well, but he was an offensive threat, too. He made several perimeter shots throughout the day on Saturday to go along with his assists. His size will be a big factor, but Brent proved himself against some of the top players in the state of Mississippi.