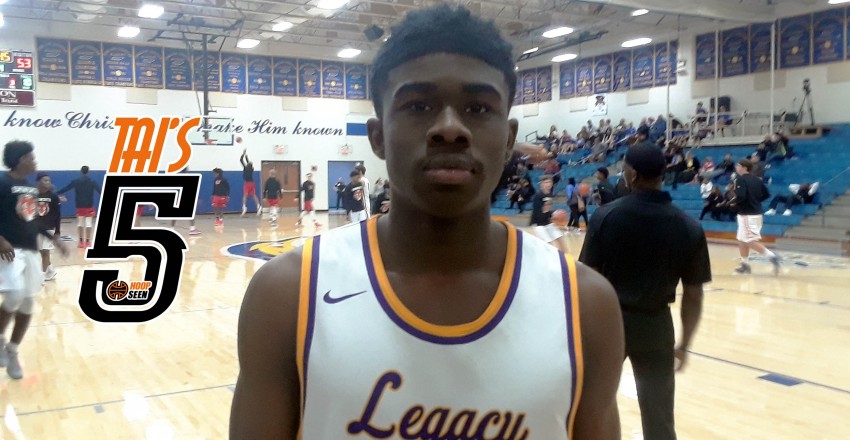 NASHVILLE, TN - The weather was cold outside for the Music City Showcase but the action inside the gym was pretty hot. Here are the five players that jumped out to me over the weekend. 
I've seen Sharone Wright Jr. play a few times over the past few weeks and he's vastly improved after each outing. When he plays aggressive and puts his head towards the rim he has a high success rate more times than not. The Wake Forest bound guard played well with his future head coach Danny Manning in attendance to watch him. 
Jordan Rawls currently has one Division 1 offer from Arkansas St. but after what I saw I expect that to change very quickly. The Hamilton Heights guard plays with a high IQ, playing within himself and rarely making a drastic mistake. He hot several three's, set up teammates and got to the rim for floaters. He may not be a player that blows you away with his athleticism or measurables but he's a good PG for those coaches that value substance over flash. 
Simply put, Jaylen Hoard was everywhere defensively for Wesleyan Christian. You can count on him for plays like defending a ball screen on one side of the floor then rotating to challenge a guard at the rim once the ball is rotated. He has great defensive instincts and the athleticism to get to where he knows he needs to be. He covers ground well for a big his size and should be a valuable piece for HC Danny Manning at the next level.
Dontrell Shuler made a lot of winning plays for head coach BJ Jackson of Legacy Early. He's a guard that is capable of scoring from all three levels, making timely plays whenever his team needed separation. Dontrell plays calm cool and collected but he plays with a burst that you didn't see coming. He was one of the more consistent players on both ends of the floor adding more value to him as a player going forward.
Its a head scratcher to me that Hamilton Heights Wheza Panzo still does not have a division 1 offer. He's 6-foot-6, plays hard, and has a skill set that you can see developing in front of you. He's best suited as a utility player, capable of a lot of different things that can affect a game. Expect mid-major schools to come knocking when one or two of his skills go from good to great. He's a junior that people should keep a very close eye on.