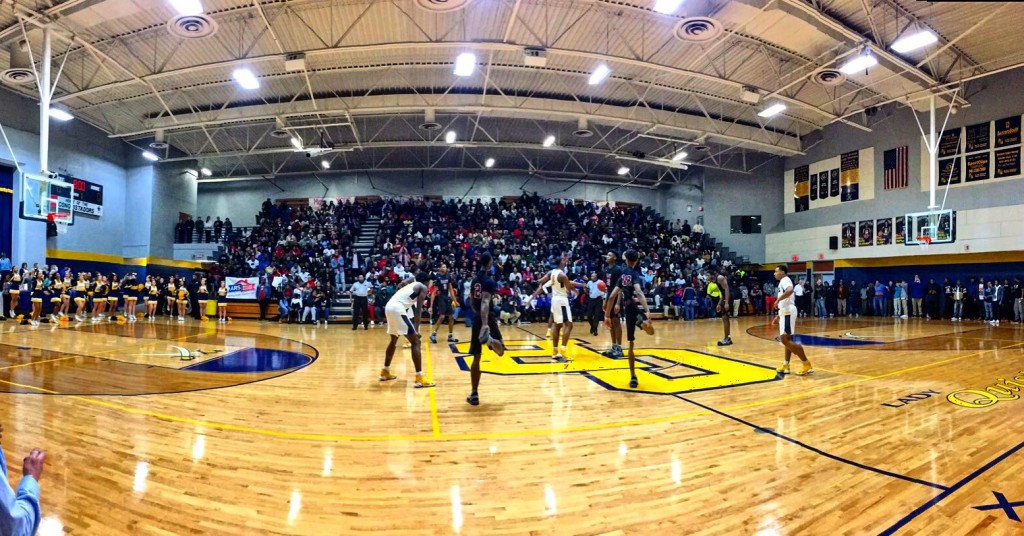 OLIVE BRANCH, MS -Tickets were gone before 10 a.m. on Friday morning for the Memphis East game at Olive Branch High School. A homemade yellow poster shouting "SOLD OUT" covered the outside walls of the gym and fans walking up to the gym without a ticket were turned away at the door. 
Welcome to Memphis East at Olive Branch, the biggest prep high school game of the year in basketball-crazed Memphis. 
It was the show to be at on a chilly Friday night. And what a show it was at the ARS Rescue Rooter Penny Hardaway National HoopFest. Fans packed into the Olive Branch gym, pulling up a chair, a space on the baselines or even on the stage. 
Every possession was a battle but when it came down to it, this game was decided on the foul line. Moreover, it was about who delivered under pressure and who didn't. 
Olive Branch did and claimed the victory 73-70, knocking off a national top 10 team. 
Olive Branch PG Joe Cooper, a class of 2019 prospect, was named game MVP with his 19 points (7-11 FG, 3-4 from 3). Super sophomore DJ Jeffries finished with 15 points, despite only scoring twice from the floor. He sunk 11 of his 12 free throw attempts. In the clutch, he toed the line and sunk the game-securing scores with 12.5 seconds left to play. Junior guard Josh Stephenson sunk all four attempts under a minute, too. 
Memphis East big man James Wiseman, considered by some to be the top player nationally in 2019, missed all seven of his free throws in the game. He missed six of them in the fourth quarter. As a team, Memphis East shot 6-19 from the foul line in second half. 
THINGS I LIKED FROM THIS GAME:
Olive Branch DJ Jeffries poise on defense against the longest team in the country. Jeffries, a 5-star sophomore nationally, toed the line with James Wiseman, Malcolm Dandridge, the Lawson brothers and Ryan Boyce. Jeffries won the battle in every category. 
Olive Branch sophomore forward Cameron Matthews opened some eyes with his play. The athletic 6-foot-6 sophomore finished with 16 points (7-9 FG) and excited the crowd with his athleticism. "He's a tough, tough kid and a kid that loves this kind of environment. He showed what he can do," Olive Branch Eric Rombaugh head coach said. 
Olive Branch junior point guard Joe Cooper looks like a LM/MM point guard prospect. He showed some serious toughness in the win. 
The crowd. Oh, the crowd. It was packed. It was loud. It was electric. It was outstanding. 
Memphis East point guard Alex Lomax couldn't find a bucket from the floor but the Wichita State bound senior leader was a perfect 13-13 from the foul line. 
Despite his free throw shooting issues and foul trouble, James Wiseman showed why he's considered so highly. The 6-foot-11 big man went for 14 points and nine rebounds in 17 minutes of play. 
THINGS I LIKED FROM THE HUNTINGTON PREP/RALEIGH EGYPT GAME:
UCLA bound big man Kenny Nwumba was absolutely dominate. He went for 15 points, 10 rebounds and nine blocks in the 90-70 win. He has a Udoka Azibuke like domination to his game. 
The class of 2020 has a load of high-level wings with size at the top of the rankings. Huntington's Jaemyn Brakefield is one of those guys. The 6-foot-8 wing from Mississippi was terrific in a return to his home state. He went for 19 points, hit a couple of threes, only missed one shot in the entire game and was a major mismatch problem. 
Keep an eye on Huntington Prep freshman Jonathan Kuminga. The 6-foot-8 forward from the Congo may have been the most intriguing player on the floor in this game. He has a wide variety of skills for a player of his size. Kuminga has only been in the United States for a little over a year. He could end up being one of the top overall prospects in the class of 2021 nationally. 
When a game against a nationally-ranked team is being played in front of your home town, you know a Memphis player is going to step up on the big stage. Raleigh Egypt Deovaunta Williams, a 2019 guard, played with purpose and energy in the first 16 minutes of play. He tallied 18 of his 26 points in the first half.