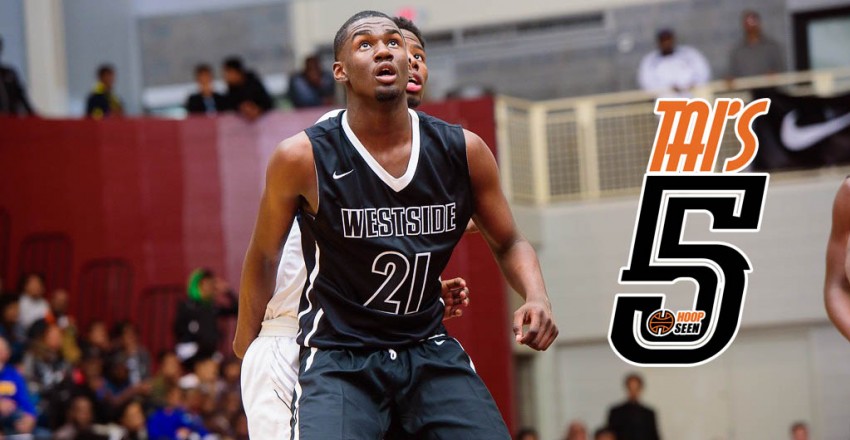 COLUMBIA, S.C. - 
Khavon Moore had the gym buzzing when he told the media that he was near a decision date on his choice of where he would play ball next. His play on the court also caught the attention of those in Columbia that weren't as familiar with him as he notched a triple-double during his second game. Moore is a legitimate has all of the tools of a high-major player but none of the ego. He's a willing passer and puts his body on the line for rebounds. Can't wait to watch him at the next level. 
Silvio De Souza it was announced last night that Silvio should be able to Olay the second semester for Kansas so I will be glued to my T.V. Simply out he plays like a man amongst boys and he knows it. It encompasses what some would describe as bully ball but does it in an entertaining way. He tried to tear down every single rim he touched at the Chick-fil-a classic. 
David McCormack is the third player going to Kansas that I've written about but it's for good reason. McCormack is a true throwback post that doesn't mind a little physical play. In fact, I think he feeds off of it and tries to seek it. He's a two-way player that finished every thing at the rim and defended well at the other end of the court. It will be fun watching him, De Souza and Devon Dotson all play out in Kansas.
I don't use the word steal often when describing how a staff got a player but for Jeenathon Williams its fitting. The Buffalo signee scored inside and outside and consistently made an impact on the box score. It's unfair that someone with his size also had a skill level that matchup with the majority of the guys that were on the court. Williams will make an immediate impact at Buffalo
Josiah James a like a one-stop shop for coaches looking for an impact player. He brought alot to the table in terms of his productivity through 2 games. His ability to play multiple positions and impact the game in a variety of ways shows why he's so highly favored.  He continues to improve different aspects of his game which in turn has only improved his stock amongst high-major programs.