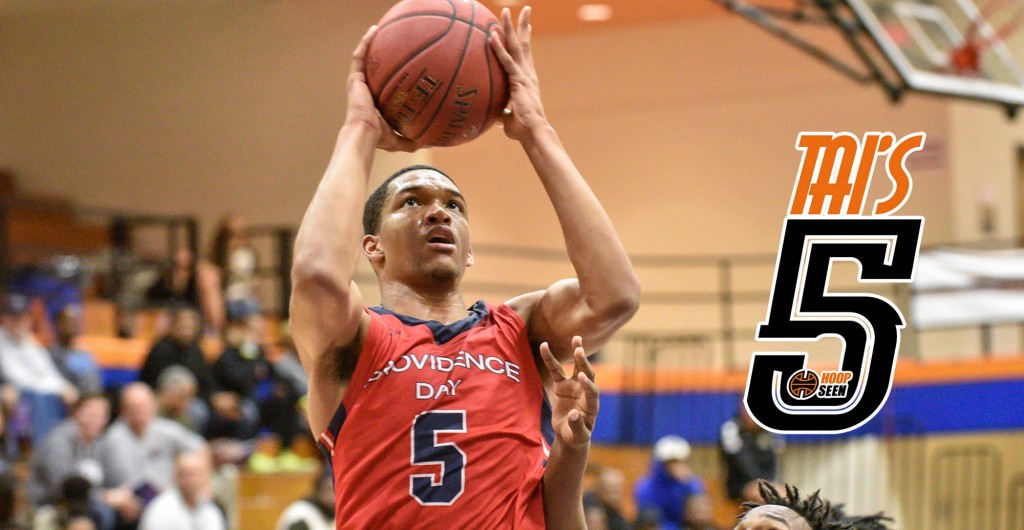 COLUMBIA, S.C. - The 2017 Chick-Fil-A Classic is absolutely loaded and the star power showed out on Thursday. Here are Tai's 5 top performers. 
Devon Dotson dominated with a performance of 29 points, 10 rebounds, and 7 assists but it was more than his numbers that impressed me. It didn't come in a few spurts here in there or one of those blowout moments where the other team has thrown in the towel. What was so impressive was that it came it a steady stream of ways throughout the entirety of the game. There were not very many possessions in which Devon didn't contribute to the end result that was playing out on the floor. You name it, he did it. Again and again and again. The Providence day guard chose Kansas as his next destination and its safe to say that the Jayhawk nation will be very pleased with the contributions Devon Dotson will bring to the team. 
Josh Green of IMG Academy is a guy that made ever flashy pass seem like a routine day at the office. Every set up was on time and on target which is one of the biggest compliments you could ever give a guard. His ability to see the floor while moving at a high rate of speed is scary, and I believe he hasn't come close to maxing out. He flirted with a triple-double getting 9 points, 8 rebounds, and 11 assists. 
Wendell Moore is just a scary blend of everything a HM coach would ask for. He ran the show in every facet of the game as he totalled 31 points for Cox Mill. Wendell consistently got to the rim but was able to finish with 4 threes in the process. He never forced a play but still made the defense honor him on all 3 levels. Watching him make the defense pick their poison exciting to watch but at times it made you feel bad for those he will face 3 or 4 years from now. Wendell has no ceiling. 
I'm still not sure why Providence Day school guard Issac Suffren is unsigned but with what I saw day 2 at the Chick-Fil-A classic makes me wonder how much people have been paying attention. His 6'4, built like a college senior and still has his best ball in front of him years from now. He should get a lot more attention down the stretch for those looking for a guard that can make shots, defend, and has enough athleticism to meet a lot of bigs with a dunk at the rim. Frankly, Issac needs to be on the Christmas list for some MM coaches. He finished with 24 points and 5 rebounds. 
Jaemyn Brakefield put on a show that I would've paid for twice. He had a dunking contest with himself during warmups and it carried over to the game. The Huntington Prep forward played a complete game, scoring at all 3 levels of the court. His skill set allows him to do some special things on the court that should translate well at the next level. It will be interesting to watch him develop as there are still facets of his game that he could improve. I just hope I have another seat in the gym when it all comes together.  He finished with 19 points and 6 rebounds.