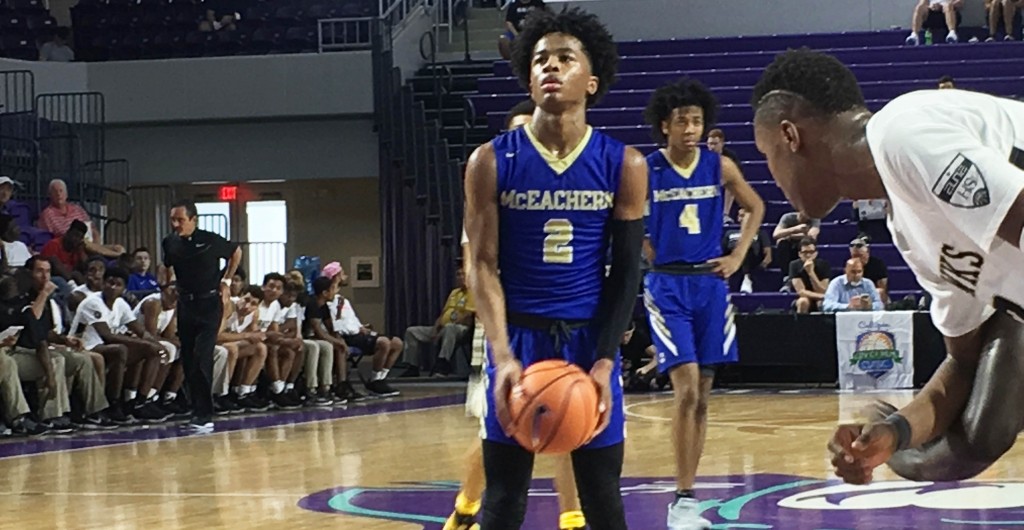 FORT MYERS, FL - Over the years at the City of Palms Tournament, we've seen some epic individual performances from some of the best players in the country. 
McEachern point guard Sharife Cooper added his name to the history books with his brilliant 42-point effort. And his last bucket of the overtime contest was the most dramatic.
Cooper caught a last chance pass just a toe inside the three-point line in front of his bench, called "ball game" and shot a jumper over the out-stretched arms of 5-star guard Jahvon Quinerly. 
Bucket.
Buzzer.
Ball game. 
Cooper sunk the game winner, giving McEachern an 83-81 win over a top 10 national foe in 
Hudson Catholic. Cooper's effort was nothing short of brilliant. He scored 28 points in the second half and overtime. He was 8-12 from the floor in that stretch and sunk 10-13 free throws. Cooper finished with 42 points. He also hit four three-pointers. 
The game, at first, was a nice back-and-forth between Cooper and Quinerly. But Cooper, a 2020 prospect, took over. He challenged the Hudson Catholic attack and helped three starters foul out. 
"Yeah, I knew it was going in," Cooper said with a smile of his game-winner. 
Cooper said his squad didn't waver down the stretch because of the team's continuity. 
"We've been together for so long and we just trust each other so well. Even if we go down 20, we know we can come back," Cooper said. "(A win like this) builds a lot of confidence and I believe that's the only thing you need to win basketball games. Coming from a game like this, where we were down like that, we take a lot from that."
Cooper, who is being recruited by FSU, Auburn, Alabama, NC State, South Carolina, Rutgers and others, had 17 points from Isaac Okoro and 11 from Brandon Suggs. 
Quinerly finished with 28 points while Lou King (Oregon) finished with 14 points. Luther Muhammad (Ohio State) and Danny Rodriguez both scored 10 points.