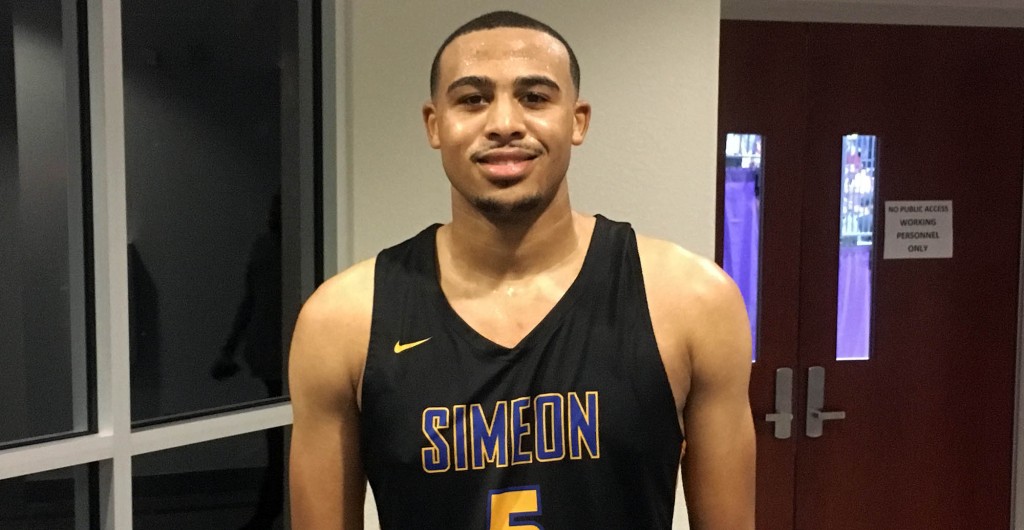 FORT MYERS, FL - As the City of Palms moves forward, the games become even more competitive and the star power digs deep and plays like you'd expect them to play like. On Thursday, the stars came to play. 
TOP DOGS
Talen Horton-Tucker, Simeon, 2018 (pictured): The future Iowa State absolutely brilliant for Simeon in their 69-68 over Wesleyan Christian. He had 27 points, seven rebounds, four assists, three steals, two blocks and six three pointers. Simply put, he was just awesome. Horton-Tucker made a game-saving block in the closing seconds of the game to help Simeon put away a great Wesleyan Christian team. He was the top dog on a terrific Thursday. 
James Wiseman, Memphis East, 2019: The number one player in the country on the number one team in the country hit the game winning shot at the buzzer on Thursday night. Can it get any better than that? James Wiseman was positioned right under the basket to collect the offensive rebound for the go-ahead score for Memphis East over Oak Ridge (FL). Wiseman finished with 20 points (7-13 FG, 5-6 FT) and 10 rebounds in the win. 
Trendon Watford, Mountain Brook, 2019: Few players have done more this high school season than the 6-foot-8 forward from Birmingham. It seems like every time we watch him, he produces more than anyone on the floor.  Watford finished with 30 points (10-13 FG, 2-3 3p, 8-11 FT), 12 rebounds, 5 assists, 2 blocks and 2 steals in a win over Webster Groves (MO). Watford continues to show why he's a 5-star prospect. Alabama was on hand to see him play. 
Aaron Wiggins, Wesleyan Christian, 2018: Much like Watford, Wiggins has been nothing short of brilliant every time we've watched him this season. Wiggins shot incredibly well for Wesleyan Christian in their slugfest with Simeon. He connected on seven of nine three-pointers en route to 28 points. The future Maryland guard could be an instant offense guy for the Terps. He reminds me a lot of Allen Crabbe.  
Cole Anthony, Archbishop Molloy, 2019: Anthony exploded for 37 points and did his damage by getting to the foul line. He did so 23 times and only missed twice from the free throw line. Few attack the rim quite like Anthony and he seemed to get to the iron with ease. 

Isaiah Todd, John Marshall, 2020: The 6-foot-10 forward is one of the most unique players in this year's field. The youngster is a feathery shooter with Brandon Ingram length. He had his best game against Archbishop Molloy, scoring 26 points and hit a trio of triples. 
Emmitt Williams, Oak Ridge, 2018: The crowd favorite did what he does well - play well above the rim and make plays that few at the prep level can do. Against Memphis East, Williams made some significant plays against the longest high school team in the country. 
FLORIDA FLAVOR 
Neftali Alvarez, Miami Christian, 2018: Dayton, Hofstra, James Madison are the latest schools to jump into the mix. He took visits to Wichita State, Akron and Arkansas State. UMass is also in the mix. Alvarez will take his remaining two visits after the season. He is a brilliant passer that shines in speed. 
Kai Jones, Orlando Christian Prep, 2019: He may not register much in the box score but the long 6-foot-10 wants to block shots and runs the floor with great purpose and energy. The native of the Bahamas has only been in the United States less than a year and is barely scratching the surface of what kind of player he is going to be. 
Evan Spiller, Lakewood Ranch, 2018: The unsigned senior had a solid showing here at the City of Palms. A 6-foot-3 combo guard, Spiller mixes scoring and passing well. He shot it well against Orlando Christian Prep and deserves a look from low-majors and Division II schools. 
NEWS FROM THE NOTEPAD
Messiah Jones, Simeon, 2018: Drake signed a good one in the Chicago forward. He's a high-energy guy that helped his squad beat Wesleyan Christian. Jones scored 17 points and had seven rebounds in a highly competitive game. 
Alex Lomax, Memphis East, 2018: Want to know the value of a player? Just check and see how many minutes a player plays in big games. For Lomax on the number one team in the country, he played every tick against Oak Ridge in a back-and-forth nightcap. Lomax could be an all-conference player at Wichita State.  
Omar Payne, Osceola, 2019: Don't be surprised to see the long Floridian flirt with five-star status after the travel season. He has all of the physical tools. 
Antwann Jones, Oak Ridge, 2018: The future Texas A&M wing made some huge plays in the Oak Ridge vs Memphis East game. His energy and fearlessness helped his squad go up 4 with less than 2 minutes to play vs. No. 1 team in country.
Jaylen Hoard, Wesleyan Christian, 2018: From defense rebound to transition score, the future Wake Forest forward is one of the best end to end guys in the class of 2018. Fun in the open floor.