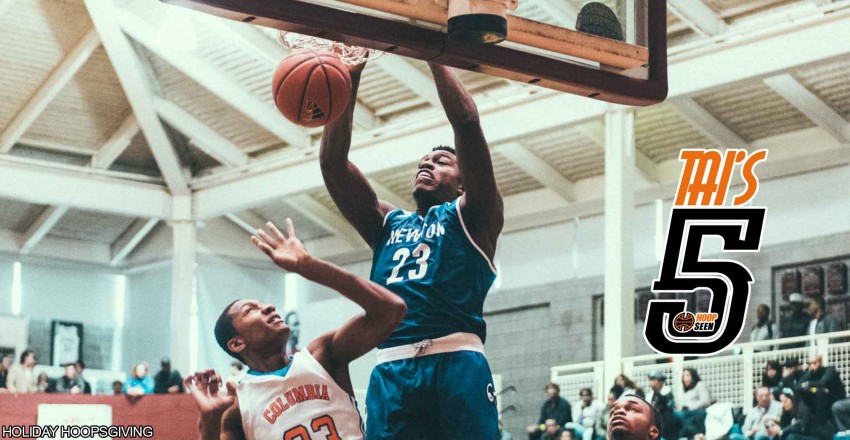 There was a plethora of talent at the Holiday Hoopsgiving event and the stars certainly stood out. There was also a lot of unsigned players that made us take notice. In today's Tai's 5, we look at a quintet of hoopers that college coaches should take notice of.
Deandre "Dre" Butler, Newton, PF (pictured above)
The Newton forward was one of the aggressive players I saw during Holiday Hoopsgiving and if you saw his frame you would understand why. He looks every bit like a guy that holds several football offers as a defensive end. At 6'5, Dre was able to grab rebounds at a ridiculous rate both in and out of his area. He also had several big-time dunks which at his size is hard to imagine. He is not being recruited at the moment which I believe is one of the most disappointing things I've heard in a while. He's bound to make a program happy if you need a grinder down low. 
Nick Edwards, Grayson, PG
Nick is apart of a talented guard rotation at Grayson that has opened eyes early in the season. At Holiday Hoopsgiving he stood out to me after just a few possessions. The Grayson guard is quick enough to get in the paint with multiple moves and despite his size, he's a good finisher at the rim. He has sneaky athleticism, which he showed on a breakaway dunk that got a rise out of the Grayson followers. He was able to score in a variety of ways without ever forcing the action. He list Eastern Florida State as the school recruiting him the hardest so far this year. He should have a few more suitors by the end of the season. 
Dwight "DJ" Murray, Pebblebrook, CG
DJ made six threes during the first game of Holiday Hoopsgiving and by the second game, I got tired of counting. The Pebblebrook guard made a play anytime one was needed and thrived in big moments. He plays with great pace and has the ability to get teammates involved in any possession. He's capable of playing on and off the ball which should only improve his stock going forward. He claims Jacksonville St as his only offer along with being recruited by several D1/D2 programs. Coaches that need a shot maker may want to watch him going into the second semester.
Gainesville Twins - Jarred and Jarrel Rosser, SF
Both Jarred and Jarrel Rosser are players that haven't scratched the surface of their potential for Gainesville. They both have a good blend of size, skill, and athleticism that has made them attractive to college coaches so far. The way the impact the game can't always be shown in the box score because at 6'6 their versatility enough to guard multiple positions whole causing mismatches offensively. Their best basketball is ahead of them and the host of Division 1 programs that are reciting them have taken notice.
Daniel Parrish, Aquinas, CG
The Aquinas guard that has gotten a lot of attention as of late is unsigned senior Tre Gomillion. He's rough and rugged and does whatever it takes to get his job done. His running mate Daniel Parrish is one that I was happy to see as he was a name that I was not familiar with going into the game. He's a big-time shot maker that has some very intriguing tools. He appears to be a guard that has some good ball skills that can play some of both guard spots. He competed looked like an intriguing prospect with some upside.Some of the schools that have shown interest include Elon, Augusta State, South Carolina State, Claflin University and Emory University.