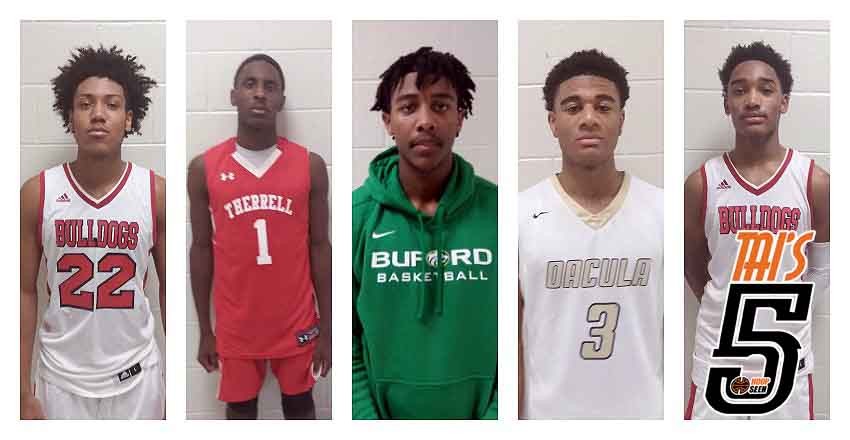 The first day of the first ever Craig Sager Memorial is in the books and our Tai Young took in the action. Here are his five studs from Saturday.
Ashton Young was one of my favorite sleepers at the tournament due to his unique blend of being 6'4 and making every pass on the court. The Buford guard stepped in for Alex Jones and did not disappoint as he made life easier for all of his teammates. He made several on target cross-court passes and in the half court it was much of the same. He's a very crafty player that's able to use his size and solid first step to get to all of his spots on the court. This emerging junior has a high upside and should be an interesting prospect for coaches as he goes into his senior year. He isn't currently being recruited which makes him one of the biggest sleepers in the state. 
Brendan Tucker's first step always makes his defender appear to be wearing ankle weights when he takes off. The junior guard had 15 free throw attempts for his team which shows how much he's capable of getting to the rim on defenses. The Dacula standout gets downhill as well as anyone in the state and is able to make plays that can get any crowd going. Defensively Brendan uses that same athleticism to pressure the ball and make a lot of ballhandlers very uncomfortable. He's hearing from HM schools early in his junior season and his stock is only growing. 
Alec Woodard shook off some first quarter rust to finish the game with 31 points for Morgan Co. Alec is capable of scoring in a variety of ways and at 6'4 he's not an easy matchup. The 2019 guard dealt with being face-guarded through the fourth and was able to stay poised and pick his moments to have an impact. He shows a lot of promise as he further develops into a 3 level scorer that I believe he's capable of being. Alec is hearing from some low major schools and could be a player that could have a ton of options going into his senior year. The Morgan Co. guard has the size and skill to be a very solid 4-year prospect for college coaches. 
2020 G Deandre Brown led his team with 36 points and was relentless when the ball was in his hands. He shook off a few sophomore turnovers and never turned away from the big moments. If there was a time to make a play he showed up and put pressure on the defense by manipulating ball screens to get in the paint. He plays with a really good pace and as he gets stronger he will be able to finish even better than he does now. What impressed me the most about the sophomore is that he plays with a confidence that allows him to look past any mistakes and move on to the next play. He should be a big-time player for Therrell and makes it easy for me to project him as a player that will eventually have his own fair share of offers. 
Sharing the backcourt with previously mentioned Alec Woodard is Tyrin Lawrence that added his own 25 points for Morgan Co. The 2019 guard is very smooth will the ball and is able to make a highlight play seem routine. His play is very effortless but at no point do you think he is taking a possession off. Tyrin showed versatility with the ball as he mixed up his scoring with attempts at the rim as well as behind the arc. He is capable of playing 3 positions offensively and at 6'4 he's long enough to get a few deflections a game. Tyrin has a mature game that should impress some college coaches looking to add a quality guard in the 2019 class.