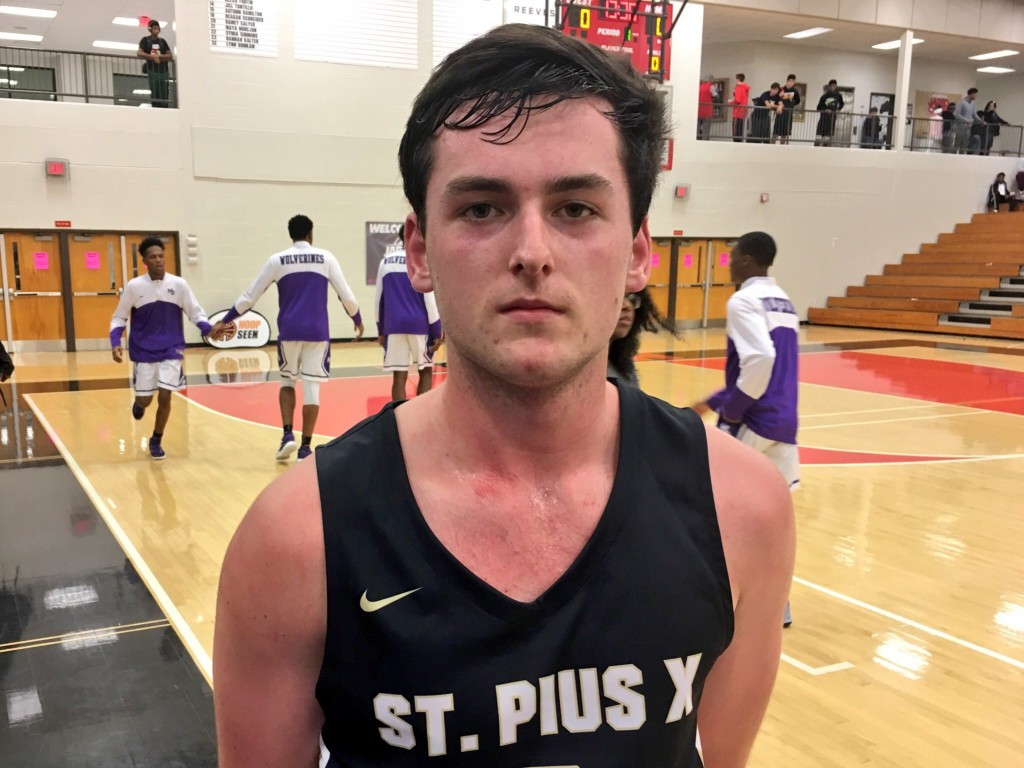 SUWANEE, GA — The first day of the annual Jared Cook Classic is in the books. The full Saturday slate provided us with one of the most impressive wins we've seen from St. Pius X, a high-octane offense from Grayson and more. 
ST. PIUS X HAS PLENTY TO BE THANKFUL FOR 
St. Pius X guard Everett Lane went to the foul line and sank the first of his two made free throws after an intentional foul. He yelled out loud, "It's over." He didn't say that to anyone in particular but his war cry was well-earned and well-put. And he was right. It was over.
St. Pius X would hold on and beat Langston Hughes 67-58 after a terrific back and forth affair. For a game that was held a week before Thanksgiving, it sure felt like February contest. 
Lane displayed some major toughness in the win. The senior hit all nine free throws he attempted in the final eight minutes of the game. He finished with 19 points and was the emotional leader of the Golden Lions. 
St. Pius X did a tremendous job switching on defense and kept Langston Hughes's best player Sanchez Nolley, one of the elite scorers in the class of 2018 nationally, from scoring. Nolley did not hit a field goal in the fourth quarter and could not get a clean look for a much-needed shot. 
He finished with 23 points in the loss but the future Virginia Tech guard couldn't do it alone down the stretch. Credit that to the hounding defense of St. Pius X. 
"Defense has always been our priority. Every day in practice we talk about defense. That's the center of our program. I think a win like this puts our program on the map," Lane said. 
Let's talk about that for a second. 
The Golden Lions finished last season at McCamish, playing for the state championship. St. Pius X is 121-35 since Aaron Parr took over his alma mater. There is a common belief in Atlanta hoop circles that St. Pius X is "one of those really good programs" and a team that runs a slowed down style of play. This year's team doesn't necessarily fit that conversation, however. 
There is star power there. Junior guard Matthew Gonzalo scored a career-high 23 points in the win, knocking down six three-pointers in the process. 
St. Pius X has an aggressive schedule moving forward. They will play Greenforest, at Carrollton, Pace Academy, Mt. Bethel, Christian Brothers out of Memphis, at Stephens County, Eagle's Landing and Bishop Verot from Florida before the year's end. 
A win like they had on Saturday night set the tone for those kinds of games moving forward.
GRAYSON IS ALL GAS 
Grayson's backcourt, as always, is going to be tough to defend. They come at you in waves. Charleston Southern bound point guard Travis Anderson is Ram tough and can pull up from any spot in the half court and knock down the perimeter jumper. He had three three-pointers in a row in the third quarter to continue to cement home their comfortable lead over Greenforest. 
Nick Edwards, a senior who should be garnering more attention than he is getting, had a pair of monster dunks in the third quarter. Those were his first in-game dunks of his career. He finished with 17 points. So did Anderson. 
Senior guard DJ Williams scored 15, too. Grayson scored 101 points in their win over Greenforest. It was certainly a win that made you take notice. Anderson said the team's bond is strong. 
"We grew up together and have been playing together since those GBL days. We spent the summer building chemistry and we've got each other's back," Anderson said. 
For head coach Geoffrey Pierce, he liked what he saw from his backcourt. 
"We tell all of our guards to be aggressive. Everything we do is predicated on our guards getting into space and playing downhill," Pierce said. "When all of our guards step onto the floor, they know they have to be aggressive." 
THINGS I LIKED AT THE JARED COOK CLASSIC ON SATURDAY 
The way St. Pius X defended in the fourth quarter against Langston Hughes.
The toughness of St. Pius X guard Everett Lane. 
The shooting touch of St. Pius X guard Matt Gonzalo. 
The way Langston Hughes star Sanchez Nolley demands all of a team's defensive attention. 
The guard balance of Grayson. 
The scrappiness of North Gwinnett.
The way Kevin Paige played for Miller Grove in the fourth quarter in their win over Mountain View.