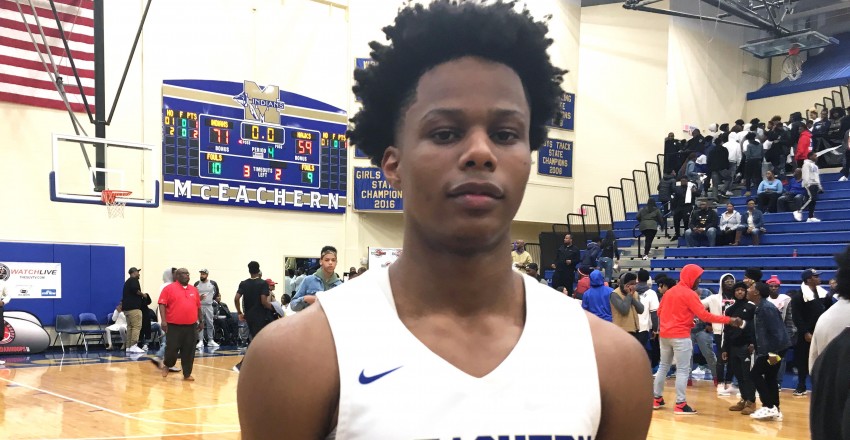 POWDER SPRINGS, GA —Georgia high school basketball teams started their season 10 days ago with tryouts. On Saturday night, some of the best teams in the Peach State went toe-to-toe with equally-talented foes for some big-time high school hoops at Georgia's Elite 8 Tip-Off Classic. 
The action was fun to watch and the day set the tone for what should be an exciting season in the land of red clay.
COBB COUNTY CLASH 
McEachern is a top 25 national program, according to the rankings mavens at several outlets. The host team went right for the mega match-up to start the season, pairing up with Wheeler. The two Cobb County teams have a long history of terrific basketball rivalry and Saturday's match-up was primed for memorable storylines for ATL hoopheads. 
The contest was terrific to start the game as both teams were finding the rim and knocking down shots. The game was never truly broken out as the teams searched for their flow in the first game of the season.
Up by four at the half, McEachern leaned on the hot second quarter hand of its stud Isaac Okoro. The all-state wing scored 10 of his 17 points in those eight minutes. But McEachern couldn't extend the lead to a healthy gap. 
McEachern has star power and the Indians will lean on the big dogs this season. But Saturday's win needed big shots from other places. Devin Gordon, a 6-3 junior, was brilliant with three big three-pointers. Junior guard Alyn Breed was a playmaker down the stretch and junior guard Quinton McElroy had a key three to help the Indians break the game open. 
"It's extremely important to have those guys play well," McEachern head coach Mike Thompson said. "To have a guy like Quinton or Alyn or Devin to pick up the slack is huge. That's what I've been saying about these guys all along. They work. They're just in the gym and their work their tails off. We played eight guys tonight and we will probably play more, probably 10 this season." 
Gordon scored 14 of his 15 points in the second half, including three big three-pointers. 
Wheeler made a big run in the second half thanks to the fourth quarter play of stud big man EJ Montgomery. He scored 10 points in less than four minutes and cut the deficit to four. But then he was whistled for his fifth foul. From there, McEachern stepped on the gas and took home the win. 
"The guys have 'Hungry and Humble' on the back of their t-shirts and I've challenged them - Is that something they're going to say, or are they going to live it?," Thompson said after the game. 
"They understand. We're all invested in this. These are guys that have been thinking about what's potentially in front of them for four to five years. It's a fun group to coach. They come to practice and work hard every day. Now, they just need to be consistent."
NORCROSS GOES ON GUARD 
For years, Norcross basketball has always been anchored by a big man inside or a stretch post player that can play all over the court. Guard play has been the perfect dance partner but generally always followed the lead. 
This year's Blue Devils squad could be in store for a role reversal. 
Kyle Sturdivant and Brandon Boston combined for 49 of points in an 87-61 Norcross win over Miller Grove. The two played had it rolling offensively while Dalvin White battled through an in-game shoulder injury and helped glue it all together. 
The trio danced a beautiful dance against an Atlanta power like Miller Grove. Boston, a sophomore, hit five three-pointers in the win and played the role of a guy ready for a major uptick in responsibility. Sturdivant did what he always does - he played with great poise and patience. He did his best work challenging defenders and scoring at the foul line. 
After the game, head coach Jesse McMillan had to think back in the history books to the last time the Blue Devils were so guard-centric. 
"I think you'd have to go back to 08-09 when we had Denzail Jones, Taariq Muhammad, Jeremy and Zach Lamb," McMillan said. "(This year) is different for us. But it's a new opportunity for us to work and get better." 
McMillan spent the preseason watching teams like Villanova practice. Jay Wright's system is one of the best with multiple interchangeable guards. 
MEADOWCREEK SAYS DON'T FORGET ABOUT US
The core of Meadowcreek's team is back from last year and that kind of continuity could be the recipe for success this season. Jamir Chaplin, Cory Hightower, Amari Kelly and Dequarius Nichols all return to the starting lineup. 
And judging by the team's 70-46 win over defending AAAAAAA state champs Tift County, the Mustangs could be ready to rumble this season. 
Hightower finished with 15 points and 10 rebounds while Chaplin pumped in a loud 22 points. Their 1-2 punch and inside-out ability kept Tift County on their heels all game long. 
When all of the cylinders are pumping at the same time, Meadowcreek is going to be a hard out. They could be, rather they should be, a top five team in class AAAAAAA. Region games against Norcross will be terrific. 
JUSTIN YOUNG'S OVERALL TOP PERFORMERS ON THE DAY
Toneari Lane, F, Shiloh, 2020
Jaden Springer, SG, Rocky River, 2020
Myreon Jones, Lincoln Academy, 2018
Lance Terry, Heritage School, 2019
Jamir Chaplin, Meadowcreek, 2019
Cory Hightower, Meadowcreeek, 2018
Brandon Boston, Norcross, 2020
Kyle Sturdivant, Norcross, 2019
Lorenzo Anderson, Miller Grove, 2018
Isaac Okoro, McEachern, 2019
NOTES FROM THE NOTEPAD 
There is a common theme to the Georgia victors on Saturday. There was always, at a minimum, a 1-2 punch on the winning teams. For Shiloh, the Elias King and Toneari Lane will cause some match-up problems. King can guard a lot of ground while Lane is a match-up problem for defenses. He's a load to guard in the paint and can attack from the wing with ease. 
McEachern's Babatunde Akingbola may take over the role as the best rim protector in Georgia. He stifled EJ Montgomery for nearly the entire game on Saturday night. That's hard to do. 
Some players just have that it factor when it comes to entertaining basketball. Rocky River (NC) 2020 guard Jaden Springer plays with a level of excitement that seems to spill into the crowd. Every time he touched the ball, he was on the verge of a wow play. He was fun to watch. 
Myreon Jones of Lincoln Academy is one of the best available guards in the South's 2018 class. A number of quality mid-level schools. He struggled to find his shot for three quarters but when it mattered, the Alabama native delivered in the clutch with big buckets to help his squad bring home the win. 
Well hello, Lance Terry! The 6-foot-2 junior from the Heritage School came out firing in the first game of the season, opening eyes and impressing the peanut gallery along the way. Terry finished with 26 points and shot very well from all spots on the floor. 
Heritage is one of the top non GHSA schools in Georgia and should be a team that shines on the big stages on their competitive schedule this year. Terry should benefit from such a schedule. He's a player worthy of an eval for schools in the Southern Conference and the like.
Also, keep an eye on Kasen Jennings of the Heritage School. The 6-3 sophomore has a lot of things to like about his game. 
Assistant coaches from Florida State, Georgia State, Long Island Brooklyn, Rutgers and Wake Forest were on hand for the action.