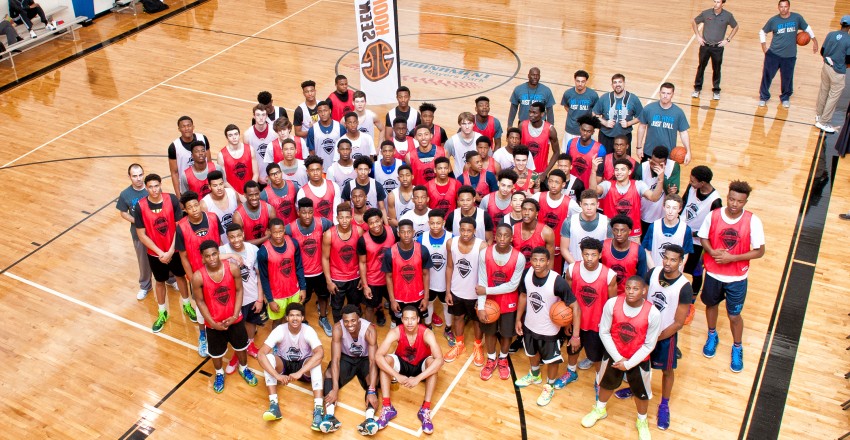 It is fun to look back. With our Preview camps coming up this weekend and next, we got a little nostalgic this week. Our 2015 Elite Preview at Suwanee Sports Academy Cobb was loaded with talent. Take a look at the current college players or committed players that attended the camp. 
We had 72 players at this camp and 54 players are playing in college. Four others are current seniors that are currently committed to play in college next year. 
Of the 30 players from the class of 2016 at the camp, only two didn't move on to play in college. Of the 28 class of 2017 players, 25 went on to play in college. The other three players are taking a post-grad year at a prep school.
Why are our Elite Preview camps invite-only? Because we want to help prepare players for the next level. There isn't a stage quite like this one in the country and we are excited about the Elite Preview 2020/2021 on Sunday! 
| | | | | |
| --- | --- | --- | --- | --- |
| Player |   | Grad Year | High School | College |
| Aaron | Augustin | 2016 | Peachtree Ridge HS | Stephen F Austin |
| Robert | Baker | 2016 | The Walker School | Harvard |
| James | Banks | 2016 | MT Vernon Prep | Texas |
| AJ | Cheeseman | 2016 | Duluth | New Orleans |
| Brent | Duncan | 2016 | Holy Innocents' Episcopal School | Tampa |
| Makhai | Eastmond | 2016 | Wheeler HS | University of Virgin Islands |
| Lane | Foster | 2016 | Berkmar | Oglethorpe |
| Kyrin | Galloway | 2016 | Buford | UNC Greensboro |
| Alterique | Gilbert | 2016 | Miller Grove | UCONN |
| Jalen | Jordan | 2016 | Rockdale county | Brooklyn St Francis |
| Zack | Kaminsky | 2016 | Pace Academy | Penn |
| Christian | Keeling | 2016 | Laney | Charleston Southern |
| Micah | Kinsey | 2016 | Brookwood | UNC Pembroke |
| Jordan | Lyons | 2016 | McIntosh High School | Furman |
| Connor | Mannion | 2016 | Lambert High school | Navy |
| Anfernee | McLemore | 2016 | Worth County High School | Auburn |
| Brendon | Myles | 2016 | Whitefield Academy | Florida A&M |
| Raylon | Richardson | 2016 | miller grove | Grambling State (fball) |
| Kohl | Roberts | 2016 | RIVERWOOD | Georgia College |
| Brandon | Robinson | 2016 | Douglas County | North Carolina |
| Mike | Sagay | 2016 | Watkinson School | Boston College |
| D'marcus | Simonds | 2016 | Gainesville High | Georgia State |
| Derek | St. Hilaire | 2016 | Dacula High School | Gordon College |
| Davion | Thomas | 2016 | Northside | Middle Tennessee |
| Avi | Toomer | 2016 | Grady High School | Bucknell |
| Ephraim | Tshimanga | 2016 | allatoona | North Georgia |
| Christian | Turner | 2016 | Sandy Creek | Gardner Webb |
| Colin | Young | 2016 | Laney | USC Salk |
| DeAundre | Ballard | 2017 | SW Atlanta Christian | Florida |
| Isaiah | Banks | 2017 | Heritage High School | Florida International |
| Wendell | Carter | 2017 | Pace Academy | Duke |
| Brian | Coffey | 2017 | Greater Atlanta Christian | North Florida |
| Amari | Colbert | 2017 | Houston County High School | Old Dominion (fball) |
| Zach | Cooks | 2017 | Norcross High School | NJIT |
| Will | Crumly | 2017 | North Cobb Christian | Covenant Christian |
| Michael | Durr | 2017 | Westlake | South Florida |
| Victor | Enoh | 2017 | Green Forest | Memphis |
| Justin | Forrest | 2017 | Greenforest | Appalachian State |
| Jordan | Goldwire | 2017 | Norcross | Duke |
| RaShaun | hammonds | 2017 | Norcross High School | Georgia |
| Elias | Harden | 2017 | Sandy Creek | Xavier |
| Preston | Horne | 2017 | Tift County High school | Virginia Tech |
| Abayomi | Iyiola | 2017 | Green Forest | Stetson |
| Micah | Johnson | 2017 | Tift County High school | Alabama State |
| Trevion | Lamar | 2017 | Jenkins High School | Northern Oklahoma Tonkawa |
| Danny | Lewis | 2017 | Westlake | Central Florida |
| Davion | Mitchell | 2017 | Liberty County High School | Auburn |
| Ross | Morkem | 2017 | Lambert High school | North Georgia |
| Ikechukwu | Obiagu | 2017 | Green Forest | Florida State |
| Alex | O'Connell | 2017 | Milton HS | Duke |
| Chuma | Okeke | 2017 | Langston Hughes High School | Auburn |
| mikael | sampson | 2017 | westminster | Howard |
| Joshua | Scott | 2017 | Rockdale High School | Wallace State |
| Jordan | Usher | 2017 | Sequoyah High School | Southern Cal |
| KJ | Buffen | 2018 | Gainesville High School | Middle Tennessee |
| Alex | Jones | 2018 | Alpharetta High School | Lipscomb |
| Isaiah | Kelly | 2018 | Augusta Christian | Yale |
| Christopher M | Parks II | 2018 | Lanier HS | Queens |