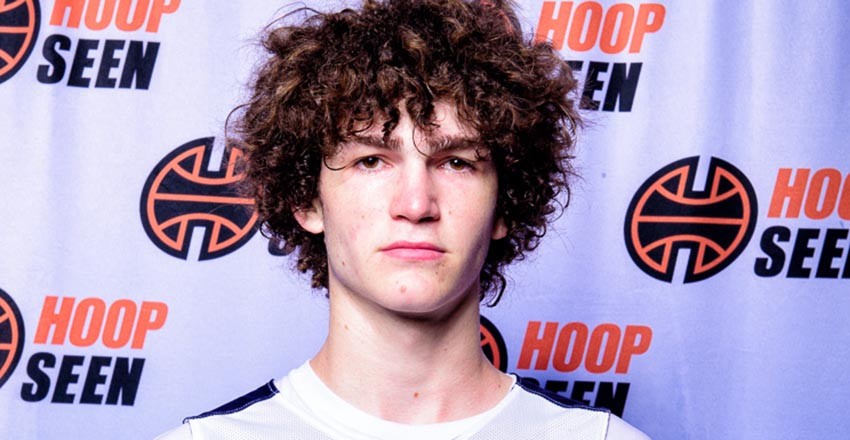 Dacula had a solid outing in their 9 a.m. matchup with Blessed Trinity. Junior guards Brenden Tucker and Mekhail Bethea played really well off of each other throughout the game. Tucker did a little bit of everything for Davis in the first half, pulling down a few boards, grabbing several steals, & adding 13 points. When asked about his expectations for this season, Tucker admitted, "Our only goal is to win a ring. We should be one of the toughest in the state."
Bethea wasn't far behind with 10 first half points. The smooth guard said, "I want to make everyone around me better." He also dished out several nice assists to the third piece of Dacula's aggressive trio, Quincy Ademokoya. A long, bouncy sophomore, Ademokoya likes to play above the rim. The long range game is there as well, as he scored nine of his 21 points from three.
Michael Zabetakis (pictured above) and West Forsyth turned a lot of heads on Saturday. Against a solid St. Francis team, Zabetakis put up 23 points. Terrence Taylor added another 19.
Sequoyah and Prince Avenue has a very competitive matchup in the early afternoon. Dalton Meeler came out on fire, scoring 13 of Prince Avenue's first 15 points. Jackson Greco, Sequoyah's sharp shooter would soon match Meeler's intensity. He rattled off four threes in about two minutes to keep the Chiefs in it. Khalid Salaam helped out with 11 points in the first half. Will Todd and Joey Young were the only other two in double digits for Prince Avenue. Sequoyah pulled away late and took the win, 79-69.
Holy Innocents pulled away from White County late in the the second half. Sophomore Josh Smith had a nice all-around game for Holy Innocents, managing a double-double including 20 points. Matthew Meadows, the quick point guard brought a new level of aggression to the game. He got to the cup at will, dishing it off when necessary but ultimately finishing with 18 points. White County point guard Austin Harris held his own in the PG duel. He hit a three from NBA range to tie the game up at 46, but that would be the last time the Warriors would pose a threat. Harris finished with 22 points. Alex Hyatt secured the win for Holy Innocents, scoring 12 of his 17 points in the second half.