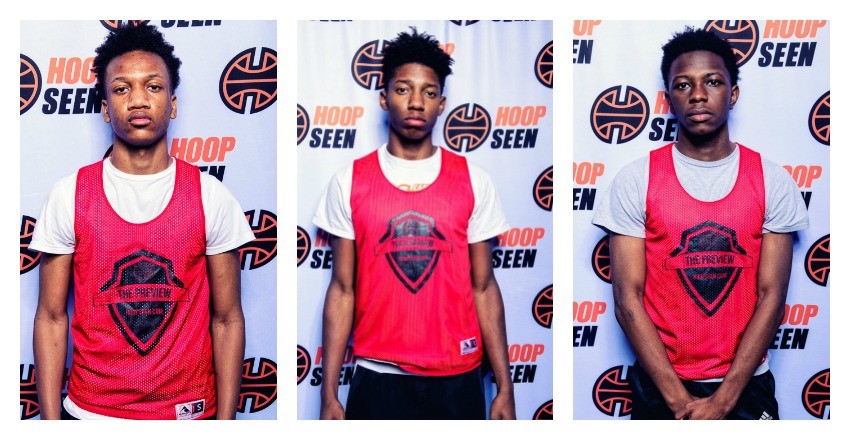 The 2017 Georgia Fall Preview is in the books and we begin our team-by-team evaluations from our loaded Saturday at Suwanee Sports Academy.
Joshua Archer, Heritage, 2018: The 6-foot guard plays with energy on both sides of the ball. He rebounds the ball well for a guard. The best part of his game? He doesn't shy away from contact and enjoys being a physical guard. Archer finished at the rim with either hand. 
Braxton Beaty, Lambert, 2020: Never short of quality guards, Lambert has another one up and coming in Braxton Beaty. The 6-foot shooter poured in threes when left open. His floor spacing made life easier on Ahmir Langlais, who had room to maneuver in the post.  Aggressive drives to the hoop will open up Beaty's scoring chances even more. - Kyle Sandy
RayQuan Brown, Mundy's Mill, 2019: The 6-foot-5 wing dominated the glass and rebounded out of his area. He is a great finisher around the rim and plays above the rim. Brown can step out and make the 15-17 foot jumper and can make a three point shot.
Stone Champion, Creekside Christian Academy, 2018: The 6-foot-4 guard shot the three ball with good accuracy. He's at his best as a catch and shoot guy. Champion is a good passer and found the open man. He's a competitive player with a good attitude and very coachable. 
Josh Groomes, Polk County, 2020: Uses both hands when attacking and finishing at the basket, gives full effort on the defensive end. Willing to make the extra pass. Happy for teammates success.
Ahmir Langlais, Parkview, 2019: Ahmir used the Fall Preview as another stepping stone to reaching his potential. At 6-foot-8, Langlais has a tantalizing skill set for a versatile four-man that can both bang in the post and step outside to the three-point line. Langlais has put on more muscle which will help his face-up game from the high post. His lefty hook was tough to alter with good extension. The newly turned 16-year-old is still an intimidating shotblocker inside. - Kyle Sandy
Kyree Rice, Jonesboro, 2020: The 5-foot-10 guard uses ball screens well and has a good change of speed off of the ball screens. His eyes are up when dribbling and is a good individual defender. Rice did a nice job of keeping his man in front of him. He has good foot movement and can make the open shot. 
Rueben Woods, Jr., Redan, 2020: A good undersized rebounder, he's not afraid of mixing it up with taller and bigger players in the paint. Can finish his shot around the rim. Is a willing on the ball defender.