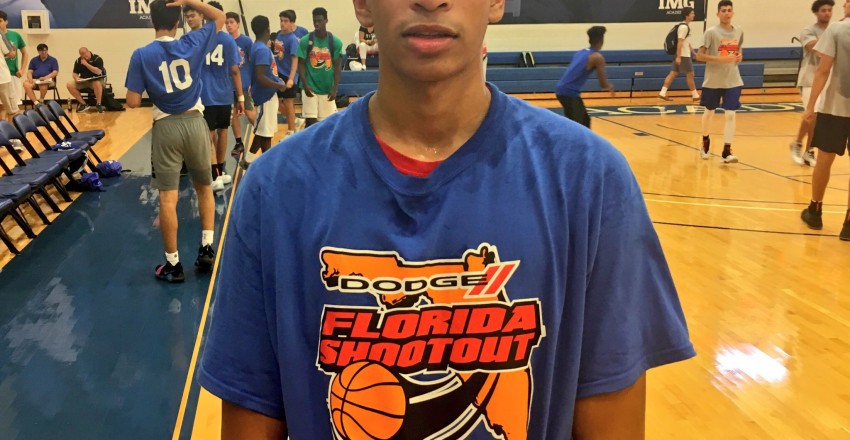 BRANDENTON, FL - We've made our annual migration to Florida for our only fall showcase coverage of the year. We saw a number of intriguing players at the Dodge Shootout on the beautiful campus of IMG Academy. Here's a look at our Fab Five performers. 
Toumani Camara (6-6, F, 2019), Chaminade Madonna (FL)
Camara was the most intriguing player at the individual camp. He's a long wing with range on his shot. The lefty did a nice job as a three point shooter. Camara is a set shooter and an open shot maker. His team won the three on three tournament in large part because of his scoring ability. Camara is a good shot alterer and has a lot of work to do in every facet of his game. That's a great thing. He's a high ceiling prospect and a guy that should, given his dedication to working on his game, take off this high season. He has a lot of tools to like. He said he has an offer from St. Francis while Florida Atlantic and Liberty have shown interest. 
Dorian James (6-7, F, 2018), Chain of Lakes (FL) 
We said it at the Best of the South and still feel this way - North Florida stole one with James. He's a difficult player to guard from wing to rim. The 6-7 forward is a good interior player that can pose mismatch problems because of his agility, bounce and face up skill. He was consistently good on this stage and continues our belief that he can play a big, and important, role at UNF right out of the gate for Matt Driscoll and staff. 
Jacob Dove (6-3, SG, 2019), Cape Coral (FL) 
Dove was was one of the best shooters in the camp. Fundamentally sound, he was always ready to shoot and knocked down jumpers with textbook technique. Dove drilled three-pointers from the corner, from straight on, off the bounce and off the catch. He has a great frame and confidence. 
Mark Calleja (6-3, PG, 2018), Hudson (FL) 
In a camp setting, shining as a pass first guy seems to go against the grain. But he did it and he was terrific because of it. A terrific passer with terrific vision, Calleja set up his teammates for good shots time and time again. When it was his turn to shoot, he drilled triples without any problems. He has quick hands on defense and secured a number of steals, too. Calleja is a good Division II prospect. 
Justin Nichelson (6-4, SG, 2018) Santaluces (FL) 
He caught our attention last year at the Dodge Shootout and right out of the gate, he impressed us again with his alert and active play. The 6-4 wing is a good rim attacker and not afraid to play at the rim. He's always looking for action and ready to shoot. For low-majors and non Division I schools, Nichelson is a good option going into the high school season.