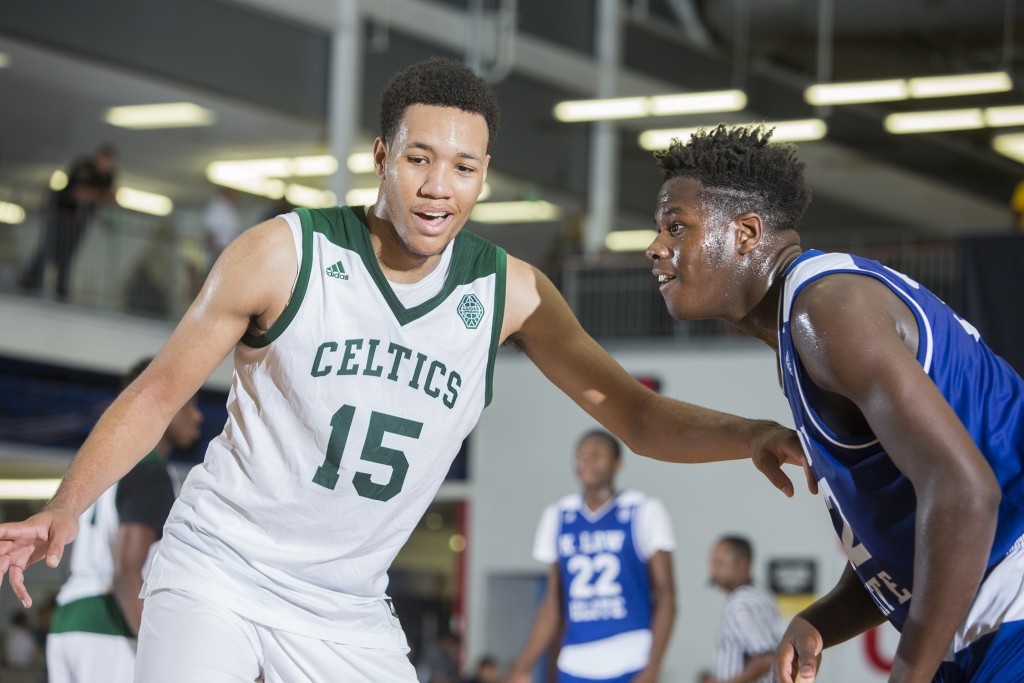 With the travel season now over, we wanted to look back and highlight some of the season's highlights from 2017. Kyle Sandy looks back on the best things he saw from our HoopSeen events. 
RELATED: Carter Wilson's HoopSeen superlatives
Best Game
The Norman Parker Showcase fell on April Fool's Day, but there was no fooling anybody who the best player on the court was in the Warner Robins All-Stars' scintillating 75-71 victory over the Atlanta Xpress. In what usually would be deemed a lopsided affair, a high school team vs. a shoe circuit team, Nelson Phillips had other plans and willed his Warner Robins Demon teammates to the first of many eye-popping wins during the spring and summer months.
In a game which saw its largest lead belong to the All-Stars with just a 6-point cushion, Warner Robins found itself down 71-68 with 1:24 remaining after holding a slim advantage for the majority of the game. In what looked like a classic "ran out of gas" scenario, Phillips fueled Warner Robins' final push to the finish line with a momentum-swinging steal and jaw-dropping one-handed And-1 throw down over a 6-foot-8 defender to tie the game and eventually propel the All-Stars to the win.
While battling nationally ranked point-forward Khavon Moore, who has long been deemed top of the class in 2018 and middle Georgia especially, Phillips bowed up and hung 28 points (19 in the second half), five rebounds, two assists and three steals.
Best Player
This off-season was undoubtedly Nelson Phillips' coming out party. You name the date, the stage and the opponent, Phillips was ready for war and would produce. The 6-foot-5 wing played out of his mind, scoring at-will, but also involving his teammates and stuffing stat sheets with rebounds, steals and hustle plays. Phillips has since been rewarded by national recruiting services and college coaches and has seen his name appear in the discussion as one of the spring/summer's top stock risers.
Best Sleeper 
While he may not be a sure-fired Division-I prospect at this moment, the Middle Georgia Raptors' ZyTavian Hill has at least played his way onto the radar as one of the toughest 2018's in the state of Georgia. At 6-foot-4, Hill is a bruising small forward that turned it on over the summer as a consistent double-double producer. Heading into his senior season at tiny Class A-Public Central-Talbotton, Hill isn't obnoxiously skilled, but his non-stop motor makes up for any potential limitations he may have in his game.
Any non-D-I school should peg a Central-Talbotton game on the schedule to witness Hill's covetable toughness and while in the building, check out his fellow recruitable teammate 6-foot-5 wing JaQuavius Smith, who has received D-I interest himself.
Best Player You Were Wowed By
I can't give this to just one player, but I will credit a dying position which has quietly rounded into a pretty nice group in the Peach State: the 2018 bigs. After graduating Wendell Carter Jr. last season, one could have foreseen a "last of the Mohicans" type scenario, but not so fast.
Mississippi State-commit Reggie Perry has been skyrocketing up recruiting boards since moving to Georgia his sophomore season and is now widely regarded as the state's top prospect. EJ Montgomery (pictured above) made an impact in his first year in-state with Wheeler and has had a great summer on the Adidas circuit prior to his final prep season before heading to Auburn. 
Outside of these two known commodities, there have been a handful of bigs fighting for the national recognition they so deserve. Kalu Ezikpe was a stalwart inside for AC Georgia, who has made a case as Georgia's top non-shoe team this season. The physical big man can move people out of his way but also has a soft touch from the outside. This combination saw Discovery's star go from 0 offers four months ago to 17 as of the end of July. Stock up!
Who has the highest upside and most momentum? The three aforementioned forwards all are excellent choices, but how about a name not too familiar to those in the Metro Atlanta area? Amanze Nguzemi of Johnson-Savannah is ready to step into the spotlight. Playing with 1Family on the Adidas Gauntlet, Nguzemi showcased his size, athleticism and skillset. Possessing three-point range and the ability to dunk on all defenders as a versatile 6-foot-8 forward, Nguzemi is the unquestioned centerpiece on what should be Savannah's best team and a true state championship contender in Class AAA.
Hi, I'm the sleeper you need to know about
Oh yeah, need a super sleeper? Try 6-foot-11 Carlos Curry of Dougherty High School. Curry played with the Smyrna Stars at Best of the South and did not disappoint, posting eight points, 17 rebounds and two blocks against the Georgia Bulls. Curry moves well, can control the glass and takes up space. He can use a little more polish around the rim, eliminating his tendency to fade away inside. All in all, Curry is an intriguing prospect at the next level.