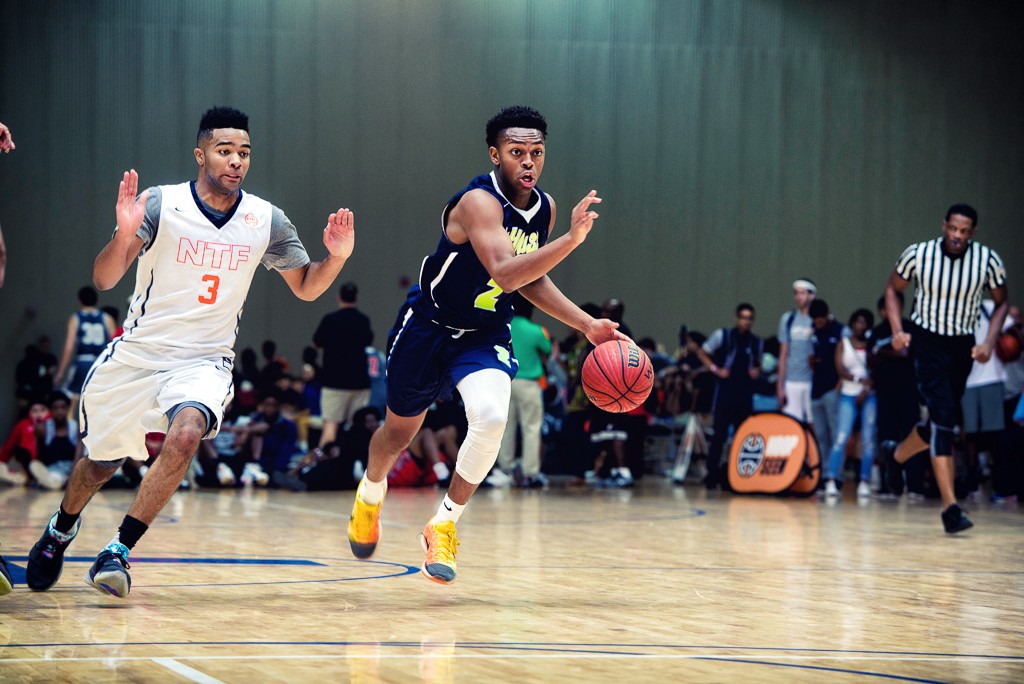 Another entertaining spring and summer travel basketball season is officially behind us. We were fortunate at HoopSeen to host some of the best players and teams in the country, and particularly, the Southeast.
With a big influx of talent comes plenty of memorable moments from event to event. The 2017 travel season story has been written – here's some of my most memorable moments from the calendar year.
BEST GAME
We had a house full of talented teams at #BOTS during the second evaluation period. While Zion Williamson and Emmitt Williams drew a lot of attention, the best game I saw from the event (and from the entire year) was Nike Team Florida vs. Da House.
Da House, one of the best non-shoe sponsored teams in the country, came into #BOTS just after winning the Powerade Platform Championship and were matched up with Nike Team Florida, headlined by 2019 five-star big man Vernon Carey.
The game was a back-and-forth battle from start to finish. With double-digit college prospects on the floor, the college coaches area was packed with coaches from all levels – and it's safe to say the players delivered.
Da House pulled out a narrow 77-72 victory over Nike Team Florida, but that final score doesn't do the justice of how close the game was. Tada Stricklen, JonDarius Warren, Madarius Hobson, K.J. Williams and company were fantastic in the victory, while Carey, Khavon Moore, Kyle Sturdivant, and Trey Doomes had impressive showings in the loss. The highlight of the game was Stricklen, a 6-foot ultra-athletic combo guard, attempting to dunk over 7-footer Carey. His missed dunks had the crowd jumping from their seats, much like the entire game overall.
BEST STORY
Staying with Nike Team Florida, 2018 Westside Macon (GA) wing Khavon Moore was one of the top performers of the July evaluation periods. However, that wasn't the case in April. The 6-foot-8 forward struggled to perform throughout the spring, thus losing some traction with college coaches.
Nevertheless, the versatile and talented prospect came out with vengeance in July. Moore was spectacular with the Atlanta Xpress at the Under Armour Finals, and he then followed things up with an exceptional showing at #BOTS. In fact, he was named to our Super Six from the event.
Moore was tracked by many head coaches, too. Mercer's Bob Hoffman, Georgia's Mark Fox, Florida's Mike White, and Alabama's Avery Johnson all saw his exceptional play during July.
Despite a lackluster spring, Moore re-directed his course and changed his story and made it his own. That's why he is my favorite story from the 2017 season.
BEST TEAM YOU WERE WOWED BY
No team fired me up quite like the Louisville Magic this season. The Kentucky-based program made the short trip to Suwanee Sports Academy for #Gibbons in May, and boy did they impress!
Loaded with some talented prospects, the most impressive player I saw on the team was 2018 Corbin (KY) point guard Andrew Taylor. The talented guard lit up opposing defenses with his shooting and playmaking abilities. He knocked down 17 three-pointers over the course of four games, making a statement as one of the best mid-major point guards in the South.
Taylor committed to Furman a few days ago and instantly becomes a guy that will compete for playing time right off the bat as a freshman.
Another member of the Magic that took me back was 2017 Hopkinsville (KY) University Heights guard KyKy Tandy. The rising junior was one of the most explosive and electric scorers I saw all season. With a quick first step and a dynamic scoring style of play, Tandy was a captivating prospect that easily wowed everyone in attendance.
BEST SLEEPER
I may be a little biased, but I think HoopSeen does an outstanding job of giving players at all age levels an opportunity to start their story. Just take Pro One Select Navy's Brody Peebles for example.
Peebles, who will start his first day of high school this week, blew people away in the 14U division throughout the year. With his ability to fill up the scorebook from behind the arc, the talented shooter was one of the most popular youngsters we had on our circuits. Peebles opened up the Atlanta Jam with a 41-point game back in April, and he followed up with several other 20 and 30-point performances as the season progressed.
Peebles has yet to suit up in a high school game for Hartselle (AL) but he has already created quite a buzz and a notable track record around his name. That doesn't happen for many 8th and 9th graders. Keep an eye on Peebles as the high school season approaches.
MOST CLUTCH PLAYER
Alabama-Huntsville commit Calvin Walker was fantastic at the Atlanta Jam and made an early claim as the most clutch player to come through the doors at Suwanee Sports Academy this season.
The 6-foot-4 lefty knocked down a big 3 to vault his Pro One Select Grey squad into one of the bracket championship games of the weekend. He followed that with yet another three-pointer as time expired in the championship game to give his team a huge win. His future head coach, Lennie Acuff, saw it all happen from the baseline.
Throughout the year, Pro One Select Grey 17U showed a relentless attitude and toughness along the way. It's only fitting enough that the group finished their season with a buzzer-beater victory to claim the #BOTS 17U White Championship. This time, Luke Tomlinson nailed the shot, but Walker did his fair-share, as he posted a game-high 24 points.