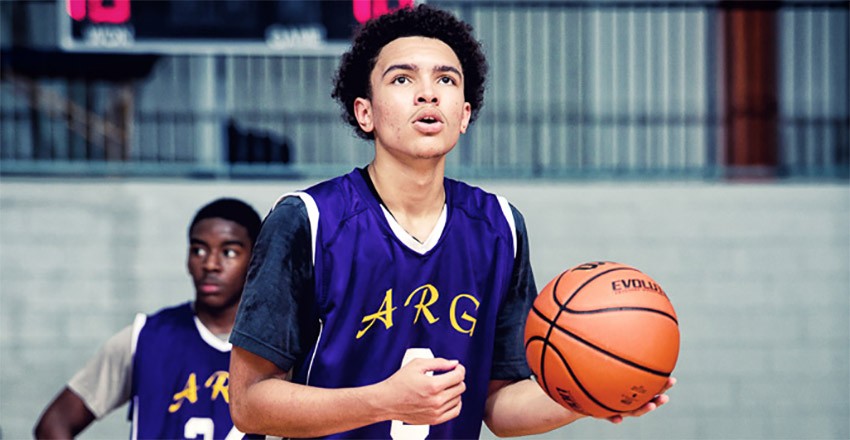 I caught some solid games and platers in the final day of HoopSeen 64 action. Here's how the Sunday games played out.
17U: Team ARG 69, MC Warriors 64
Team ARG got a monster first half from Brandon Thomas in its early morning matchup with MC Warriors. He put up 14 of his 18 points in half one, and snagged a bunch of boards as well. Trenton Gibson helped out with six points to give Team ARG a two-point halftime lead. The Warriors would stick with Team ARG up until the last three possessions of the game. A costly turnover after a missed free throw was the dagger. Miguel Williams had a solid game for the Warriors, putting up 13 points in the loss. Jhatavious King managed 10 points.
17U: GA TNT 64, Team Affect 47
GA TNT was able to spread out its scoring and secure a big win. With four players in double digits as opposed to Team Affect's two, TNT didn't have much trouble putting the ball in the basket. Malcom Rouse led the way with 19 points. Terrence Harvey added 14. Jordon Kunney put up six in each half for a consistent 12 points and Gabe Armstead rounded out the scoring with 10. Team Affect got a great game from William Paschal. He took advantage of his trips to the line and finished with 19. Sundiata Washington also scored the ball well, putting up 14 in a losing effort.
17U: Team Penny 81, MBA Hoops 67
In an extremely physical game where 43 fouls were called, Team Penny got the best of MBA Hoops. Cedric Henderson made a living at the free throw line, scoring 14 of his 20 points there for Team Penny. Martrell Brooks did most of his work in the paint, scoring 17. Kelvin Allen ended the game with 12. MBA's Kenneth Nwuba sat the majority of the game in foul trouble and wasn't able to put any points on the board. Daquan Smith led MBA with 19 points. Damian Dear, Tyron Brewer and Jude Akabueze all registered 10 points for MBA but the fouling eventually did them in.
16U: Lake Worth Pride 77, HYPE 74
Lake Worth Pride held a sizable lead for the majority of this one. Point guard Justin Jeter got to the rim with ease and scored 14 of his 16 in the first half to give LWP a 42-28 lead at the break. The PG matchup between he and HYPE quickster Jayce Harrison was extremely fun to watch. Harrison finished the game with 17 points, but couldn't knock down a three to tie it up at the buzzer. Alec Oglesby led HYPE in scoring with 24 while Tylor Miller boosted Lake Worth to a win with 17.