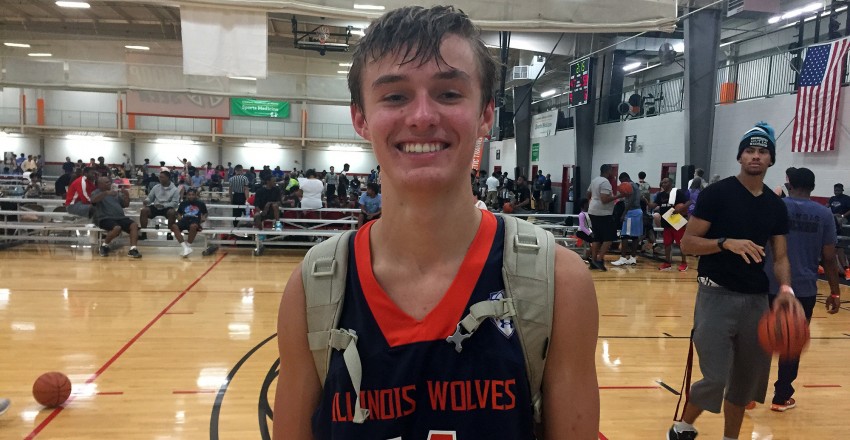 16U: Illinois Wolves 59 All Ohio 37
Both teams shot the ball very well in the first half of this one, Andre Gordon and 6'4" guard Samari Curtis got All Ohio going early with some smooth drives to the basket. Six points each from Paxson Wojcik and Elliott Sieger helped the Wolves take a 29-24 lead into the half. The shots would stop falling as consistently for All Ohio in half number two, as they were only able to put up 13 second half points. On the other hand, the team from Illinois got buckets from quite a few players. Wojcik was a playmaker, snagging boards and pushing the ball to either find the open man or finish himself. He ended the game with 11 points while Sieger's aggressive point guard play contributed 14. Collin Crothers and Pavle Pantovic rounded out the scoring for the Wolves with six points each.
16U: Game Elite 69, HYPE 48
Game Elite had too much size in strength for HYPE from the jump. Jaire Eastmond had nine points from the PG position and a couple nice dishes to Malachi Rhodes, who posted eight first half points of his own. HYPE came out attempting to dig itself out of a 39-19 halftime deficit. Jayce Harrison did his part, hitting four 3s on his way to 15 points. Alec Oglesby and Evan Hurst contributed eight points each, and Jonathan Pittman put up nine in the loss. Game Elite got scoring from quite a few players. Wheeler High School product, Isaac Martin put up 16 points, while Eastmond finished with 13. Treyland Smith was also in double digits with 14.
17U: MBA Hoops 54, Game Elite 35
Kenneth Nwuba of MBA Hoops was an absolute monster on the court in the matchup with Game Elite. The 6'9" Oak Hill big man had 11 points but his dominance on the boards and in the paint is what captured the attention of many. MBA took only a three-point lead into the half, but as soon as the second half got underway, they got it going. Tyron Brewer had nine in the big win while Daquan Smith added 8 and Garrison Wade managed 6. Game Elite got seven points from guard Grant Howard, nine from Brandon Younger and six from Sage Tolbert in a tough loss.
17U: Game Elite Gold 68, All Ohio Red 54
All Ohio Red found itself down five points despite 15 first half points from Samari Curtis. Both teams matched up well as far as length but Game Elite was able to get a couple more shots to fall in the first half. Brandon Younger and Sage Tolbert had eight points each. Curtis scored all but 8 of All Ohio's second half points, finishing with 25 for the game in an impressive performance. Younger put up 10 and Amari Davis added 11 for Game Elite. Tolbert handled the bulk of the scoring though, pouring in 16 points and showing off his insane strength.