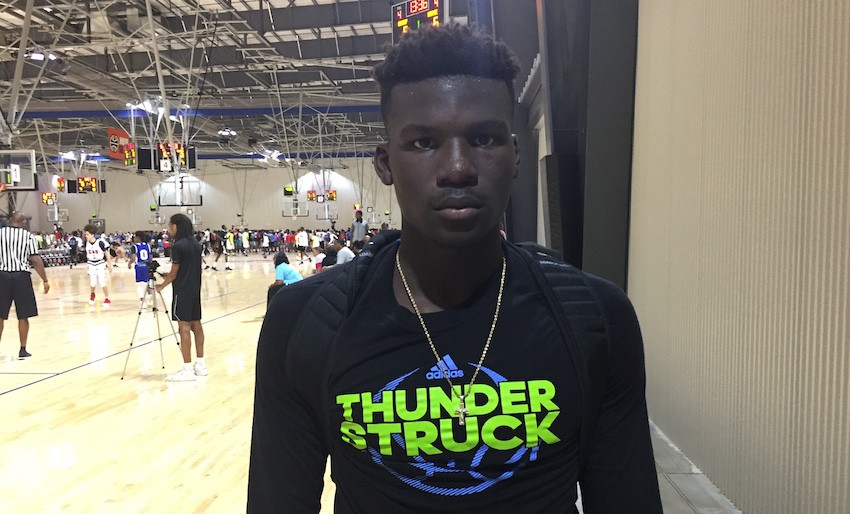 Best of the South rolled on with the second day of action on Friday. With a number of talented players and teams and even more college programs present, the competitive atmospheres followed.
Here are Friday's storylines from #BOTS in Garrett Tucker's eyes…
MYREON JONES CONTINUES TO TREND UPWARD
2018 Birmingham (AL) Huffman guard Myreon Jones, Jr. has been on a roll since switching over to the Nike circuit and suiting up with the Georgia Stars in May. If his play on Saturday was any indication, the 6-foot-3 guard is trending towards more suitors.
Capable of playing both guard positions effectively, Jones came out and shot 4/4 from behind the arc in the first half against a talent New England Playaz squad. He plays with tremendous pace and handles the ball well as an ideal setup guy for talented scorers around him.
With his combination of scoring and facilitating skills, don't be surprised if more programs start to make a move in Jones' recruitment. Arkansas-Little Rock, Wofford, Rice, Wichita State, Dayton, and UNC-Wilmington are just a handful of the programs currently involved.
Despite a tough loss, the New England Playaz had a productive showing at Best of the South. In fact, 2018 point guard Kai Toews was one of the most impressive players I saw on Friday.
Toews, a Japanese import, showcased a solid basketball IQ with his feel for the game and ability to get his teammates involved. He didn't overwhelm anyone with athleticism or blazing speed, but the 6-foot-2 guard punished defenders by making extra passes and navigating the floor for his teammates.
Toews is a high academic prospect and currently holds offers from Bucknell, UNC-Wilmington, and Brown, but expect that number to expand by the time the month wraps up – he's talented and will be able to fill a void for a lucky team in the future.
NORTH FLORIDA STRIKES GOLD WITH DORIAN JAMES
You probably don't know the name Dorian James yet, but don't be surprised if you see his name pop up in March during the NCAA Tournament in a few years.
James, a long 6-foot-6 wing, was one of the most intriguing players in action on Friday. With his length and ability to shoot the ball from the perimeter, he looks like a guy that could be very successful at the next level.
However, he's only going to get better in the future. With a college weight room and some extra added weight, James is an ideal hidden gem to emerge at the next level. North Florida identified James early and wrapped things up with a verbal pledge in May. It's safe to say the Ospreys got a good one and he's a guy that could be a difference maker in the future.
2020 STUDS CONTINUE TO PROGRESS
The class of 2020 is still a long way down the road, but it's impossible to ignore the rapid speed that Scottie Barnes and Antwann Burnett have developed at in the last calendar year.
Burnett (pictured above), a tough, scoring wing, first made his appearance last year with the Montgomery Fire on the Georgia Cup circuit as a talented scorer that excelled at attacking the rim. Playing with Thunderstruck this weekend in the 16U division, it is obvious that the Alabama native has put in plenty of work throughout the year.
Burnett knocked down six three-pointers en route to 20 points in a loss to the Georgia Stars with head coaches from Auburn, Miami, Florida State, and UCF on hand watching. The 6-foot-4 guard is also being recruited heavily in football, but it looks like he has a chance to be a highly regarded basketball player, too.
2020 forward Scottie Barnes recently emerged as a national top-10 level player in his class and rightfully so. At 6-foot-7, Barnes brings a tremendous skill-set and package to the table. Very similar to Brandon Ingram, the rising sophomore can make plays off the bounce and keeps the defense honest with his ability to put the ball on the floor.
Florida, Louisville, Miami, and UCF have made early scholarship offers to Barnes, but, as he continues to improve and shoot up the rankings board, expect more high-major programs to follow suit.
DESROSIERS LIGHTS IT UP IN THE NIGHTCAP
One of the most consistent players I saw in the spring was 2018 Huntsville (AL) Grissom point guard Phillip Desrosiers. The 6-foot guard won't 'wow' anyone, but he was a constant factor for Pro One Select Grey in a number of our events in March and April.
Nevertheless, the rising senior chose to have his best performance in a timely manner. In a matchup against the Atlanta All-Stars with 100 college coaches watching, Desrosiers rattled in 25 points and almost helped Pro One knock off the Atlanta All-Stars.
The lefty shot the ball very well from the field, hitting several three-pointers during the game. He also has a slid basketball IQ and doesn't turn the ball over.
Desrosiers has drawn interest from a handful of Division III institutions because of his grades and basketball ability, but after his showing Friday night, don't be surprised if Division II and NAIA programs start to show more serious interest.