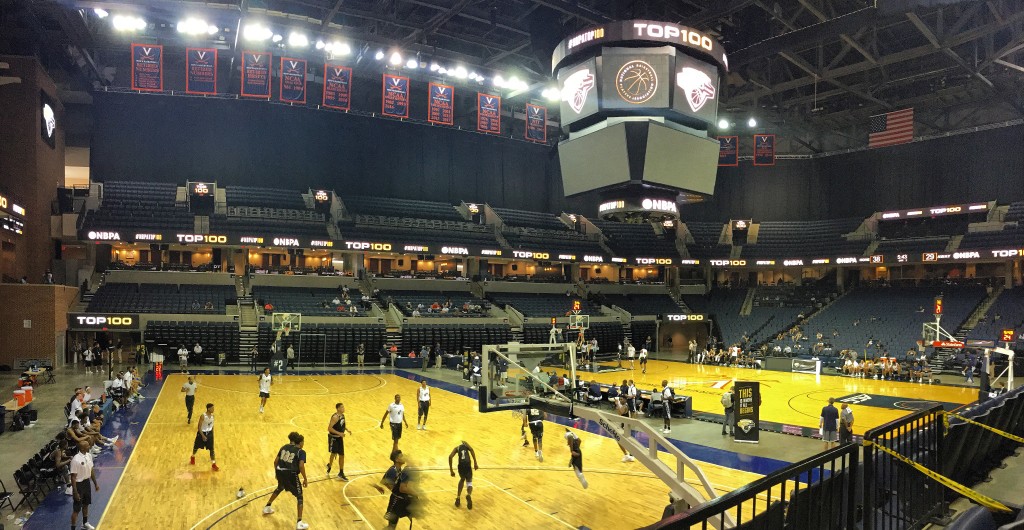 CHARLOTTESVILLE, VA - The first round of games is in the books here at the NBPA Top 100 camp and there was a lot to take away from the action. 
BIG MEN, BIG START
The story of the first day of camp surrounded around the big men. And it wasn't hard to notice that in the gorgeous John Paul Jones Arena. 
Simi Shittu was the trending player on opening day. The Canadian used his great physical tools to power his way to buckets at rim level. He's founded with a high-motor, strong shoulders and quick bounce, Shittu didn't do anything out of his wheelhouse and finished the day as the most productive player in the camp. What a formula! 
David McCormack, the gentle giant of the 2018 class, doesn't play around in a setting like this. He was the most immovable force in the paint. And he pairs his massive size with incredible skill for a big man. I overheard a colleague compare him to Jahlil Okafor. That's not accurate. McCormack is a much better rebounder than the former Duke National Champ. 
Charles Bassey is my favorite NBA prospect living in the world of prep basketball. And he'll give you some flashes of what he will do during an 82-game season. The 6-foot-10 mini Dwight Howard had a block that few guys in the League can do. There will be flashes of wow over the next three years before he meets Adam Silver. And we should enjoy every glimmer that comes from him along the way. 
MR. HAGANS, YOU'RE A BULLY AND I LIKE IT
Ashton Hagans did take one shot in his first game of the NBPA Top 100 camp but he may have been the most impactful player on the court. The class of 2019 floor general was an absolute defensive bully and took pride in eliminating any sort of movement from his opposing player. He forced turnovers, 10 second calls, bad passes and bad decisions. Hagans wrecked havoc all over the floor. Truthfully, it was as fun of a thing to witness as I have seen this travel season. 
On the flip side, Hagans leads the camp in assists with seven a game after two contests played. He is making his teammates better and not worrying about getting his own shot. It was hard finding a player with a desire to do everything outside of scoring than Hagans. Truthfully, he was brilliant. 
TAR HEEL TERROR
Future North Carolina guard Coby White was the best at getting to the rim on Wednesday. In the night cap, White showed off an amazing ability to blow by his defender and get right to the iron for score after score. He was the craftiest player that I saw on opening day. White is averaging 20 points a game after two contests and ranks No. 2 overall in scoring. 
ON CARD
Anfernee Simons was brilliant in the nightcap. The future Louisville guard from Florida was a shooting terror, going six of seven from three. He made some of the most impressive basketball moves on Wednesday. Simons looked the part of a McDonald's All-American level player. 
HI, MY NAME IS…
Admittedly, I didn't know anything about Josh LeBlanc coming into this camp. That's on me. The long 6-foot-6, 180-pound wing forward was one of the most versatile guys I saw on opening day. He made me hit Google. Leblanc was a great mixture of transition buckets, tough buckets in traffic at the rim, rebounding, length in the passing lanes and an overall defender. He's not a star at the next level but he's an important player for high-majors. Every tourney team has a Josh LeBlanc. And he could be a great player for a team in a four-year span. 
THE THINGS I REALLY LIKED 
I like the way Cole Anthony finds his extra gear. He's got something special with that burst. 
I like the way Immanuel Quickley uses his body control in speed. It was really is something to see. 
I lie the value Devon Dotson brings to the backcourt. He's a competitive kid on both sides of the ball. 
I like the sheer size of Kofi Cockburn. He's a manchild.