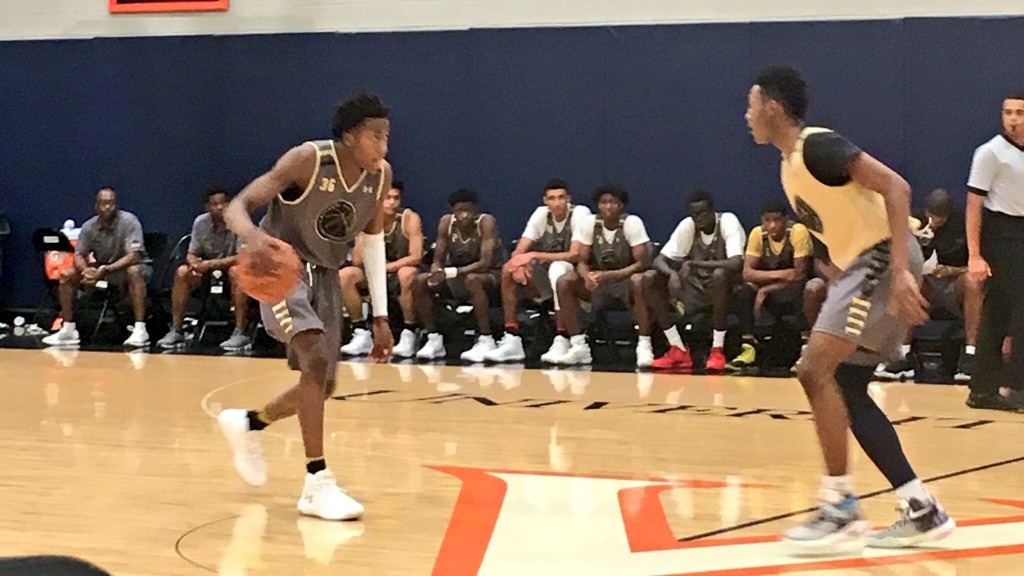 CHARLOTTESVILLE, VA - The second day of action at the NBPA Top 100 camp was all about the guards. And boy was it fun. We look back on an eventful day from the hardwood here at the University of Virginia. 
ANTHONY IS THURSDAY'S TOP DOG 
Cole Anthony's ability to keep pushing the gas pedal down is something to see. When everyone else hits the max line, Anthony seems to hit the nitro button. JCohn Wall had that. De'Aaron Fox had that. Derrick Rose had that. Anthony looks like he's in that category, too. 
Anthony scored 22 points on 7-16 shooting from the floor. He also had five assists and five rebounds in 29 minutes against the likes of Ayo Dosunmu, Tyese Maxey and Jalen Carey. Anthony's performance was one of the best so far here in Charlottesville. He was playing at the highest of levels against some of the best guards in the camp. 
MAKE 'EM SAY AYO
Ayo Dosunmu has consistently been one of the best guards here in Charlottesville. The Chicago native is playing the role of a 5-star guy this year and is doing it on the big stage of the Top 100 camp. You can make an argument for him to be in the McDonald's All-American conversation and his play justifies such an opinion. 
Paired against Immanuel Quickley in the back gym of John Paul Jones Arena, this was the match-up that the hoops mavens wanted to see. And it didn't disappoint. Both guys went at each other. Both guys were jawing. Both guys were competing. 
Quickley finished with 13 points (4-7 FG, 4-4 FT, 1-1 from 3). Dosunmu finished with 10 points (4-8 FG, 0-1 FT, 2-3 from 3). Quickley's team won but I'd give Dosunmu a slight edge. 
Dosunmu recently picked up an offer from Kansas and Xavier remains a major player for his services. He'll make an unofficial visit to Illinois on Tuesday when he returns from camp. We'll have more on Dosunmu here on the site later in the week. 
It has been well-documented that Quickley is down to four schools - Kansas, Maryland, Kentucky and Miami. 
QUICK AS QUINERLY 
The theme of the Top 100 camp has been anchored in great guard play. We've mentioned a number of high-level guys already but let's not forget about the play of Jahvon Quinerly. 
Let's examine the checklist for a second. 
Speed? One of the best.
IQ? Smart as they come on the court. 
Clutch? Absolutely. 
Patience? You better believe it. 
Shooter? Terrific. 
Quinerly already has our unofficial vote of confidence as a top 25 player in his class. He's now moving his recruitment into the next realm. He'll spend an extra day in Charlottesville to see more of the University of Virginia (just like he did last year). Arizona, Kansas, Seton Hall, Stanford, UCLA and Villanova are also involved. 
ON GUARD
I'm trying hard to not beat this drum too much but let's not overlook the defensive play of Ashton Hagans here at camp. He's been absolutely brilliant guarding some of the top players in the event. That theme hasn't changed nor will it before we wrap things up here in Hoo Ville. 
SIMI VALLEY 
Simi Shittu is THE trending player after two days at the NBPA Top 100 camp. The Canadian big man has dominated the field and doesn't look like he's pulling back. Shittu is also a hot target for a number of schools. The Vermont Academy forward said he's hearing from UConn, Michigan, Oregon and Syracuse while the blue bloods of Duke and Kentucky are starting to turn up the heat now.
NOTES FROM THE NOTEPAD 
Jack Hemphill is taking advantage of the stage he's playing on. The North Carolina big man is going to work inside, scoring everything he touches around the cup (averaging 10.8 points) and working the glass (5.8 rebounds a game) over the course of two days. 
Two of my favorite "I'll do anything to stay on the court" players from the last two days - Taeshon Cherry from California and Josh LeBlanc from Louisiana. 
Cole Swider has been one of the most consistent players here at camp. Quietly and efficiently, Swider is proving himself as one of the top big men here.  
Minnesota forward Race Thompson is one of the best junkyard dog defenders here. He's tops in steals and blocks.